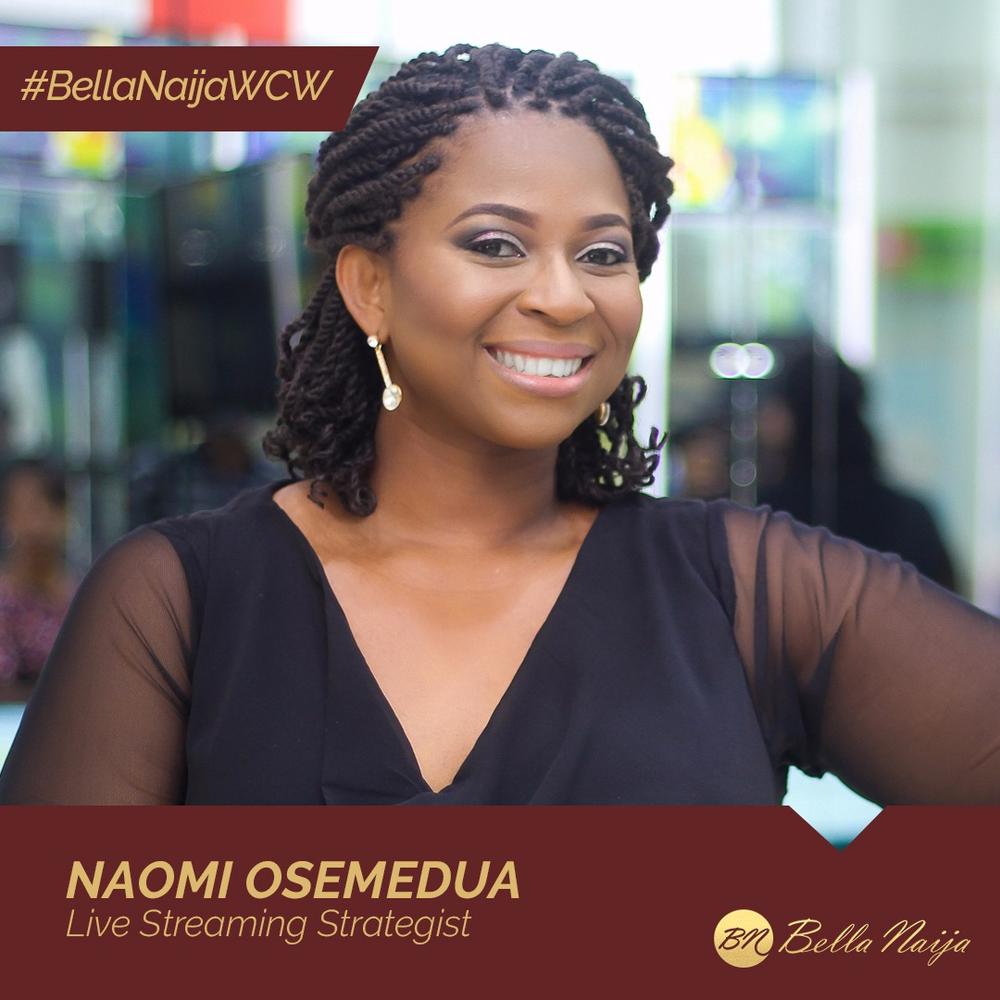 Social media has been changing the game, influencing how we connect with family and friends anywhere across the globe, how we relate with the world, and even how business is done.
One of such game-changing moves is Live Streaming. Leveraging on this, our #BellaNaijaWCW this week Naomi Osemedua – an Inspirational speaker, Reformer, Positive Change Coach and advocate against domestic violence – has carved a niche for herself, sharing her message to thousands of users across the world.
Within a 9 month period, while nursing her baby at home, she built a global following on Periscope, leading to her writing the Amazon Bestseller 'Socially Speaking -My Periscope Miracles'. Naomi is often referred to as the "African Queen of Live Streaming".
Naomi's story didn't start from becoming an Amazon bestseller or the "African Queen of Live Streaming". At 22, she ran away from home and eloped. She "lost everything including (her) family and was written off as useless." She suffered domestic abuse for years, and thought she wouldn't make it out alive, but she did. She later got divorced at 30 and became a single mum.
At 34, Naomi found love again, got married at 35 and gave birth 2 years later.
It was while nursing her baby, in 2015, that she discovered Periscope with which she can connect with the world with just the click of a button. In four months, she had garnered 2,000 followers and counting. She had been a public speaker since 2009, and Periscope gave her the much needed platform to connect with a wide range of individuals across the world.
In November 2015, Naomi attended a "Bestsellers Workshop" that changed her life. She began writing her book – 'Socially Speaking -My Periscope Miracles' afterwards. As a stay at home mom nursing her baby, she wrote, edited and self-published her first book on Amazon and in two days, it was on the number four spot on the Amazon Bestsellers List.
Then in April 2016, just after 6 months of live broadcasts, Naomi became the first African woman to trend on Periscope with over 20 million viewers.
Today, Naomi teaches individuals and brands how they can leverage on the power of live streaming to gain visibility, increase their sphere of influence to a global community, and make money.
In 2011, Naomi founded the Nigerian branch of Making a Difference (M.A.D.) Positive International in Abuja to break the silence surrounding sexual abuse and domestic violence.
In 2014 Osemedua, through M.A.D, helped organize Nigeria's "1 Billion Rising for Justice" to protest against sexual assault against women and also demand justice. Naomi and other women across the world proclaimed, on February 14th of that year: "I refuse to stand by as more than 1 billion women experience violence. … I am rising for justice."
Naomi has a bachelor's degree in Human Physiology from Ambrose Alli University, Ekpoma, and she is a Certified Coach from the Graduate School of Business at the University of Cape Town.
Through her "Sparkle with Naomi" platform, she helps individuals live their best lives and being part of people's success stories. Naomi describes herself "as a people builder," who calls "out the seeds of greatness that is already inside of you."