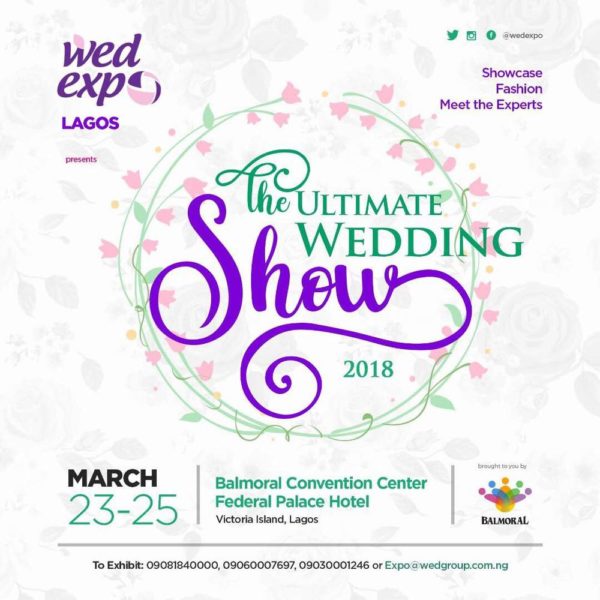 It's going to be an awesome 3 days of exhibition, fashion, expert advice, food, drinks and more at the Ultimate Wedding Show 2018 taking place in Lagos this March! This show is going to be the biggest ever with an interesting lineup of activities such as: Ask The Experts Session; Fitness Talk; Makeover Sessions; Fashion Runway; Musical Performances; Beauty Makeovers; Dance Sessions and much more!
Date: Friday, March 23rd – Sunday, March 25th, 2018
Venue: Balmoral Convention Center, Federal Palace Hotel, Lagos.
Do you provide any form of service to Weddings & Events Industry? Do you have a business in any of these categories? Decorator | Makeup Artist | Photographer | Planner | Videographer | Cake Maker | Accessories Designer | Drink Company | Bridal Designer | Suit Designer | AsoEbi Merchants | Beauty Merchants | Caterer | Drinks & Cocktails | Wine and Spirit Companies | Travel Agency | Rings & Bands Merchant | Accessories Merchant | MCs | Bridal House | Event Centers | Rental Companies | Hotels | Invitation Card Designers…and much more
If yes, you should showcase to thousands of brides and grooms as well as planners that will be coming to secure vendors for their weddings in 2018 and also get inspired.
Don't miss this awesome opportunity to showcase to real brides and grooms getting married soon! Book your booth today and boost your business in 2018. Lots of business deals await you.
Over the years, WED Expo has gained an impeccable reputation as the perfect meeting point where hundreds of brides and grooms meet their dream wedding vendors. It is also directly responsible for boosting thousands of wedding and events-related businesses all over Nigeria by connecting business owners directly with their customers. This exhibition this time around has now been upgraded with more benefits for everyone.
Phone: 09081840000, 09030001246, 09060007697
Email: [email protected]
Instagram: @wedexpo
Wedding & Event vendors, take advantage of the 30% off sale for exhibitors that make payment in January. Pay this month and pick your exact booth location in the hall from the floor plan. No surprises at all. Hurry while promo lasts.
The Ultimate Wedding Show will be an experience you won't forget in a hurry. Don't miss Nigeria's Largest Wedding Event.
—————————————————————————————————————————————————————————————
Sponsored Content