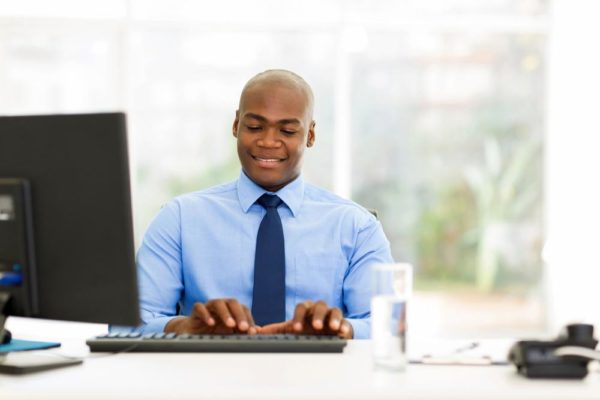 Happy New Year everyone!
I'm sure you are as pumped as I am about 2018. The new year brings with it so much enthusiasm and excitement as we look forward to accomplishing so much more than the year before.
Hopefully, this fresh burst of energy will last a little while but more than hopeful enthusiasm, you need a good dose of wisdom for the road, especially at work.
For so many people, this is the year they've been waiting for. A promotion at work is number 1  on the '12 things I want God to do for me this year' list. It will happen, don't worry.
Here are a few tips I've found useful in over a decade of working for corporate organisations.
Be Visible
A friend of mine lost out on a promotion a few years ago. It wasn't because she did anything wrong. Rather, her boss told her, she wasn't visible enough. She always kept her head down and did her work instead of fluttering about like a butterfly trying to be seen. However, at a moderation session, the senior stakeholders in her business unit said they didn't see much of her. And because they didn't really know her, she got dropped, in favour of someone else who had the visibility politics down to a T.
The solution to this is not to make yourself a nuisance, but to ensure that you get 'seen' in a subtle, smart way. Send reports, industry insights, copy the right people in emails so that your name is sticky.
Also, stay a little later from time to time. Make sure all the bosses know you by name; be helpful and handy. By the next promotion cycle, everyone will know your name.
Be Social
Being social is especially important if you work in a multinational or large corporate. In organisations like this, you get to work in cross-functional/ cross country teams. The corporate world is brutal to introverts and anti-social people. You really want that promotion? Then you are going to have to come out of your shell a little.  Go out for drinks with your colleagues (even if you don't drink, there's always chapman), attend your boss' daughter's wedding. Send a gift as a good gesture, if you can't attend certain functions.
I once had a colleague who took a group of visiting expat bosses to see Fela's Shrine on their first visit to Nigeria. She wasn't senior but she was bold enough to suggest it to them and organize the whole thing. They had loads of fun and a solid memory to take away from their Nigerian visit. Guess who got promoted within 6 months? You guessed right.
Sharpen your Presentation Skills
Blessed is he who knows how to craft and deliver a killer presentation, for they shall always be considered for promotion. Please let your presentation skills be on fleek this year. Learn how to do mind maps.  Understand how to weave together intricate presentations that will always leave your audience in awe of you. Seriously, become an awesome wonder when it comes to presentations. This skill will take you very far and you will sit before kings and princes (sorry I'm Bible quoting now). Even though my personal opinion of a lot of presentations is that they are usually beautiful nonsense, it is nevertheless an absolutely critical skill to possess if you wish to be promoted.
Actively Participate in Meetings
Look, I know you hate meetings, I do too. However, 2018 is the year you stop being a wallpaper at meetings. If you work in a medium-large corporate organization, there is no way that 60% of your time won't be allocated to attending meetings.  In that kind of environment, a quick way to fast -track your promotion is to know how to use meetings to your advantage.
Speak up at meetings,  make meaningful contributions, emphasise other people's points (if you don't have anything to say). Surprise yourself and schedule some meetings of your own with your stakeholders.
I used to be the one who turned up my nose at office politics and refused to say a word at meetings if I thought all that needed to be said had been said.  After missing a promotion cycle, I learned very quickly that this singular habit was quite self -destructive.
Never leave a meeting without saying something. Agree with someone's point, disagree with another, point out a different way to do something. Participate.
Bee Emotionally Intelligent
The workplace is full of diverse personalities and Emotional Intelligence involves you knowing yourself and understanding other people. This is an important skill you need to navigate your work environment and build relationships.  You'll be able to manage your emotions and the emotions of others. By doing this, you'll have a more positive outlook regarding the changes that will definitely occur in the workplace and manage the outcomes better.
Get a Mentor
If you can, I'd honestly advise that you get someone really senior at work to mentor you. Having mentors accelerates your career growth exponentially. This is because you'll have access to someone who has walked your path and has succeeded. This person will sharpen you, point you in the right direction and help you avoid potential landmines. If you do pick a mentor, please remember to show them you are serious from the onset. Have your goals & expectations written out and how you want them to hold you accountable. Also, ensure you show up every time you have a session. They are investing their time so please let it be worth it.
Cheers to your promotion & success in 2018!
Photo Credit: Dreamstime