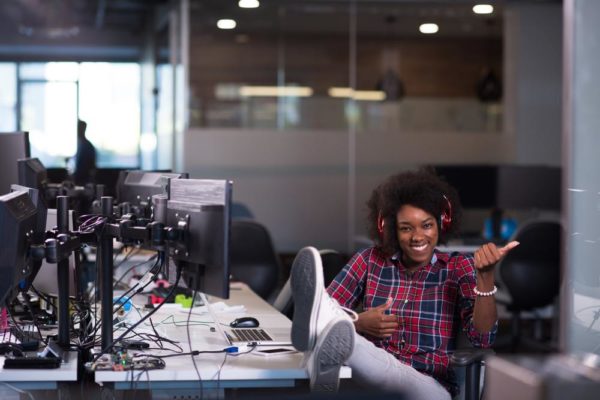 Every Disc Jockey starts off believing two things: 1, that they have good taste in music and 2, that they know what people would like to hear and how to get them in the mood.
The same can be said for the office DJ. He/she starts off by playing music for his own pleasure via a phone or laptop, then one day, he says to himself, "You know what? I have a good taste in music and I think everyone should listen to what I'm listening to. It might lighten up their mood and ease the atmosphere." At that point, he tries to summon up the courage to unplug the headphones from the gadget so the songs can play via the speakers. A great psychologist best captured the office DJ's feelings right at that moment before he hits play:
"His palms are sweaty, knees weak, arms are heavy
There's vomit … (okay maybe no vomit, but)
He's nervous, but on the surface he looks calm and ready to drop bombs…" (Mathers, M, 2002)
Being the office DJ is an arduous task. More often than not, your colleagues are not going to like every song on your playlist – and this is perfectly fine. It really doesn't mean your taste in music sucks (it really might, I'm just trying to make you feel better here). The truth is that it is difficult to please everyone at the same time; especially colleagues with different backgrounds and tastes in music.
DJ-ing in the office comes with great power, and with great power comes great responsibility. So should you decide to take up this responsibility, you might need to know some of these few tricks that will get you a satisfied and elated audience. If you're lucky, you might have them singing along and two stepping too:
Not So Loud
Always keep the volume to the lowest. No matter how interesting or entertaining people find your playlist, always keep the volume down. You're still in an office, remember? Certain principles and regulations guide office practices and I'm pretty sure one of them is not to turn the office into a club – Well, except if the office is a club.
Keep it PG
Avoid playing the explicit versions of songs. Tracks with curse words and profanities are not a general crowd pleaser. Endeavour to find the radio edit (clean version) of the songs on your playlists.
Lemme See You Go Back! This is the L.I.Y.A.H
Always take a trip down memory lane. Pick a day to constantly play "old school" to stir up nostalgic memories. Some of the fondest memories people have are triggered by music.
Romance
You can never go wrong with romantic songs. It has a 70% chance of getting people in their feels and sneaking off to text their baes like, "Hey big head, just thought of you… how's your day going?" (Don't ask me where I got this stat; just take my word for it).
Just stream it
If you are indecisive about what to play or uncertain of what you have, just visit a music streaming site like Sound Cloud, Spotify, Tidal or Apple music, pick from one of the numerous playlists and let it do the work.
If none of these help your grand quest to be a successful office DJ, just plug your headphones back into your laptop or phone and enjoy the music by yourself. At least, then, you play what you want, when you want and how often you want.
Photo Credit: .shock | Dreamstime.com