#BBNaija – Day 19: Love Quad, Never Cross The Chef and More Highlights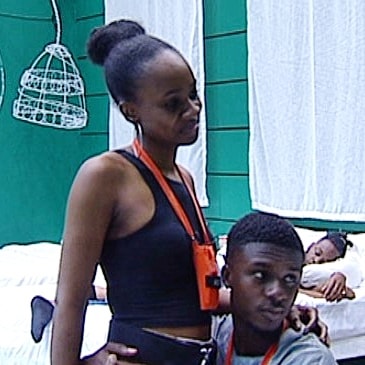 Did you watch day 19 of the Big Brother Naija 3 reality show?
If you missed it, we've got the highlights for you!
..
The Love Quad
Leo the lion
Upon entering the House, Leo described himself as a fiercely protective lion, and the man has lived up to his caring disposition. People have a way of soothing when he is around, and girls particularly confide in him, not feeling any of the intimidation they feel from some other males.
Close to midnight, Queen Khloe and Leo shared a genuine one-on-one, a skill Leo said he learned from being raised in a single-parent home headed by his mother. Theirs was a really soft and fluffy chat that nonetheless turned out sour for Khloe.
Unrequited love
As the discerning and tactful Head of House that she is, Khloe asked Leo if he liked Anto, and he nodded that he did appreciate her, though in a non-physical manner he added. Khloe tried to extract information from him without burning too much of her secret, and slipped into the conversation that she liked Leo, a move that sadly backfired on her.
Leo admitted to have growing feelings for Alex, but that he was at odds with himself as he described his emotions as 'platonic' for now. In a brilliant, lion-hearted fashion, Leo also said he thought Alex was a fragile heart, and he didn't want to play it like Teddy A and BamBam.
Leo said he liked Alex for her genuineness, Alex's emotions are transparent for all to see as she cries rivers of happiness, sadness or anger. She truly does wear her heart on her sleeve with her love language being physical touch. Alex has been very tactile whether with guys or girls, which may explain why some Housemates have complained that she invaded their private space. At the core, Alex is also falling for Leo.
Curiosity killed the cat, for Khloe was forced to conceal her disappointment, and moreover had to resign herself to the fact that K.Brule was burning for her attention. In summary, K.Brule likes Khloe who likes Leo who likes Alex, how do you think this love square will play out?
Never Cross The Chef
Queen Khloe must have gotten off on the wrong foot as she took the unusual decision to prepare lunch for the House.  Perhaps it was a distraction from having been turned down by Leo the night before.
So she walked into the kitchen to spice, marinate and fry chicken for her peers, with foodie Ifu Ennada keeping her company, or rather nibbling and restlessly hopping about on the spot. The smell of the drumsticks cooling on the counter drew Teddy A to the kitchen like a magnet, and he was soon followed by Nina and other rumbling stomachs who attempted to flatter her into allowing them to take a bite from the , which forced Queen Khloe to slap the spatula hard and demand that everyone leave the room.
When she had finally finished her cooking, Khloe covered the dishes and set them aside for later. But Biggie had something else in mind for the Housemates lunch. He wanted to reward them for winning their very first Wager, and had Ninjas deliver buckets of fast-food and soft drinks to the exhilarated Housemates.
The sight of grilled chicken accompanied by French fries didn't go down well with Khloe. Surely food one has not slaved over tastes better, yet she took it as a personal affront to her cooking prowess given she had also prepared a chicken dish. In a moment of silent rage, she refused to eat with her pals. She totally snubbed them and took her slow-burning indignation to bed instead, which is always the best way to deal with setups when things have turned from bad to worse.
None of the satiated Housemates seemed to have taken notice of her disappearance, and none seemed to be prepared for the Queen's backlash for hell hath no fury like a woman scorned, and Khloe has proven she never misses her targets when she is on fire.
What do you think will be her retaliation?
Man's Not Hot!
You know what they say about that boy in primary school that's always bothering a poor girl and calling names? The 'I like you but I don't know how to tell you' syndrome that eats away at all of us as some point; that's exactly what Angel seems to have been suffering from. Talking about Ahneeka's awkwardness and never failing to state the obvious about her acne, even coining the term 'acneeka'. Classic.
Rosy Ahneeka
Although she's had her fair share of blurts and air fist fights, Ahneeka is probably one of the least controversial of the Housemates because she's certainly managed to keep her calm and play it rosy, earning herself the 'House sweetheart' title. Firstly being a victim of rejection in Dee-One sweaty palms and not quite fitting into the Rinneka (Rico Swavey, Ahneeka) equation; she's managed to bounce back and pounce.
Angel's Indirect Advances
There have been quite a few instances where Angel mentioned just how much Ahneeka wanted him but was too 'shy' to admit it. Too many to understate as few actually. He's even brought it up with Ifu Ennada when she asked him about the under sheet fondling she witnessed in the House just the other day, to which he simply responded "you're making things up". It's pretty obvious that he's full-on into Ahneeka and his 'shy boi side mention' behavior seems to have absolutely no momentum. We don't blame the girl for brother-zoning him.
Too Swavey for Rico Swavey
Ahneeka's sexual appeal seems to have risen from zero to a hundred real quick, even forcing Rico Swavey to invent a spark and have him try to escape the 'Pair-zone' he's been locked in. During one of their gists about Dee-One and Vandora, Rico Swavey couldn't help but notice just how sexy Ahneeka looked in the side-boob steeze she spotted and witnessing the perk action that took place between her and Vandora seemed to increase the temperature in there. He even proposed some fondling but because 'man's not hot', Ahneeka clapped back and sealed the cookie jar even more, putting him back into the 'pair-zone' prison, with no chances of parole.
Roses are red and violets are blue, spirits are high and the temperature too. Will Ahneeka crack and need some affection?
***
Have you been watching? What did you think of the Day 19 activities?