#BBNaija – Day 20: Birthday Week, The Night Before & Many More Highlights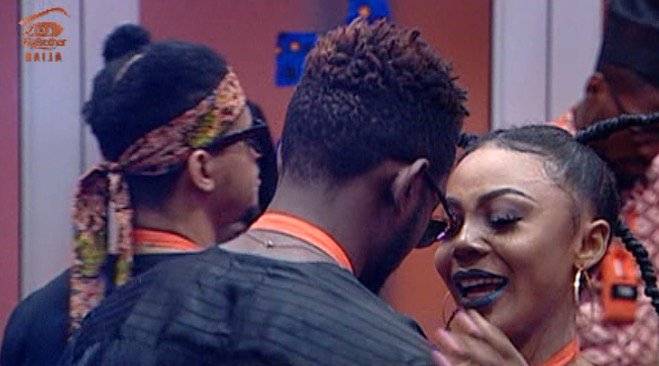 Did you watch day 20 of the Big Brother Naija 3 reality show?
If you missed it, we've got the highlights for you!
..
You Win Some, You Lose Some
The Housemates were clearly still in high spirits after having won their Wager for the very first time in three weeks. They most likely expected to continue on this path and perhaps further break the chain of loss in the Arena by successfully completing the challenges that stood ahead of them.
Dramatic Games
The night's games came with their own boat load of drama. Biggie instructed the Housemates to avoid using their usual orange uniform and team up in their outfits, showing the uniqueness of each pair instead. Bamteddy (BamBam, Teddy A) and Rineeka (Rico Swavey, Ahneeka) were automatically disqualified because of their failure to heed these instructions. Thanks to Bamteddy's not so unique uniqueness and Rineeka's futile argument and their failed attempt at being a team.
Completely Puzzled
The Housemates failed miserably and weren't able to complete the last of the four puzzles they were given. So much so that after they'd evacuated the Arena, Biggie had a ninja deliver that bull of a puzzle that eventually proved to have been a piece of 'nothing'. Even Angel, Mr 'I completed a puzzle in 56 seconds' scored a big fat L.
Task Mysteries
The Diary Sessions were pretty short and hovered around the secret tasks given to Lolu, Khloe and each Housemates respectively. Vandora, Ahneeka, K.Brule and Leo managed to shallowly crack the mysterious Task cases and earned themselves a special snack and a few bottles of liquid courage. Lolu and Khloe were made to reveal their tasks too, with Khloe being awarded a big fat win while Lolu walked away with nothing but a bruised ego in addition to the pang on his leg. She too joined the bunch of detectives and was rewarded a snack.
After shaking it up a little bit and hugging it out with Dee-One for his birthday, the Housemates sent themselves to bed.
Birthday Week
What a week it's been so far, with all the Nominations, Wager wins, Double Strikes and Arena Game losses – There also happened to be three Birthdays in the House this week.
Alex turns 22
Alex just happened to have her big day in the same day that the Housemates won their first ever Wager so it was celebrations all round in the Big Brother Naija House. In true Biggie style she received a cake on the morning of her birthday and the Housemates went into a full blown creaming competition, smashing cake into each other's faces and having a good time. Later that night they proceeded to win their Wager and were rewarded, but due to Cee-C and Lolu's Double Strike, there was a mixed mood in the House. The Birthday girl was asleep early and then became a source of support to the stressed out Lolu which the other Housemates were surprised by seeing as though they were all drinking and being merry.
Showered with Love
The funny guy and the charmer shared a birthday today and after a bit of a lay in this morning, Biggie promptly woke them up and instructed they go outside. Maybe it was the vibe in the House or the excitement for the party tonight that had everyone so riled up but everyone attempted to tie the guys down and hose them full force. It was all laughs and smiles while Miracle and Dee-One were literally getting drenched and following their impromptu shower, Biggie also gave them two cakes. The Housemates all sang and danced which really set the tone for the rest of the day in the House.
Mood on
As the day started off with such a positive bang, the mood in the House has been upbeat and positive ever since. Everyone has been feeling so festive, singing, dancing and looking alive. There has been quite a lot of flirting too! Princess was once again making a play for Miracle, who openly told her he likes Nina, she then started complaining how all the guys in the House are "taken" apart from Bitto. Vandora and Dee-One have been revving up their evident chemistry all day and Rico has done his best at trying with Ahneeka. Love is most certainly in the Big Brother Naija air.
On Angel Wings
When Angel entered the House, he said he would be the 'voice of reason' and that he was a very logical person. Well too much reason may have hurt his chances of wooing female Housemates.
From the start, Angel has been acting like Mr-Know-It-All, like he had the answer to everything and that his word was The Word.  However it is the same Angel who admitted that one of the things that most irritated him were 'people trying to enforce their opinion as law".
It is undeniable that Angel is endowed with a winner's physique, with a strength that speak to his fitness regime. But he hasn't had an easy time ever since Ninjas took his guitar away from him. Without his guitar to entertain him, Angel had to reinvent a strategy.
Boy was he wrong when he decided to target Ahneeka for she snapped him back into place in a blink of an eye, before rolling away from him.  Earlier Ahneeka had hinted that she was opened to the possibility of dating during their BBNaija stay, just to spice things up and as long as no one knew it. Yet everyone knew that Ahneeka would only flinch for Teddy A.
Besides, Ahneeka has made no secret that she felt Ifu Ennada had sensed sparkles in her relation with Angel, and Ahneeka didn't want any catfight over Angel for wasn't worth it.
Inside the muscled Angel beats a tender heart, one that only shares confidences with Ifu Ennada. It is a heart that is socially awkward yet a heart that has now set its sight onto Princess.
How do you think this will evolve?
The Night Before
Nothing feels as good as a Saturday Night party in the BBNaija House.  This week and in honour of the first Wager won, Biggie gave Housemates free reign and sponsor Payporte provided them with fabulous attires, with the only requirement to be very creative and inventive.
Filled with the upbeat mood of Miracle's and Dee-One's birthdays, Housemates took their time to prep for the party. Dressed to the nines in vibrant attires, the guys and the girls were unequaled in their primping and preening.
The fun really started when DJ Toy's blaring sound had Housemates rushing to the Party Room. While DJ Toy livened things up, Bitto and Tobi stayed off the dancefloor, and Bitto in particular looked distant and deep in thoughts. It was with a good reason, a night away from the first Evictions. As for Lolu he kept himself aside although rhyming and singing along the tunes.
It is Biggie who chose Housemates attires, and he did a good job at it even giving us hints at possible future alliances: Ifu and Khloe rocked different designs made in the same patterns, so did Anto and Princess, Miracle and Teddy A but Leo and Alex were such a cute fashion match. Rico had pledged to drink his Ahneeka sorrow away, and true to his words kept a glass firmly in his hand.
After this shared moment of complicity, Housemates didnt want to leave the space of relaxation and took the joyous mood to the kitchen for more goofing around and drinking and it was all very bold. Wet kisses were exchanged between Tobi and Cee-C, Teddy A and Bambam, Lolu and Queen Khloe.
At last, Angel finally snatched the smooch he had been waiting for from Princess.
***
Have you been watching? What did you think of the Day 20 activities?