#BBNaija – Day 21: Disqualification, Eviction & More Highlights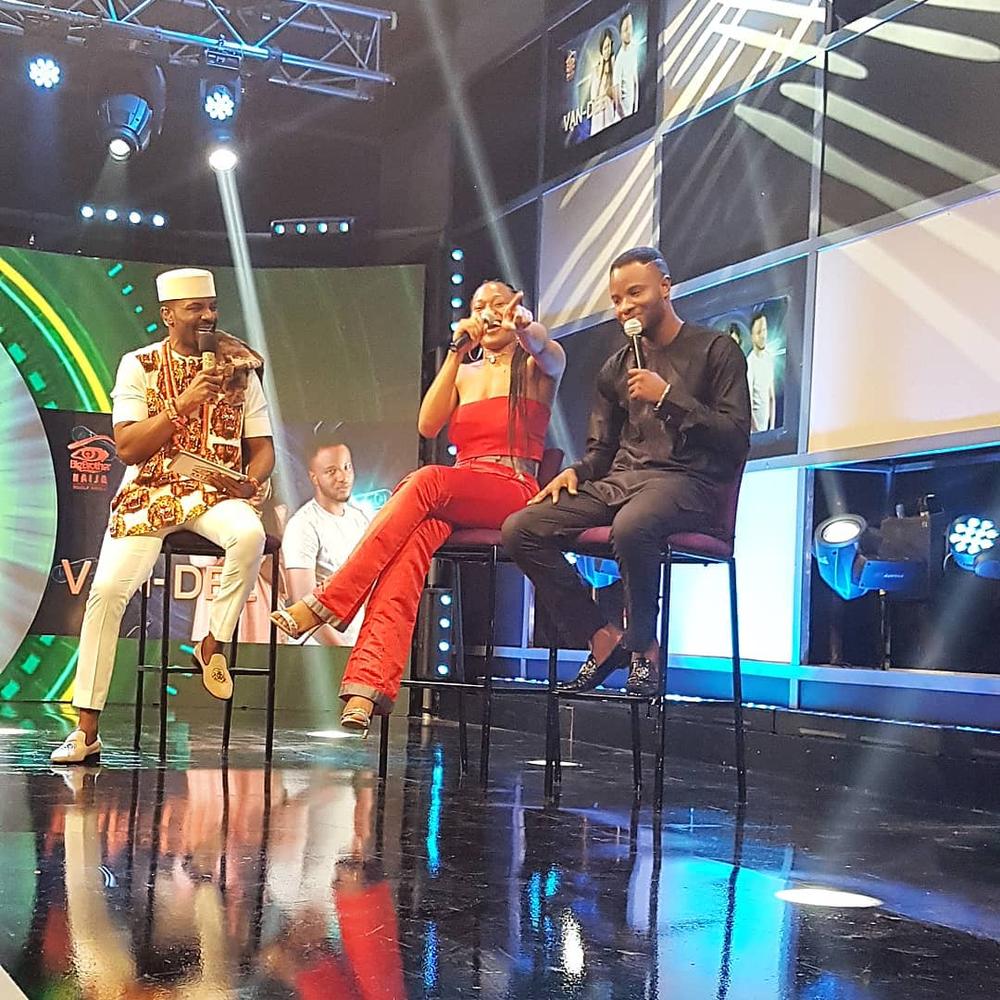 Did you watch day 21 of the Big Brother Naija 3 reality show?
If you missed it, we've got the highlights for you!
..
The Die is Cast
The Eviction word was on everyone's lips in the House, as Housemates tried to go about their day with as much normality as possible. Having survived three entire weeks in the House, no one has really acknowledged that they would be leaving any moment. Especially now that they have won the first Wager, and were treated to two birthday celebrations in one day. This was evident in the emotional roller-coaster they endured in the early hours of this morning.
First it was K.Brule and Khloe in the aftermath of the Saturday party where things got heated up to a point that K.Brule threatened to physically harm his strategic partner, Khloe. They took turns reporting to Biggie's calls to the diary room. According to Khloe's side of the story, K. Brule insulted her first by calling her a 'bastard'. She then replied by insulting his mother, something that triggered the need to physically harm Khloe. Other Housemates got involved in both their defences but K.Brule has been out of sight since his first call to the diary room.
Meanwhile, Princess on the other hand was fuming because she believes Bitto is a married man. As, she puts it: 'I'm not worried that he has a wife, I'm worried about my image to the outside world'. However, the Housemates came to Bitto's defence and argued that whichever way he chooses to play the game is up to him. Teddy A further added that he isn't obliged to divulge any details of his personal life he's not comfortable to. Bitto was given a chance to defend himself, and even though the guys advised him not to speak up, he chose to clarify the issue. He denied being married and said even if he was there was nothing wrong he did because he never pursued Princess in any romantic way. The issue was put to bed and Princess found solace in Angel's arms.
It is really during the Saturday Night Party that Housemates let loose, releasing all the tension they had felt onto the dancefloor. There was some lovemaking, heartbreaking, and soul shaking.
The Unknown Doesn't Hurt
It is unarguable that The Big Brother House is a universe floating in its own galaxy and the Housemates are faced with foreign comets hitting from all directions. So it's a no shocker that their behaviors change accordingly. After all, we are political animals and are constantly required to adjust, adapt and accept; and according to Teddy A, What happens in the 'Biggieverse', stay in the 'Biggieverse'.
Pair Dynamics
Ever since Biggie brought the pairing 'plague' to some and 'blessing' to others, the dynamics have changed more than a woman that's being courted changes outfits; with some pairs going from strategic to romantic, aboard the 'frenemyship', through the tunnel of indifference and back again. Proving by the day that having a House oozing 20 shades of ego, we're bound to see multiple shades of each Housemate respectively.
The Bamteddy Ins and Outs
Ever since Teddy A and BamBam hinted romance, their 'union' has been surrounded by flirtatious controversy and attracted commentary. During one of their gists, Vandora mentioned something about people having external relationships yet full blown courting in the House. While Bambam tried to defend her 'I know he's cheating but I don't mind, as long as he returns home to me' theory; probably driven by the fact that Teddy A has never tried to hide that he has a serious relationship outside the House but still manages to draw her in and she happily obliges; Vandora's view was that she condones cheating and to a certain degree, accepts emotional abuse. BamBam was obviously sourly moved by the lowkey attack launched by Vandora and spilled to her bae Teddy A who reacted by summoning Vandora and letting her know that he's not trying to divulge his personal life and what's happening between him or anybody else is purely game related. Basically telling her to mind her own business.
By The Way
Vandora clapped back by letting him know that she's very aware of the fact that it's a different world in there because she has a boyfriend but still manages to feel some type for Dee-One who happens to have the 'are you married?' cloud hovering over him. While that's a story for another day, it's clear that the Housemates aren't bothered about their lives outside the House and seem to have adopted the 'live and let live' theory. How this will affect the aftermath, only tonight's Evictees will know.
The Week that was
Ahneeka's Greatest Hits
As per usual, this week was nothing short drama. Ahneeka seemed to have gained her very own hit status considering how persistent Angel had been in his display of affection. No later did Rico Swavey, prompted by the fact that other pairs have a certain level of intimacy, hope Ahneeka would run along with his 'let's fondle' idea. Little did he know that the cookie jar was sealed and the key thrown out. Lolu's secret Task was sill underway and he seemed to be having some success with Vandora and maybe a pinch with Ahneeka.
No Eviction, No Stress
The relief from finding out that there was infact no Eviction brought an air of renewed confidence that seemed to have a life span shorter than that of a match stick.  The fact that the men were fully disqualified from taking part in the HoH qualifiers due to their blatant disregard for the rules further salted the wound as many had their eyes fiercely fixed on the throne that brought immunity along with it; which was eventually bagged by Khloe. Her reign was met with a lot of occult boos and a certain level of resistance. However, this reign although accompanied by its fair share of quarrels, proved to be effective as they managed to bag their Wager for the first time. Kudos to them.
It's Still a Race
The real Nominations made the Housemates realise that they couldn't dodge the Eviction bullet any longer and this brought about an air of discomfort and a little scheming amongst the Housemates. Biggie then dropped a bomb on an already compromised field when he announced that all the pairs would be up for possible Eviction. The queen did however lighten the burden for team LeoLex as they were handed immunity on a silver platter.
Bonded, Love Up and At a Loss
To celebrate the week of love and possibly promote the emotion amongst the Housemates, Biggie had them all bonded to persons either than their original pairs. This resulted in an unusual friendship between Cee-C and Lolu that saw an array of confessions never heard before and a disagreement that lead to the awarding of a double Strike that further compromised their strategic positions. There was yet another set of rules that were broken during their newly paired mingles that resulted in a rather 'wet' punishment courtesy of Big Brother.
Valentines day came along and lifted away the dark cloud that hung over the House. The men took over the kitchen, delivering mouth-watering noddle dishes and added to that by serenading the ladies with sweet little nothings. These seem to have had the desired effect as Tobi and Cee-C had their very first kiss. Goodbye to curves and resistance. However, never mentioned before details about external romantic relationships in the Diary Room were the highlight of this auspicious occasion.
The Housemates were treated to another 'Loss buffet' as they colectively failed to complete the puzzle relay during the Friday night games. This increased the amount of pressure and the party was not as highly anticipated as it should have been as the Hosemates realised just how much closer they were to losing some of their own.
Like in the real world, reality cannot be dodged or escaped, it simply always has its way. The weeks to follow will be the Housemate's heaviest yet as they would have experienced the very first Evictions and would inevitably have to anticipate that of their own. Stakes have been risen and so will claws be sharpened and backs stabbed but the question is, will the Housemates finally get their big strategic guns out and aim purposefully?
K_Square Disqualified
The Housemates seem to have a problem following Biggie's rules and this evening it all came to a head when he issued three Strikes to Khloe, K.Brule and Dee-One for provacation.
Sticks and Stones
Khloe took it too far when she decided to provoke K.Brule last night with some harsh words. Due to this offense of provocation, Big Brother gave Khloe a Strike, putting the pair on two Strikes but this time her lack of tact dragged her into the worst punishment Big Brother could give, dismissal from the House. This is thanks in part to the behavior of her partner.
Bad Attitude
Tonight was not a good one for the pair of K_Squared. K.Brule, who has been openly emotional and sensitive throughout his time in the House also pushed Big brother too far. Last night, after threatening to assault Dee-One as well as being called to the Diary Room numerous times and still not responding, eventually having to get carried by his fellow Housemates to the Diary room. This act of utter defiance, put the pair on three Strikes which is what led to them being disqualified from the House.
Stirring the Pot
Biggie was not playing any games this evening, it is time that the Housemates fully realized that this is Big Brother's House and they need to follow his rules. A Strike was issued to Housemate Dee-One for his constant provocation in the House.
Prito & VanDee Evicted
Big Brother Naija never disappoints when it comes to a Live Show and tonight was no different. From superstar performances, Evictions and all the usual glitz and glam, tonight was a night to remember.
Tonight it was Prito and Van-Dee who were Evicted from the Big Brother Naija House. It was a thrilling and emotional 90 minutes.
Ebuka, who was dressed to the nines as usual, addressed the fact that the entire House was up for Eviction (excluding LeoLex who were saved by HoH).
The first pair to leave the House was the ever vibrant Prito. It was a tense moment as Ebuka first saved Rihneeka and Mina, he then delivered the news that shook everyone to their core. Everyone bid them a beautiful farewell and they exited the House with grace.
During their time on stage with Ebuka, Bitto seemed happy that he had at least two weeks in the House while Princess was visibly more upset and said that she would of liked more time in the House.
The week that was made for a myriad of love, hate, secrets, strategies and birthdays to boot. There was no shortage of entertainment from our 20 Housemates as they went through all the motions.
After running through the rather puzzling Arena games, Ebuka moved on to the second Eviction. BamTeddy and Loto were named as safe as we were left on the edge of our seats awaiting the final verdict.
The Housemates were visibly shook as Ebuka announced that Van-Dee would be the second pair to leave the House. After some tears and an emotionally charged goodbye, they exited the House and joined Ebuka on Stage.
Both Vandora and Dee-One were upbeat during their on stage interview and even shared a laugh about the contentious topic of Dee-One's marriage outside the House.
What was your favorite moment of tonight's Live Show?
The Calm after the Storm
After an eventful Live Show, Vandora, Dee-One, Princess and Bitto are now no longer a part of Big Brother Naija, the Housemates behaviour afterward proved to be quite surprising.
Survival Mode
It could have been the shock, possibly the fear instilled within them after the Strikes given earlier in the day but the Housemates were very cool, calm and collected after Prito and Van-Dee's Evictions. The only Housemates who seemed truly saddened was Alex, BamBam and Ifu Ennada. There was an obviously stillness as everyone re adjusted to the new vibration in the House but after the initial shock, things went back to normal quite fast. Talk about snap back!
Reality
The Housemates have been rather defiant towards to the rules of the House since the game started but tonight was definitely a huge reality check for them. Leo even stated that as soon as he heard the audience cheering for the different pairs during the Eviction announcement it hit him that this is actually a game. Cee-C channelled her frustrations into another fight with Tobi, telling him that sometimes he acts in a way that is selfish and he does not consider her at all. Tobi stood his ground and said that he has never disrespected her, things cooled down quickly after this. Nina and Miracle had a conversation about everything that went down and they both came to the conclusion that there is no point in having a strategy, as everyone can see everything you do, all you should do is be yourself.
What's Cooking?
All that stress caused the Housemates to work up an appetite and as usual they all started cooking away in the Kitchen and were all laughing and shouting before long. At this point, Ifu Ennada did look quite tense, she was really quiet while everyone else did not seem bothered at all. Some of the Housemates congregated in the bedroom and while Alex and Leo cozied up to one another, Anto, Lolu and Teddy A were joking and laughing.
Clearly some Housemates were more emotional than others but the mood overall was calm.
***
Have you been watching? What did you think of the Day 21 activities?