#BBNaija – Day 25: A House Divided, Chasing Rainbows & More Highlights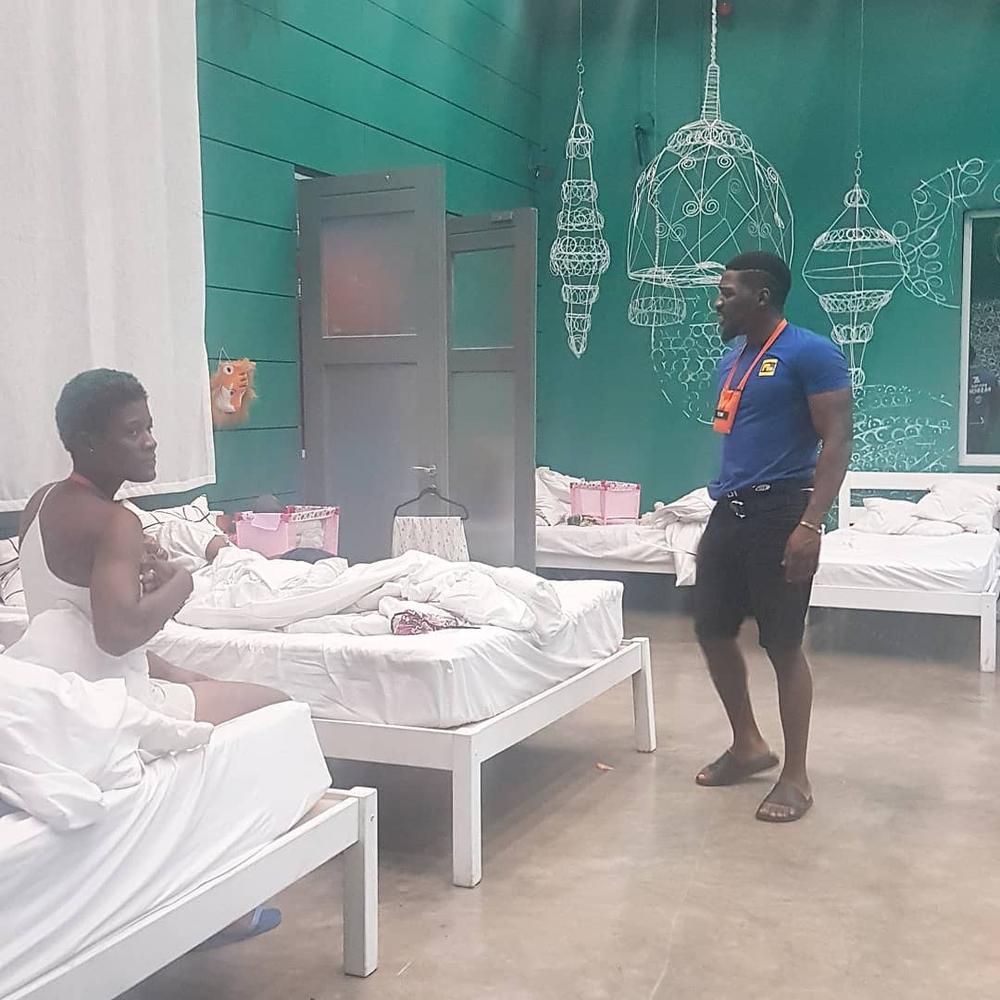 Did you watch day 25 of the Big Brother Naija 3 reality show?
If you missed it, we've got the highlights for you!
..
The Midnight Search
The Housemates seem to have adjusted quite well to their Parenting Task, some more than others but it has surely made them realise what parent-hood is all about. After Bambam was given a Secret Task by Big Brother, the House came to a standstill when Mito (Miracle and Anto) realised that their baby was missing.
Midnight Search
It was inevitable that there'd be accusations and suspects at the realisation that the baby was missing. The axe, unfortunately, fell onto Alex who was highly offended that Miracle had accused her. The look on Miracle's face was that of obvious sadness but the determination to find his baby kept him going.
The Reunion
After hours of going up and down looking for baby 'Chidera', Miracle finally asked some of the Housemates for help, while the mother of the baby, Anto, wasn't part of the search. Having searched the entire House, the final place to search was the Housemates' bags, which he asked for permission and they agreed.
The search team which consisted of Teddy A, Lolu, Miracle and Rico Swavey was hard at work leaving no bag unturned. It wasn't long before Lolu found the baby inside BamBam's bag. She, of course, denied knowing anything about the baby ending up inside her bag.
What does this mean for their Wager?
A House Divided
A Case of Poor Leadership
When Miracle won the Head of House title, his appointment was welcomed by all, a sign of the esteem that Housemates held him into. With the title came the privilege to choose who he wanted his partner to be, and of all the girls – including his squeeze Nina – he chose Anto to be his right arm for he said he admired her intelligence. Though much was expected from Mito's (Miracle and Anto) new alliance of beauty and brains, halfway through their rule, their leadership is proving quite underwhelming. They are simply not gelling together: Anto was often left to care for their baby dolls alone, as Miracle had returned to his old ways of hovering around Nina and coming to her help instead. So when the time came for him to track their missing baby, Anto paid him back by ignoring him and stayed warmly under the bed cover.
The Domino Effect
As for Nina, who had effectively turned into Miracle's shadow, her pairing with Teddy A (Tena) is also proving challenging. So far Nina has never been the most talkative or expressive person. Some attribute her shyness to her young age, others to her lack of astuteness. In a way, Teddy A seemed to regard her a negligible asset, and acted accordingly, as he was also drawn back to BamBam, tending to her needs and helping her. After all, couples that bathe and sleep together stay together. BamBam didn't look the least concerned with the all-consuming parenting task, instead she left Rico Swavey in charge most of the time, and ran to Teddy A. Although Bamco (Rico Swavey and Bambam) chat and laugh together yet they don't glue. Tobi and Alex presented the same pattern of sporadically hanging out together though when it came to the babies. Yet it is Leo who rushed to Alex's rescue, way before even thinking of Ifu Ennada whom he was paired with.
As for Lolu, he tried to be accommodating to the volcanic Cee-C (Ceelo), but somehow Tobi always reappears like a magnet which has at least the benefit of freeing him from co-parenting with Cee-C.If there was a parenting prize, it seems that Angel and Ahneeka (Gelah) would likely win it, mainly because Angel is determined to impress Ahneeka.
What will it take for the bonding to strengthen in the House?
All Grown Up
As a Task, Biggie announced that it was time for the babies to go to the clinic to receive vitamins. No sooner said than done, four Ninjas entered the House to collect the babies and all their paraphernalia – cots, toys, balloons, bottles – clearing the lounge from a mountain of stuff.
Is The Juice Worth The Squeeze?
A few minutes later, Biggie's voice thundered in the lounge again for Housemates to get ready to welcome back their babies. Yet again, Biggie proved that he never runs short of tricks. The babies who re-entered the House, had considerably grown into young adults, a phenomenon that Biggie attributed to the wonders that vitamins do to babies. Flabbergasted Housemates could barely believe what was unfolding before their eyes, they looked visibly baffled at the sight of seven teenagers and young adults emerging from the elevator dressed in white onesies complete with babies' bibs and sucking on dummies. General hilarity ensued as the grown up babies all wore the names of their parents tied around the neck, and so helped Housemates identify who was their baby.
Hands On and Hands Off
It clearly is one thing to deal with baby dolls as loud as the cries were, and another thing altogether to look after a baby who is taller and bigger than you, Anto who was slouched in the sofa all this time, pulled a long face when her eyes met her son's eyes, a full head taller skinny young man. Leo on the other hand seemed to have a hard time soothing his peachy-skinned daughter, while Rico was seated on the carpet playing with his much taller and curvaceous daughter who seemed uninterested in his efforts, until he gave her a piggy-back ride. As for Teddy A he was the direct recipient of Ahneeka's suspicious looks when he lifted his attractive long-legged daughter up in the air to swing her around.
To pacify the children and the parents alike, Ifu Ennada walked in the lounge with snacks that she distributed to all. Yet it didn't bring any calm to the room.
What do you think will emerge from this new twist?
Chasing Rainbows
In the spirit of this week's "Be Responsible" theme, Biggie kept poking Housemates further and teased that he hoped they've had a fun time taking care of the babies.
Lesson Learned
Biggie made it clear that he was intent on giving everyone a taster on the practice of parenthood, an amazing experience that can become tedious when unplanned. One could have heard a pin drop at that remark. Housemates sighed of relief as their eyes rolled in wonder.
To this end, Head of House Miracle briefed his peers about their next Task, one of awareness raising to the society. Housemates were tasked with devising a poem praising the benefits of using protection for sexually active adults. They were also assigned with composing an original song on the benefits of Planned Parenthood, in addition to scripting a talk encouraging the use of condoms and abstinence among the youth. The new Task was welcomed with a contagious enthusiasm as Housemates seemed to revel in the chance to flaunt their individual talents and mend their broken bonds.
Put Your Heart In It
Upon Teddy A's suggestion, Housemates divided into three separate groups to work on each segment of the Task. Music lovers Bambam, Cee-C, Rico Swavey and Teddy A gathered around the kitchen counter to couch their rhymes on paper. Meanwhile Alex, Leo and Ifu took on the poetry challenge to the bedroom. At the long kitchen table, under Miracle and Lolu's unfazed gaze, Tobi, Anto and Ahneeka engaged in a heated debate to jot down their ideas for their vibrant play.
Do you think this Task will achieve the expected results and balance the House dynamics?
Dents Too Deep
If the Cebi story was a novel, it would pass for a best seller and maybe make it into box office because their tale is one full of really high highs that almost had both throw off their individual games and very low lows that well, were low.
The Shade Aftermath
After the shade they threw yesterday, we were led to believe that there might be hope because it looked like both parties were trying to justify their actions without giving the narrative away. There was still a bit of doubt though because Tobi's behavior did a total 360. From having the word 'sorry' at the tip of his tongue to only half accepting the half said 'sorry' from Cee-C. We might not be completely wrong to assume that all this was a strategy for him.
Trust Issues
It seem Tobi's withdrawal is fed by his apparent inability to trust Cee-C because of a statement she made. According to Tobi's in-house sources, Cee-C mentioned something about being touched inappropriately and this didn't sit well with him, hence his walking out on her on pairing day.Today's conversation was most likely meant to help the former pair iron things out and rid their relationship of unnecessary issues but the outcome was an unexpected one, especially on Cee-C's end of the stick because she seemed to have expected a quick resolution, which didn't happen. Tobi listed at least three things that he didn't approve of, one of them being how she always overreacts and later blames him for it. Cee-C kept trying to construct a valid argument but ended up mentioning how she thought Tobi's feelings were probably not real from the beginning and advised him to go ahead and fly free; this after asking Tobi if he'd regret his his experience with her in the House to which he responded no.
I'm only Human
Furthermore, when Cee-C argued her case and reminded Tobi that she was only human and bound to make mistakes, he reminded her that  she can't expect to act and avoid a reaction. Basically saying he's human too and couldn't trust her anymore as he now felt the need to  always be careful when around her. Talking about trust, Cee-C also mentioned something about growing up in a home where cheating was the order of the day and how she consequently has trust issues when it comes to her sentimental life. Which leads us to thinking  maybe she expected a lot of patience and Tobi could only offer a little, just maybe.
It's clear that the issues highlighted in their extended conversations run deeper and far beyond the walls of the Big Brother House. His fears and her insecurities. It's clear that it will take more than just a 'during laundry' conversation to clear the smoke but will they put their issues to bed?
To Victory and Beyond
The Housemates were tasked with dissecting one of the most sensitive topics universally. They were to create a talk show surrounding safe sex practices amongst youth, accompanied by a song that would further relay the message and promote awareness.
The Task at Hand
Although complete participation by all Housemates is arguable, some effort towards the Task was evident. Rico Swavey and Nina were to deliver the rap part of the song while Teddy A and Bambam composed the rest of it and let's be frank, there was very little preparation. Ahneeka assumed the presenter's responsibility and Lolu, Anto, Miracle, Angel and Tobi were the esteemed guests who shared their experiences varying from a partner's refusal to use protection, undisclosed statuses, behavior based on misconceived ideas and the use of birth control to substitute condoms. These roles were used to depict everyday situations faced by young people and their inability to refuse acts that a deemed 'fashionable' in order to fit into their peers groups.
The Unexpected Victory
Of all the sub topics covered, the most important was that of parents finding a way to communicate with their kids without labeling anything on the table as taboo. The ability to create favorable environments and use age appropriate language to bust myths surrounding sex and everything that's a consequence of unsafe practices.
The lack of preparation does not take away from the message conveyed through the Task activities and although Biggie felt they should have done better and could have been better prepared, judging their parenting skills too, their use of day to day examples impressed the Oga and resulted in their second consecutive Wager win.
The message was conveyed and the objective reached but it seems not everyone expected HoH Miracle to pull a winning stunt. While that's another day's gist, Should Biggie have let them have their cake and eat it?
***
Have you been watching? What did you think of the Day 25 activities?