#BBNaija – Day 26: Festival of Color, A Major Miracle & More Highlights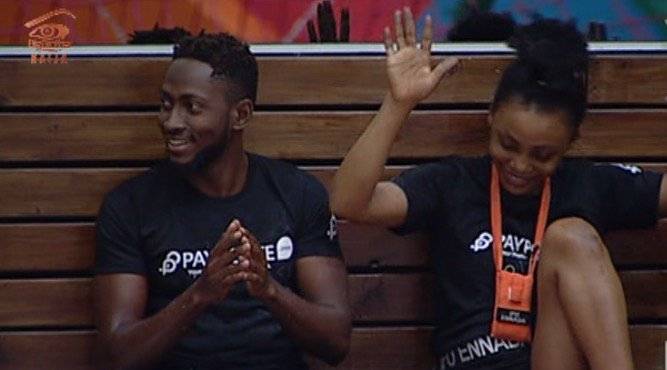 Did you watch day 26 of the Big Brother Naija 3 reality show?
If you missed it, we've got the highlights for you!
..
A Strange Gist
This morning got spicy fast when the unlikely group of Nina, Cee-C and Angel grouped together in the garden and let rip about everything from strategy to straight gossip.
Catalyst
It all started when all the Housemates were getting ready this morning, Ifu Ennada said something in jest and Cee-C just took it in the complete wrong way. Ifu responded by telling Cee-C that she has major insecurities and this quickly escalated. Cee-C literally flipped out and started shouting and getting in Ifu's face, Ifu tried to remain calm and kept reiterating that it was all just a joke but it made no difference to Cee-C that would not let her get a word in edge wise.
Garden Gossip
After the madness inside, Biggie ordered that the Housemates all go into the Garden and shut the doors. In a weird series of events, Angel, Cee-C and Nina congregated by the hammock and proceeded to chat about the fight. Their conversation concluded with the fact that Ifu loves to "Label" people. It didn't end there, they also had their fair share to say about other Housemates, Cee-C outright insulted Alex to which Angel interjected saying that she must be gentle. Nina also told Cee-C that she needs to calm down because she will have to put up with a lot in the House. Rico Swavey jumped into the mix too for a brief time and reassured Cee-C that Ifu was joking but to no end.
Firecracker
This is not the first time Cee-C has ruffled some feathers in the House, she has come to blows with a few of the other housemates too. It seems the lawyer in the House has no problem speaking her mind as she has had past disagreements with Alex, Princess and Khloe not to mention all the times she has fought with Tobi. Clearly Miss Cee-C has quite the temper.
A Festival of Color
Biggie brought some sunshine on a cloudy day with the colourful tie-dye Task and the Housemates really had fun with it.
Team Work is Dream Work
After a rather rocky start this morning in the House, which saw Ifu Ennada and Cee-C causing a complete ripple effect after their argument. The tie-dye Task was an amazing platform to bring the Housemates back together. Each pair sat together and focused solely on the process of dying their piece of material in the best pattern. It was like a calm after the storm that was Cee-C. Everyone was working together in a really fluid and amicable fashion.
Show Offs
Obviously in any Task there will always be those who want to be the best and today it was Teddy A and Nina who were flexing the most. Teddy A kept referring to how "mad" his colours were and Nina concurred and laughed.
Good Vibrations
The aptly themed 1960's style task literally gave the House some good vibrations which was much needed after last night's weird mood, the week of babies and Cee-C holding nothing back. It was refreshing to see everyone uniting and working together in a calm and tranquil mood. Biggie even rewarded the Housemates with some pizza for winning their Wager and let's be real – who doesn't love pizza? Teddy A said in his Diary Session that he thinks if Biggie gives them puzzles, it will help ease their minds and maybe he was right.
How Deep is your Love?
Biggie unwrapped another surprise for Housemates and gave them half an hour to come up with the names of their two preferred Pairs. Well, nominating four people altogether was no small feat for the divided House, as sizzles and sputters have plagued them over the past couple of days.
Upon receiving Biggie's instructions, Housemates left the lounge in Pairs to retreat in a different area of the House and strategize. The hardest part for them was to leave grievances aside and come together on a common set of names. Ever since Biggie's most recent reshuffling, Housemates are not gelling together like they used to, and they have to work much harder at building consensus to work together.
I love you
A voluble Alex started talking only for Tobi to hush her and pull her aside from eavesdroppers to a corner of the sofa. It was Tobi from the Tolex (Tobi and Alex) pair who chose Mito (Miracle and Anto) and Tena (Teddy A and Nina). He made no attempt to try and salvage his ladylove Cee-C who is paired with Lolu (Ceelo). In the upper bedroom, Lolu tried his utmost to pacify an embittered Cee-C from her early catfight with Ifu. As usual, Cee-C wouldn't let go, yet they managed to agree on Mito and Bamco (BamBam and Rico) before talking at cross purposes again.
Me Neither
The Head of House Pair Mito (Miracle and Anto) retired to the luxury suite, emerging from their closed session with Bamco and Gelah (Angel and Ahneeka) on their lips. Here again Miracle made no effort to try and save his squeeze Nina, but their decision may have been influenced by Miracle's disregard of Teddy A. Likewise, Nina and Teddy moved to the closet and put forward the names of Tolex and Gelah. Neither Nina nor Teddy named as preferred Housemates their love interests – Bambam and Miracle.
Yet in the kitchen, as Rico was grating carrots with BamBam by his side slicing potatoes for dinner, they casually dropped the names of Gelah and Tena, if only for Teddy A. While Lifu (Leo and Ifu) came together pretty easily on Bamco and Tena, and Tena picked Tolex and Gelah. Representing Gelah, Ahneeka named Tena and Mito.
At the end, to keep the suspense, Biggie informed them that the results would only be made known after the live Eviction show.
A Major Miracle
After winning the Wager and the Head of House title, Miracle scooped another victory during the Arena Games.
As the weeks go by, Biggie increased the Game's difficulties, this time adding no less than five challenges for Housemates to complete in a record ten minutes. Biggie had designed the Game for Housemates to make the best use of speed, agility and balance under pressure.
The obstacle course kept ascending, from the relatively simple one of walking on a balance beam, to running on platforms, then pushing a wheelbarrow which gave rise to a few memorable funny faces from Housemates.  The next level included climbing up and over a net obstacle before crawling under a net that landed into an air mattress covered in flour and feathers.
Nothing stopped Housemates from giving their best to the Game. Even Nina and Lolu who had what could be described as a slippery time on the balance beam, picked themselves up really quickly and started all over again with a renewed determination.Covered in flour and feathers on the chin, face, hair, nostrils, knees and skin, exhilarated Housemates were relieved that Biggie ordered them to go take a shower.  Perhaps they may even feel a little bit grateful for Biggie's gruelling morning fitness routines that have paid off.
From the side benches where he was seated, Miracle seemed to be riding the wave of his third success, as he was applauded by all upon Biggie's announcement.
***
Have you been watching? What did you think of the Day 26 activities?