#BBNaija – Day 7: The Morning After, The Live Show & Many More Highlights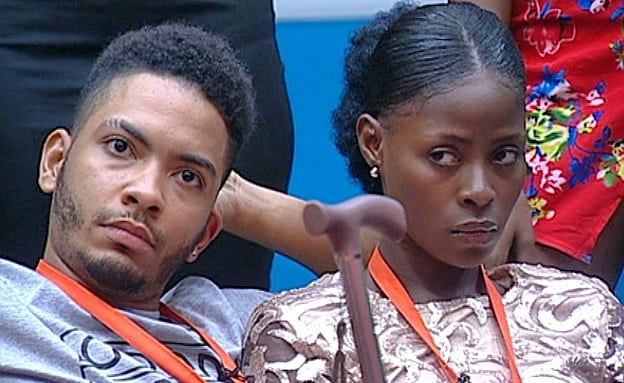 Did you watch day 7 of the Big Brother Naija 3 reality show?
If you missed it, we've got the highlights for you!
..
The Morning After
Last night was a total catalyst for a new vibe in the House, it's been a week full of ups and downs and it was clear that everyone really needed to unwind.
After everyone danced the night away to the cool sounds from DJ Snipes, everyone went to the kitchen to do what they love most, eat. K.Brule was clearly feeling on Anto and tried his best with her. Princess even smeared some ice-cream on Anto's face and K.Brule licked it up. After they shared a rather intimate moment, Anto seemed to brush K.Brule off and he was left looking forlorn.
Princess used that ice-cream as her weapon to get everyone kissing, first Lolu and Anto locked lips, then Tobi and Princess.
K.Brule pulled a wild stunt and hurt his leg which was had a few of the Housemates shook. Was it all a ploy for the attention he did not seem to be getting from either of the ladies he had tried with last night?
The alcohol was certainly flowing last night and the all the good energy was flowing but how will it affect today's dynamics?
We all know how things feel the morning after a big night out.
Rico Ricochets off Bitto
Most Housemates had a slow morning as most were still recovering from last night's outburst of events. But then again, a few early birds who had risen were hanging out by the kitchen to share thoughts, or rather plainly, to gossip on the absentees. Of all the babbling, Rico Swavey's comedy act made the day: he bent and jiggled and waved arms in the air before rolling on the kitchen floor to re-enact Bitto's sleep fart attack, a smelly episode he had witnessed overnight. His audience – Ifu Ennada, Princess and Bambam – roared of delight, laughing so hard they had to bend to calm their stomach muscles. Rico Swavey's mocking performance took another turn in the dressing room, when he put Bitto on the spot with the embarrassing moment. Admittedly, Bitto laughed it off, brushing it aside as a non-issue. Bitto seemed to have no problem making fun of himself and joined in the group's hearty glee. But a few hours later, the joke wasn't on Bitto anymore – it had snowballed on everyone's lips and had turned into mild bullying. Oddly enough, the career comedian Dee-One has not yet cracked a single joke since entering the House.
Sparkling Beginnings
For the third year, Big Brother has exceeded expectations and brought together the largest, weirdest and most colorful assemble of Housemates.  Right after their introduction to the world, Biggie played the dirty trick of a fake Eviction, just to remind them who was really in charge in the House. On the next day, Kabiyesi Tobi was announced as the first Head of House, a title that came with the privilege of taking possession of the double bedroom as well as picking a sleep buddy of his choice. Luckily for him, he didn't even have to choose as Cee-C volunteered to share the bed with him. Sparkles of attraction could just not be discarded as Nina and Miracle shared a very wet first kiss during shower time on the second day.
To spice things up, Biggie decided to pair Housemates according to funny monikers and for some reason, some of those pairs seem to have graduated into couples. Take K_Square for example, their combined mood swings are a ticking time bomb. But the jolly gang had gotten louder and louder, prompting Biggie into teaching them a lesson. And Biggie's punishment was no joke to say the least. If anything, the ordeal of separating a bowl of beans and rice achieved the desired of effect of bringing Housemates back into line, a quiet one at that.
Expecting the unexpected, it is Bitto who won the first Friday Night Games, racing way ahead of the others and finishing top of the race. Glammed-up Housemates were treated to drinks and music on a much welcome Saturday party, ending the week on a bubbly note.
It's A Strike
The Big Brother House is fun, games and everything else in between but it also more and the housemates seem to be oblivious to this. This is a kingdom and Biggie is the King. What the man says goes! The housemates seem to have found way too much comfort in the House's luxuries and Biggie's patience. Even after being scolded for being too unruly, going through punishment and ultimately losing their 75 percent of their Wager, they haven't changed their ways and this might just bring dire consequences.
On that 'consequences' note, there is trouble in the K_square paradise. At first, Khloe seemed to be a catalyst for disaster when she was in constant brawls with the other Housemates, but it K.Brule who effortlessly scored them the very first strike of the season. If this was a soccer match, we'd call this an own goal, right? According to Biggie's rule book, even self-inflicted violence is a strike worthy offence. 'Super man' K.Brule literally deserves an Oscar for throwing himself from the balcony.
Being the extra-terrestrial oga that he is, Biggie didn't let that slide. On top of earning a big fat strike and being a step closer to being booted out of the competition, K_Square will not be participating in the HOH Task Qualifier. This was undeniably a stone to swallow for the offenders because nominations are ushering in and they've literally lost any chances to immunity. This was clearly more spicy that the chief of pepper soups and Khloe's face gave it away real quick. We bet she fought with all she has to avoid a brawl right there and then.
To Qualify or Not to Qualify
While a President is the highest authority in a country and though this may be relative, the holder of this auspicious title is afforded luxuries and a certain degree of immunity. The Big Brother House spots the 'Head of House' and it plays a major role in the eventual turn of 'events' in the House. The Housemates know just how important landing the HOH throne is, but it seems like the ladies are snacking on some relaxation and we bet you the guys are screaming 'Comot for here'. Rightfully so, this is a game after all.
Biggie came out to play once again and brought his tricks with him. Instead of the normal schedule, the oga summoned the Housemates in pairs to the Arena for the HOH Task qualifier. Team K_square were summoned, but only to observe and cheer as they are serving their time in the punishment cells. The Task seemed to be a walk in the park with an egg and spoon in hand but the stakes were undeniably very high.
Unlike the ladies, this was no pageant because the guys brought it and brought it all. They fought hard and Teddy A and Tobi brought their eggs in time for the hatch and came out on top, bringing Bamteddy and Cebi that much closer to majesty.  Teddy A and BamBam will be battling it out with the reigning Igwe pair Tobi and Cee-C. It doesn't seem like Tobi is ready to hand over the crown. Could it be because he realizes that Teddy A is competition in more ways than one… Cee-C, hint much?! Or he's simply in it to win it? We won't know until the actual Task so keep it locked and see which pair gets to say "The lord don butta our bread".
***
Have you been watching? What did you think of the Day 7 activities?