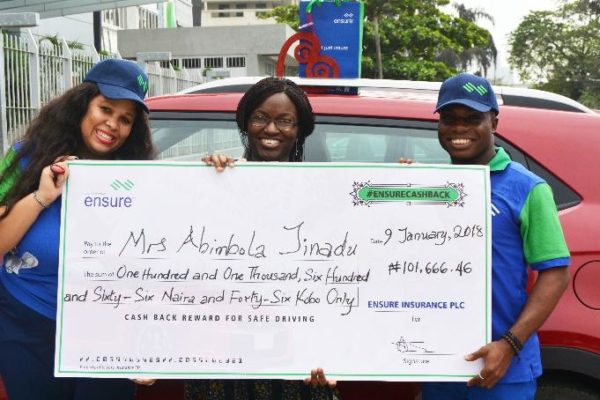 On Friday, February 9th, 2018, Ensure Insurance Plc. presented cheques to customers eligible for the company's first Cashback Season Campaign. One of the recipients of the Cashback reward, Abimbola Jinadu, received a cheque of N101,666 which amounts to 15% of her total premium over the last 24 months.
Managing Director of Ensure Insurance PLC, Sunkanmi Adekeye noted that the scheme was birthed following market research on what customers require from their insurer. "Consumers want to know what happens if nothing happens", he enthused. "So when we launched our redesigned Comprehensive Motor Insurance policies in 2016, we promised that if no claim is reported over the next 24 months, we will give back 15% percent of the premiums paid by the customer. The Cashback Campaign which we launched this January is Ensure sticking to its promise", he explained.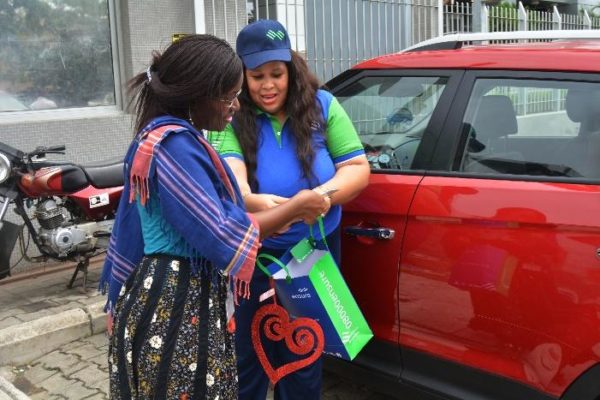 Highlighting the significance of the campaign, Tonte Ikiriko, Chief Marketing officer, Ensure Insurance PLC, highlighted that consumer confidence in the transparency of product offerings by insurance companies is abysmally low. "People are generally wary of insurance products and see the fine print of policy documents as clever ways to evade payment of claims by insurers. Insurers have the responsibility to fix this misimpression by creating value for customers", she stated. "Cashback is our own little way of telling our valued customers, and the market at large, that here at Ensure, we talk the talk and then walk the walk.
The thrilled winner, Abimbola Jinadu, who was paid a visit at her workplace by members of the Ensure cashback team revealed that whereas she had been hinted by calls from Ensure customer service team, she was pleasantly surprised to actually receive the cheque and an early Valentine token from Ensure.
Ensure Insurance Plc is changing the way insurance works for Nigerians. The company prides itself with absolute transparency and commitment to outstanding service delivery. Ensure offers simple and affordable insurance plans for Motor, Education, Home, SMEs & Corporate Businesses which are designed to protect the assets of individuals and help customers get value for their money.
Visit www.ensure.com.ng/cashback to find out more.   
——————————————————————————————————————————————————————————
Sponsored Content