Project PINK BLUE, a cancer-fighting non-governmental organization is joining the rest of the world to commemorate the 2018 World Cancer Day with an awareness walk to primarily raise awareness on cancer, promote early detection of cancer and raise funds for cancer patients in Nigeria. The World Cancer Day walk, race, cycle, ride, skate and marathon against cancer took place by 7.00 am on Saturday, February 3rd, 2018, at Transcorp Hilton Abuja.
Over 2000 Nigerians stormed the street of Abuja wearing blue, gold and pink T-shirts which represents all forms of cancers, men, children and women cancers respectively. Free breast, cervical and prostate cancer screenings were also provided to so many Nigeria at the event; people diagnosed with abnormalities or symptoms of cancer would be referred for treatment and supported.
Sadiq Daba, a veteran broadcasted with Nigerian Television Authority (NTA) and a popular TV star in the 1980s Cockcrow at Dawn drama led the awareness walk and he said "I want to use this amazing opportunity to thank Nigerians who donated for my cancer treatment; today, I am alive because of your donation. Please let's not close our eyes to millions of Nigerians passing through a battle with cancer. Nigerian government needs to improve cancer care in Nigeria and make treatment available in Nigeria".  Sadiq Daba was diagnosed with Leukemia and later Prostate cancer in 2015. He was supported massively by Nigerians at home and abroad for his cancer treatment.
Dr. Joe Okei-Odumakin, a women rights activist and president of Women Arise, who has played enviable roles in raising funds for Cancer patients including Sadiq Daba said "Cancer is the second-leading cause of death worldwide, in Nigeria reports says that over 80,000 Nigerians die of cancer annually. Painfully, they die when we needed them most, more people are dying in their prime. We must all give cancer care and treatment a priority. It is only a healthy people that can build a more robust economy, a secure nation, a powerful country and the giant of Africa that we all desire. If we allow cancer to continue to take aware our mentors, fathers, mothers and children, then we are preparing ourselves for failure".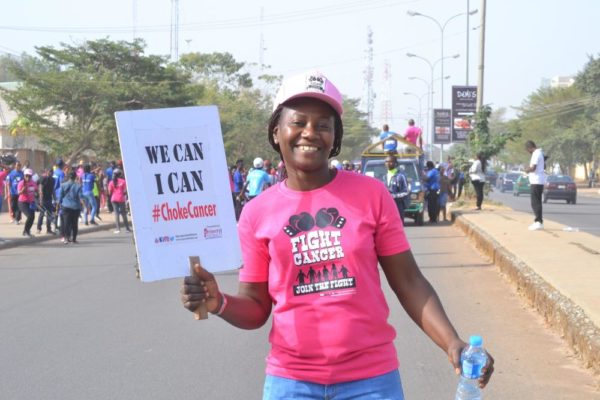 Adenike Oyetunde, a lawyer and an on-air personality was diagnosed with Osteogenic Sarcoma (bone cancer) in 2016; she lost one of her legs to her cancer treatment. In her remark, "at the age of 20, I was diagnosed of osteogenic sarcoma (cancer of the bone), I was lucky to get treatment and today I am doing great, not many Nigerians have this opportunity. We need the government to declare a state of emergency on cancer and fix the cancer treatment centres and provide sustainable funding to reduce cancer deaths in Nigeria. "
Racheal Okonkwo, a Nollywood actress known as Nkoli Nwa Nsukka said "Please I am urging Nigerians to go for cancer screenings, I realized that most Nigerians don't go to the hospital except they are carried to the hospital. This is one of the reasons for late detection of cancer. Cancer is real, it not any juju. Let's choke cancer".
Bryan Okwara, former Mr. Nigeria and Nollywood actor, said, "Let's all come together and fight this disease the same way, we fought Ebola. Cancer is real, let's Choke Cancer". According to Runcie C.W. Chidebe, the convener of the Walk and the executive director of Project PINK BLUE, he said "Do you know that 65% of cancer deaths occur in low and middle-income countries like Nigeria. In Nigeria alone, over 102,000 people are diagnosed with cancer and many of them could not afford their cancer care and treatment.  I am appealing to all Nigerians to please go for screenings regularly and make it a routine. We also want to urge the Nigerian government to invest in cancer care and make cancer a health priority, set up am one-stop comprehensive cancer care, National Health Insurance Scheme (NHIS) should cover cancer and Nigeria's National Cancer Control Plan should be budgeted for and implemented. We could prevent cancer death by 25%".
For the World Cancer Day Walk, two indigents cervical cancer patients known as Nkem Chibuzor, Beatrice Aghoha, and one breast cancer patient Kauna Monday who need N1.1million, N3million and N2.8million respectively were placed for donations from well-meaning Nigerians. Please for all donations for the cancer patients, should be made to Health & Psychological Trust Centre WCD, 5600285654, Fidelity Bank Plc.  
In her remarks, Gloria Orji, President of the Abuja Breast Cancer Support Group (ABC-SG) and seven-year breast cancer survivor, said "research shows that they are over 100 types of cancer affecting diversified human parts, hence, anybody can be affected by cancer; it is on this premise that I urge all Nigerians to learn about cancer and prevent cancer".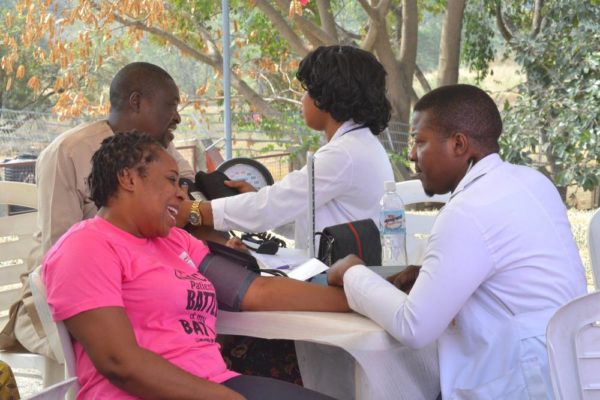 Other high profile Nigerians and celebrities joined the walk; Chido Onumah, Director of African Centre for Media & Information Literacy (AFRICMIL); Dapo Olorunyomi, Publisher of Premium Times; Ghana Must Go, Dr. Joe Abah (former DG Bureau of Public Service Reforms), Koboko, CP Sadiq Bello, Commissioner of Police FCT; and many other stakeholders.
On Friday, February 9th, 2018, World Cancer Day 2018 Symposium & Panel of Discussion will feature diversified high-level stakeholders to discuss what Nigeria has achieved in cancer care and what needs to be done. Prof. Isaac F. Adewole, Minister of Health is expected to launch Nigeria's National Cancer Control Plan (2018 -2022). While Prof. P.O. Ebigbo, Board Chair of Project PINK BLUE will launch Upgrade Oncology: U.S. – Nigeria Science & Technology Exchange Program, a medical oncology training program funded by the United States Embassy in Nigeria. Senator Mao Ohuabunwa, the chair of the Senate Committee on Primary Health Care and Communicable Diseases and Sponsor of the bill for the establishment of National Institute for Cancer Research & Treatment will also speak on the bill signed into law by President Muhammadu Buhari. The theme for the World Cancer Day symposium is "Sustainable Funding for Cancer Care and Treatment in Nigeria".
The World Cancer Day 2018 activities are organized in collaboration with African Centre for Media and Information Literacy (AFRICMIL), African Independent Television (AIT), Premium Times, U.S. Mission Nigeria, Transcorp Hilton Abuja, Dana Air, Premium Centre for Investigative Journalism (PTCIJ), BellaNaija and Federal Ministry of Health.
World Cancer Day is a global event commemorated every 4th of February and recognized by United Nations and powered by Union for International Cancer Control (UICC).  Project PINK BLUE has been organizing World Cancer Day events for several years.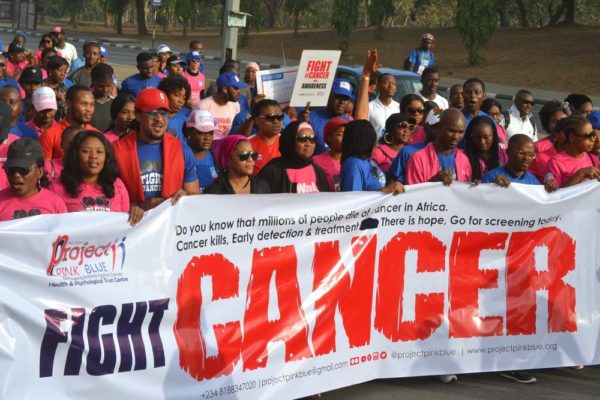 All enquiries about the event should be directed to [email protected] or call 08188347020. Please visit www.projectpinkblue.org to learn more about them.
_________________________________________________________________________
This content has been published for free as part of BellaNaija.com's commitment to youth, education, healthcare and community development as part of our corporate social responsibility programme.