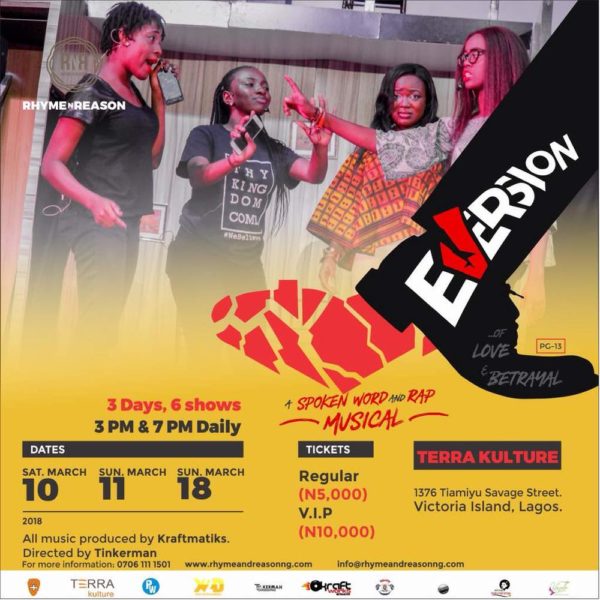 The 2018 edition of Eversion Musical, a first of its kind musical show brought by Rhyme n Reason is set to kick off with style this coming weekend!
Date: Saturday, March 10th, 2018
Time: 3.00 pm & 7.00 pm daily
Venue: Terra Kulture, Victoria Island, Lagos.
The show, which incorporates the use of spoken words, poetry and rap to deliver astounding live stage performances of musical satire will hold for a total of three days, with the other dates set for 11th and 18th of March, 2018 at 3.00 pm and 7.00 pm daily.
The organizers have described the show as an avenue to proliferate the beauty of art to Nigerians, exerting other facets not commonly explored.
The show will mark the fourth edition of Rhyme N Reason which officially debuted in 2014 and was met with overwhelming success from critics and the general audience.
Tickets are available for sale on bit.ly/rhymenreason (Regular – N5k, VIP – N10k)
Follow the conversation on social #EversionTheMusical
———————————————————————————————————————
Sponsored Content