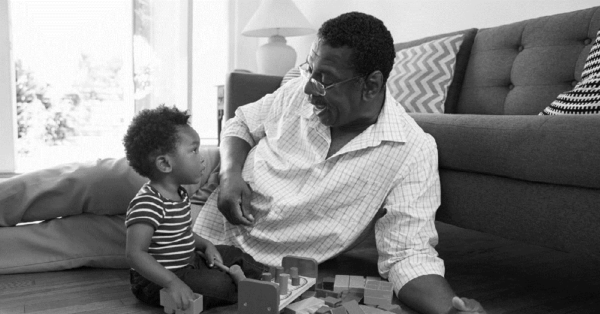 My dear boy Bola,
I wish I could tell you this in person but I'm too weak to call you and the distance between us is too great. But still, I know that these words of mine will bridge that distance and help you become a better man.
You are 25 now, but it still feels like just a few years ago when I beheld your face for the first time. You are my first and only grandson and a spitting image of your father. I looked into your eyes and tears filled mine. They say men don't cry but no one understood. It felt like I was holding Deji your dad again the day he was born. It felt like my lost son had come back to me.
Now you are so grown and chasing your destiny in faraway New York. I'm so proud of the man that you have become. I'm happy that together, we are doing your dad proud but from here on out my dear boy, you may have to do this journey only with my invaluable advice.
Your mum told you the last time you spoke that I was in the hospital, but she didn't tell you everything. You know I'm old now, tired, weary and in need of rest. I feel that rest is at hand and I fear I may not see you before I go to sleep finally. But don't cry for me boy, my life is a story that I'm proud to have written. Now, it's your turn to write yours better.
There are a few things I want you to be mindful of now that you will become the true head of the family. Your little sister and mum are now your responsibilities. You must love them and do your best to be there for them. When you are ready to settle down, remember all my advice and look beyond every façade to choose a woman you can live with and see yourself growing old with.
As a man, you must understand the bond a family shares- it is sacred. That is the reason I'm asking you to always remember what matters. When all is said and done my boy, only family and God stay put. Your job is a big one. Your job is to protect your own like I have done my entire life, like your father did before his passing. You are where you are today because your dad took some critical steps to make it so even though he was so young. The life insurance policy he took sufficiently catered to you and your sister's education, greatly reducing the burden on your mum and me.
You are your father's son and I believe you will not do otherwise. I'm so tired now from talking (your baby sister Anna has been recording this) but I know you're a smart boy and you get my message.
I'll just end with this. Life is uncertain and can take us unawares, so we must always hope for the best but plan for the worst. So long my boy. Keep your head up and keep making us proud.
I'm sure we'll meet again in a better place.
Your papa.
It's never late to put plans in place for the people that depend on you. Start here
This article is brought to you by ARM Life.
———————————————————————————————————————————————————————————————–
Sponsored Content