#BBNaija – Day 32: The Lifu Cue, It takes Two to Tango & More Highlights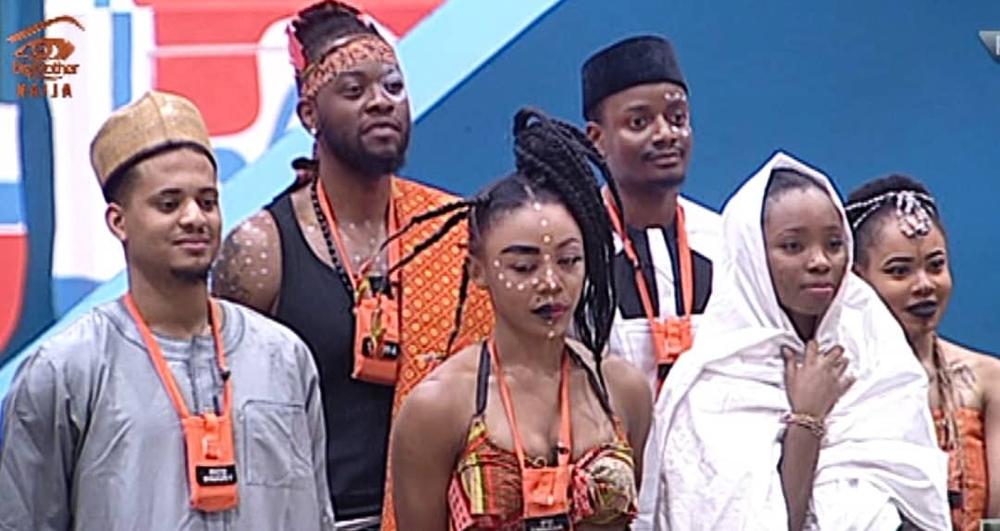 Did you watch day 32 of the Big Brother Naija 3 reality show?
If you missed it, we've got the highlights for you!
..
The Lifu Cue
When Ifu Ennada and Leo (Lifu) were paired up during Biggie's last reshuffling, a new chemistry emerged, she was just getting to grips with the departure of her two best friends in the House – Princess and Bitto – and as soon as she got over the hard time, quickly found her feet in the Lifu universe.
Both are thinkers at the core, and have a healthy dose of respect for their pair, affinities that have helped them take to each other immediately.  Leo and Ifu Ennada have proven to be exceptional strategists, despite not spending as much time as they would have liked together.
It would be an easy stretch to believe that Ifu Ennada has kept herself distant from Leo, but the girl was left with no other option for as adorable as Alex is, she has acted like a thorn in their pairing. There has been no tension between the two girls, it's just that Alex – who is actually paired with Tobi – is forever glued to Leo which has left Ifu Ennada with no other choice than giving them space.
On his side, Leo hasn't had an easy ride either: his friendship with Alex seemed to have evolved into much more than he perhaps anticipated, which to his liking is taking most of his attention. Yet Leo is to be commended for demonstrating an incredible restraint whenever Alex is all over him.
Because they understand each other without needing much talk, Lifu are most often engaged in advising other Housemates, and they are pretty good at it. Just like Rico Swavey, it seemed that not having found an object of affection in the House has particularly helped Ifu Ennada. One wonders what kind of pair these two would make, regardless of the fact that she did admit having a crush for Teddy A.
Let The Music Play
While my guitar gently weeps
A surprised Angel was struck to discover that the trinket box left by Biggie for the Roc Da Mat challenge was filled with all sorts of ornaments, tools and even instruments.  Ever since a Ninja took his guitar away, Angel has been slightly out-of-balance for it was his very own comforter in this strangers House. Besides, he was using it to deflate tensions and also win some graces for like a magnet, his guitar irresistibly brought Housemates together into blending their harmonious voices. Sure the guitar was no Housemate but it deserved a role of its own for being able to pacify the high-strung Double Wahala spirits.
The Magical Flute
While rummaging through the box, Leo dug a flute out of the colourful mishmash and immediately stood aside to blow into it at the top of his lungs. His face had lit up, like that of a little boy who had found his precious toy. Leo was clearly enjoying the moment. He started playing the first notes of 'Arise, O Compatriots', Nigeria's national anthem before taking a deep breath and going full-on the entire anthem.  Meanwhile Housemates were so absorbed by their own individual tasks and talks that no one even noticed Leo's musical talents.
The Musician's Curse
No one, except Teddy A the rapper and musician, who had pulled a tambourine out of Biggie's toolbox.  Teddy A shook the tambourine up in air and walked from the lounge to the bedroom, while firmly eyeing the flute Leo was using. When Leo put the instrument down, Teddy A jumped at the occasion and grabbed it too. The only trouble was that he did not know how to play the flute, and instead kept making discordant sounds. Like Leo, Teddy A was also reluctant to let the flute down, as he paraded with it around the House happily spreading the cacophony in the air without anyone raising an eyebrow over it. There is a saying that music sounds different to the one who plays, that it is the musician's curse.
It takes Two to Tango
A Tango Named Mito
Anto and Miracle's pairing nicknamed 'Mito' has been going from strength to strength, following their first partnerships as Head of House. At first this pairing seemed quite odd from Biggie, considering that almost the entire House had accused Miracle of enjoying being silently selfish. Not only was Miracle's conspicuous muteness the more doubtful for it seemed that the only person he freely engaged with was Nina. Well that is if staring into her eyes and kissing as often as possible counted as 'engagement'.  Other than that, one could count on one hand the number of times Miracle had talked.
The Mina Wahala
To many, Biggie's pairing Mito created a rift in the first official couple of the House Mina (Nina and Miracle). This assumption proved itself to be true for Miracle and Nina suddenly started bickering around, although they always remained within eye contact distance from each other. Like during the infamous Planned Parenthood week, when as the new Head of House, Miracle abandoned Anto to go help Nina look after her baby doll. Regardless, Anto didn't seem to be offended by Miracle's attitude as she lived up to her role of second command in charge during their Head of House rule.
The Loto Motto
Previously paired with Lolu under the 'Loto' nickname, while Anto kept herself together, it is Lolu who seemed to suffer the most from being reshuffled and stuck with Cee-C of all Housemates. Therefore it came as no surprise that he was the one who initiated a kiss with Anto, but she kept all her cool, and never flinched. Given how Anto and Miracle have taken up to each other, how well they are rolling together and how synced their Roc Da Mat moves are, one cannot help but agree that Biggie's reshuffle undeniably sparked things up in the Double Wahala House.
The Winning Alliance
The Housemates are taking this week's Task more seriously than any one before and obviously the reason is the big prizes. A secret alliance has now been formed to better their chances but the question is – Will it work?
Games and Tricks
The "Roc Da Mat" challenge has been a contentious one from the get go, first there were issues with Teddy A and Nina not wanting to participate because the of the unfair nature to which the other Housemates were addressing the Task. With only six mats and 7 pairs, there was bound to be some butting of heads. Now things are getting extremely strategic with pairs forming alliances.
The A Team
Gelah and Mito have decided to join forces and sabotage the other pairs in their attempt at getting points in the challenge. Anto and Miracle, Ahneeka and Angel have deciphered that Alex is the weak link in the Tolex pair. Their plan is to get Ahneeka to distract Tobi and Angel to distract Alex so that they do not get any points in the challenge. Rather saucy stuff.
The Newbies
Since the secret alliance has been forged, the anxiety in the house is incontrovertible and the other Housemates have noticed. Teddy A strategically sent BamBam and Rico Swavey into the make shift congregation to find out exactly what was happening. It appears to have worked because now Bamco are fully in the secret alliance slinging their secrets.
Art & Music for the Win!
It has been a gruelling week of rehearsals for the Housemates but after putting on an exquisite presentation of Nigerian art, music and culture this evening it was all worth it after they won their 100% Wager.
The Show
This week's theme was "Art and Music" and the Housemates were required to put on a presentation that embodied and represented this based on Nigerian culture. It is no secret that the Housemates have been a bit reckless in the past with their Tasks but tonight they really stole the show.  It contained everything from theatre and music to dance and art, all in a unique and significant Nigerian manner, their performance made you proud to be African.
Shining Stars
Even though everyone did their best and it all came together really well in the end, there were some Housemates that really outdid themselves. Nina and Teddy A were the undisputable stars of the show with their presentation of music. Performing songs in English and Pidgin, Nina was a mesmerising African Goddess and Teddy A held you captive with his presence and beautiful voice. Angel and Ahneeka were an absolute vision in their jungle themed outfits and even though their presentation was shot and sweet, it was one to remember.
Biggie's Verdict
The Housemates may of won their Wager but Biggie was still firm in his verdict that he was not entirely impressed with their behaviour this week. Big brother also made it known that next week will also be a full 100% Wager for the Housemates so they better not drop the ball.
***
Have you been watching? What did you think of the Day 32 activities?