#BBNaija – Day 33: The Outcasts, Arena Games & More Highlights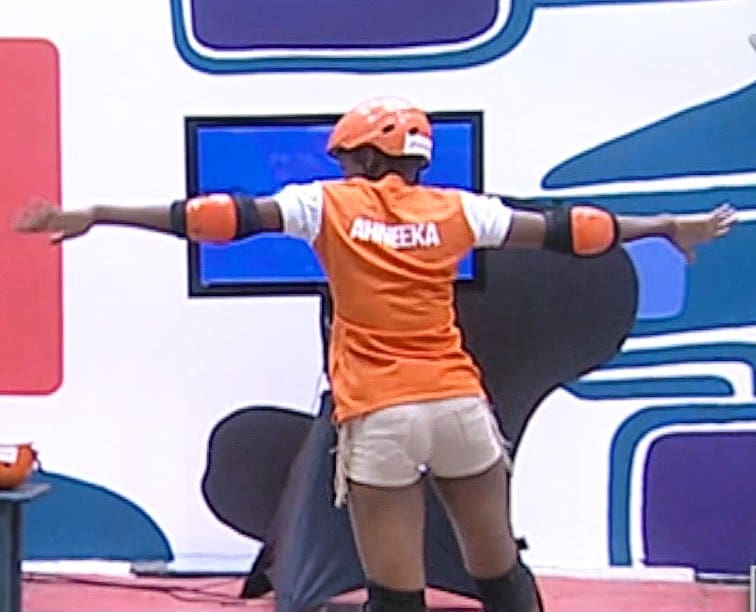 Did you watch day 33 of the Big Brother Naija 3 reality show?
If you missed it, we've got the highlights for you!
..
Gelah is an interesting pair with an interesting history but this week they seemed to of turned only to each other and away from the unity of the House.
The Leaf Scandal
The Housemates Task Presentation last night was spectacular, everyone brought their A game and therefore the Wager was won. However, Biggie had a few words to say after the win and one of his statements made reference to Angel and Ahneeka's presentation, basically stating that it was lacking. After the win, there was very little unity among the Housemates and the most obvious example of this was Angel and Ahneeka's gossip session outside. They basically swore about the vibe in the House and said things against some of the other Housemates.
Bad Behavior
This is not the first example of their defiance against any kind of unity in the House, they were equally as rebellious about the rules Tobi tried to implement for the "Roc Da Mat" challenge. Tobi suggested that they share the mats so that no one gets hurt and everyone has a chance, they completely swore this off, saying that all is fair in love and war – A competition is a competition after all.
The Female of the Species
Angel has been open about his feelings for Ahneeka and initially she was reluctant but now it seems she is enjoying his adoration. He has expressed that he has never met anyone who has made such an effort to improve him and help him grow. Their relationship however definitely seems more strategic than romantic – Is Ahneeka wielding her power over Angel  as a strategic move in the House?
The Quarrel Buffet
It can't be easy living in a House with so many different personalities accompanied by habits strange to you. The Housemates have a lot on their plates, maybe not literally because they seem to always be eyeing each other's plates to make sure that no one gets away with a mountain while others make do with little sand castles.
The Lovers' War
Let's be honest, we've all waged war against people who tried to manipulate the food equation and divide our portions while they multiplied their own; and it's no different in the Big Brother House. This morning, Teddy A went at BamBam for wanting an extra plate of food while she hadn't finished the one served last night. He felt that this was selfish and equivalent to cheating the system. She tried to defend her honor by explaining that the morning's share was rightfully hers and therefore wasn't trying to cheat anyone of a meal. Teddy A seemed to be very passionate about the issue that kept insisting she was wrong. Miracle and Tobi also made a few remarks about people eating multiple plates of food in one go.
Past Food Wars 
This is not the first time the Housemates raise their voices at each because of food. During the two weeks of hunger due to two consecutive Wager losses, there were ugly exchanges and almost physical duels between them. The hunger games were so rough that people verbally pinned each other down for issues way out of the food context.
Besides personal differences and strategic clashes, food seems to be the number one cause of huffing, puffing and almost blowing each other down, even with enough food to feed even their shadows. To put in plainly, there are Housemates that feel entitled to having more food than other and there are those that feel the need to count the grains of rice on each plate to ensure that they aren't cheated;  which makes us wonder what will happen should lose a 100% wager and have to tighten their belts.
No Shells Here
Just a week ago, Nina was sealed in her little multi-walled shell and it seemed only Miracle had access to her other side. She hardly ever spoke and even her diary sessions were made up of simple and direct responses to Biggie's questions, nothing more. However, we are certainly being introduced to newer and more active version of her.
Nina Who?
The rest of the Housemates perceived her as dull and without concrete opinions and just like her companion Miracle, to them, she was a mere shadow and nothing of a threat. This idea of her was constructed based on how everyone seemed to itch to talk and she just adopted the mute. Furthermore, her age factor played a huge role in her general demeanor. During the nominations leading to the first Evictions of the season where we said goodbye to 2 pairs, when asked about what motivated their nominations, the other Housemates labelled Nina and Miracle as the weakest link but to everyone's dismay, they survived the chopping board.
Caved
When the reshuffle was introduced, Nina's distress had an actual odour and could be smelt by a man suffering with his senses. What blackened the sky and agitated the wind even further was that her pairing with Teddy A was by default; which meant that she wasn't anybody's first choice, further proving just how useless they all thought she was; and the fact that Miracle's head of House victory shifted his attention from her to duties attached to the coveted title kind of proved her inability to stand on her own, or so they though and oh boy were they wrong.
Out of The Shell
Like a seed anticipating its season, Nina has bloomed and seems to have thrown away her invisibility cloak. It appears that her partnership to Teddy A has fuelled her ability to be vocal about her dislikes, hence her defending herself from Cee-C's bullying and straight up telling her to leave her alone. The other Housemates also have a new found respect for her, so much so that she's now part of the conversations and is actually heard and for the first time, was able to fully participate in a Task.
With immunity and a relatively active partner, Nina has the potential to quiet some storms and be the cause of a few; with her new found confidence and visible footprint in the game, we're yet to see what the coming week brings.
Ahneeka Wins the Arena Games
Tonight's Friday Night Arena Games was all about girl power with Ahneeka reigning supreme and Ifu Ennada coming in at close second.
Girl Power
The Friday Night Arena Games have been male dominated ever since Double Wahala started but tonight marked the turn of the tide. First it looked as though Ifu Ennada was going to take the title until Ahneeka came through with a bang! She literally stunned everyone when she cremated the Arena Games in less than 2 minutes. None of the guys came close.
Unity
There has been a lot of tension in the House of late and tonight it was refreshing to see the Housemates cheering each other on and being super supportive of one another. The Pepsi "Roc Da Mat" challenge definitely brought out some savage behaviour in many of the Housemates so tonight was very much a unifying experience all around.
Gelah Forever
Ahneeka has been sharpening her game a lot lately, her pairing with Angel has definitely proved to be beneficial as she has found a lot of confidence in herself and also started to plot and scheme alongside her partner in crime. Tonight was just another example of how Gelah are moving from strength to strength as a pair.
Biggie Therapy
Biggie was no holds barred tonight during the Diary Sessions, emotions ranged from introspect and joy to tears and truth.
The Highs and the Lows
Biggie probed the Housemates tonight and the reactions were very interesting, two of the most extreme cases tonight came in the form of Nina and Angel and Ahneeka. Nina, who is known for not holding back during her Diary Session was literally like a consultation with a psychologist. Nina burst into tears only five minutes after sitting down and Biggie had to come to her aid. She was extremely frustrated over the Pepsi "Roc Da Mat" challenge. Biggie even did a light meditation with her to clear her mind and told her to stop doubting herself. Angel and Ahneeka on the other end of the scale were bundles of joy. Angel fully admitted to his true feelings from Ahneeka and Ahneeka acted like a smitten school girl during her session and expressed mixed feelings over winning the Arena Games. behaving shyly when asked about Angel and admitting her physical attraction to him.
Truthful Tobi
Tobi is a stand-up guy and he is always honest during his Diary Sessions but tonight he really played into his role of HoH. Basically he stated that he felt none of the relationships in the House were real apart from Miracle and Nina's. He said everyone was just making strategic moves. He was also clear that he did have feelings for Cee-C but he has since different side to her and it has not been good for him.
Real Love
One of the questions that Biggie asked all the Housemates tonight was if he felt any of the relationships in the House were real. Every single Housemate had one constant, Nina and Miracle really had true feelings for one another and everyone felt that their relationship would evolve beyond the House. Could it be true love?
Anger
Another consistent fact that each Housemate expressed was their frustration towards the "Roc Da Mat" Challenge. Nina and Teddy A were the most distraught but BamBam also brought up how savage everyone had become all in the name of competition.
What was your favorite Diary Session of the evening?
***
Have you been watching? What did you think of the Day 33 activities?