#BBNaija – Day 35: The Week That Was, End of the Road for Gelah & More Highlights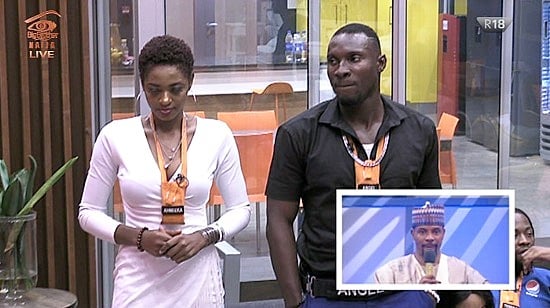 Did you watch day 35 of the Big Brother Naija 3 reality show?
If you missed it, we've got the highlights for you!
..
Will It Ever Stop?
Stealing the Spotlight
It's becoming a norm that every Saturday after the party in the House, Cee-C and Tobi are the one who always steal the spotlight. Week in week out it's an emotional roller-coaster with these two and they take everyone else with them. Last night was no different but this time it was more intense with Cee-C issuing threats and throwing swear words at Tobi.
Eviction Anxiety
The realization the she could be evicted this evening slowly sank in and made her angry towards the person who's put her in that position in the first place. However, her anger didn't seem to faze Tobi, his level of intoxication wouldn't allow it. As angry as Cee-C was, to Tobi this was all a joke. He did mention to her though, that any day and anytime, it's the game that comes before any other Housemate and it doesn't matter if your name is Cee-C. In a nutshell, he basically told her to stop seeing herself as more important than everyone else.
No New Friends
They kept coming back and forth trying to be civil with each other, but they ironed out certain issues with Cee-C was very clear. Having said that she was feeling miserable this past week and the possibility of her leaving becoming a reality, Cee-C told Tobi that if she does go things will never be the same for her and him. She emphasized that they're no longer anything else but Housemates, not even friends.
Walking Contradiction
It's no doubt that they do like each other but they're playing hide and seek. They both do things and say things and the end of the day contradict themselves. By the time they went to sleep, it was all love in paradise.
What will be next for the endless emotional roller coaster of Tobi and Cee-C?
Ceelo's Stormy Alliance
The pairing of Cee-C and Lolu started out as rocky and super problematic but has since grown into a rather strange, strategic camaraderie.
About Last Night
Lolu has always worn his heart on his sleeve when it comes to Anto and it is no secret that Cee-C has strong feelings for Tobi but last night revealed a melting pot with all four Housemates combined. Anto and Tobi have always gotten along and last night, during Cee-C and Tobi's classic Saturday night argument, Tobi lay in the bed next to Anto to talk while Lolu comforted Cee-C. This clearly perturbed Lolu and he walked into the room asking Tobi to please go to Cee-C as Tobi replied "I will go in my own time". Lolu was panic stricken. Only minutes later, Cee-C literally came into the room and physically removed Tobi from the bed.
Same Same but Different
Even though Ceelo had issues because they felt misunderstood by one another the fact is that the two Housemates are actually very similar and are currently in very similar situations romantically. Both Cee-C and Lolu seem to be fighting for the attention of partners that are interested but not that interested in them. Tobi and Cee-C's situation has been this way for a while but Lolu has recently found himself in a bind with Anto.
Love Dilemma
At the start of the show, Tobi was smitten with Cee-C who chose to play games and string him along until he grew tired and lost interest. This in turn caused her to start running after him and now she finds herself constantly seeking his affection. Lolu has been up front with Anto from the beginning about how he feels for her but she has told him straight that this is a game and she can't be taking anything seriously. Anto has said that she "Can't even trust herself" and how she acts in the House. Just like Cee-C, Lolu does not seem to be taking no for an answer though.
What is your take on Ceelo's alliance?
The Week That Was
This week in the House has been a journey for the Housemates. Let's re cap on some of the highlights on the week that was.
Savage Behaviour
Out of all the things that went down this week, the one thing that caused the biggest ruckus had to be the Pepsi "Roc Da Mat" Challenge. From start to finish it was utter chaos, many of the Housemates were injured during the challenge, other literally posted up camp besides the mats, all in an attempt to win big with Pepsi. Not all the Housemates were into it though. Teddy A and Nina protested against the challenge initially and openly vented about their dismay at the savage behavior they had witnessed during the week. It was definitely wild.
Loving and Loathing
There has been a lot of romance evolution in the House this week. From Cee-C and Tobi making up and then fighting again to Ahneeka and Angel getting closer and closer. Alex and Leo seem to be a couple but when asked about it in the Diary Room, Leo stated that they were just friends. Miracle and Nina are still going strong, BamBam and Teddy A had a fight this week but still remain loved up.
Formalities
Tobi took the HoH crown for a third time and this time it actually worked to his benefit as he now has immunity from Eviction tonight. Ahneeka won the Friday Night Games, throwing some girl power in the mix there. The Saturday Night party was a huge success with DJ Neptune absolutely killing it on the decks.
End Of The Road
Ahneeka burst into the BBNaija House as this sparkling bubble that lit every corner of the room she was in. From the start, her attractive physique caught guys' attention as much as it raised the girls' suspicion.
It took her a lot for Housemates to relate to her for Ahneeka's intimidating confidence was obvious for all to see. Although she made it clear very early on that she was in the House to win and was not looking for a fling, she had to fight tooth and nail to spurn Rico Swavey's  and Angel's advances while keeping Bitto, Teddy A and Tobi's wandering eyes at bay.
With time and with her impossible to miss poise, Ahneeka was able to win the House with the use of her fatal weapon – her engineer brain power. Gradually she had assumed the discreet role of elder and counselor as her peers turned to her for advice and strategies.
It is with Angel whom she was paired with under the Gelah monicker that Ahneeka first won the Arena games. They say it takes two to tango, and surely Angel deserves some credit for this shared victory, for it seemed like he has softened up since entering the House.
A budding filmmaker, Angel never quite really managed to be liked in the House. His muscleman, know-it-all and telling-it-like-it-is personality brushed a few Housemates the wrong way, which got him side-lined very early on. Slowly and after a few sputters, Angel had started to find his space in the House and let his guards off.
Jump For Joy
On the heels of the mild commotion caused by Ahneeka's and Angel's Eviction, Biggie announced the winners of the Roc Da Mat challenge as Ifu Ennada and Leo. Biggie had already tried these two, as they had been Nominated and were still recovering from the shock of having been narrowly spared the exit fate.
Hence it came as a surprise to see Ifu uttering praises with clasped hands upon hearing that their pair were not Evicted. It was only a short respite for Ifu and Leo who were sent on another roller-coaster of emotions upon hearing they had won the Pepsi Roc Da Mat prize that included ₦5 million as well as the VIP trip to London.
If anything Leo and Ifu had earned this prize, and deserved all the credit for their efforts. Ifu couldn't contain herself and literally jumped around joyfully shouting and laughing before throwing herself into her partner Leo's arms to celebrate. It was as if she was finally vindicated, and that her stay in the House was worth it. Leo on his side though less inclined to demonstrate emotions looked genuinely carried away.
Housemates were prompt to gather around them and congratulate them for snatching such a victory. The smiles looked authentic, yet some teeth were grinding as Anto and Lolu for instance appeared detached from the moment.
Against all odds, even Alex who had Nominated Leo for a corny haircut story instantly warmed up and was seen hovering around him again. She had tossed him aside like an old sock. Perhaps learning that Leo was now a winner rekindled her flame.Or was it the sleek haircut that revived her passion? What do you think?
***
Have you been watching? What did you think of the Day 35 activities?