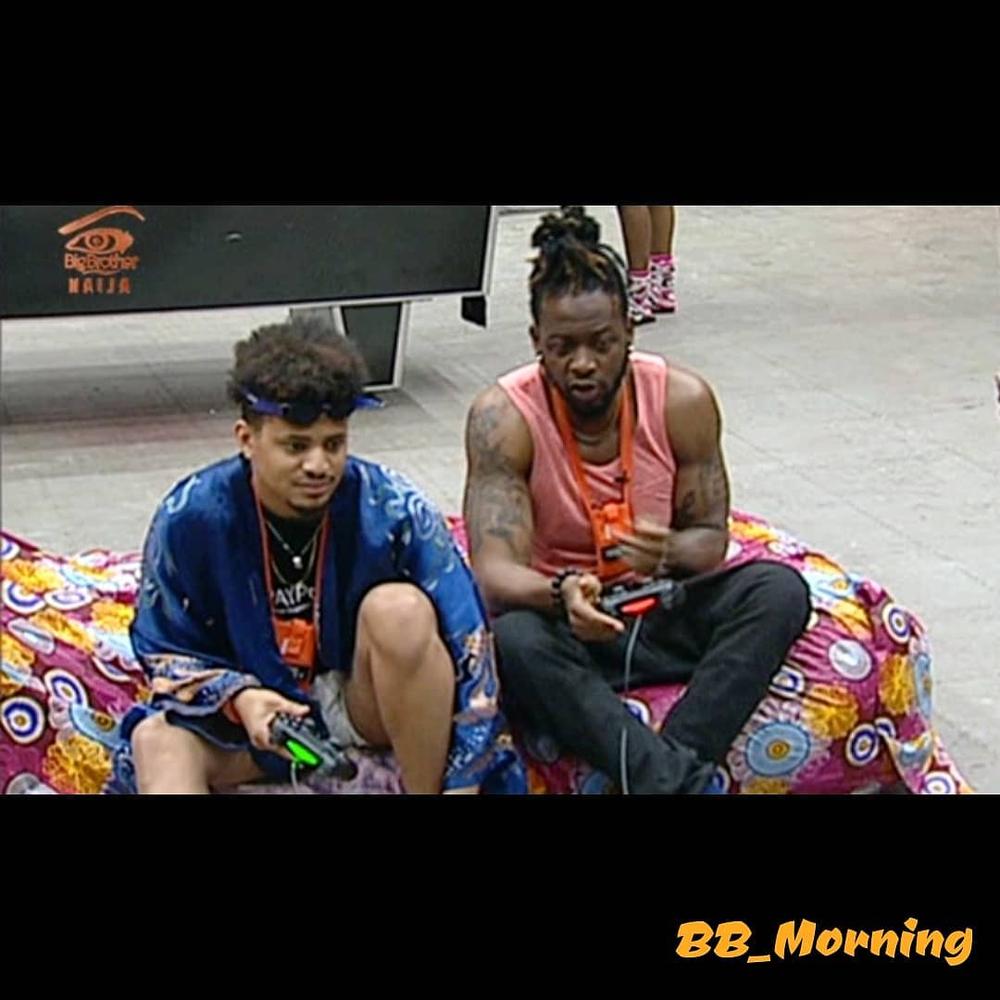 Did you watch day 48 of the Big Brother Naija 3 reality show?
If you missed it, we've got the highlights for you!
..
The Grudge Match
Sticks and Stones
Riding the wave of success, following her two wins in one day, BamBam unexpectedly found herself cornered by Teddy A in the shower for what turned out to be a rather stormy outburst. Teddy A lectured her that he didn't like how she allegedly had been ignoring him, and more, that she should check her emotions.
Towering over her, Teddy A brought back old petty insignificant events to make her understand how angry she had made him. Teddy A felt like she had disrespected him then and he didn't stop, he threw another grudge at her. According to Teddy A, BamBam had once worn a pair of Ankara shorts gifted to him by his real-life girlfriend. BamBam allegedly went against his advice which Teddy A found totally disrespectful.
Silence is Gold
All the while, in the shower room, BamBam had stayed mum, rapidly flickering her lowered eyelids to indicate she was still listening.  Nonetheless, her face looked visibly hurt as she struggled to contain her emotions. Yet over dinner later, she compliantly sat without a plate in hand beside Teddy A who was gladly downing his food.  It was not clear why Teddy A came down on her so hardly and so suddenly, and in a click of the fingers, broke her spirits and made her look like a like a crumpled piece of paper. While others were hanging out in the kitchen, drinking and joking after dinner, BamBam had crawled into bed, curled up, with eyes shut and called it an early Friday night.
Could it be that Teddy A secretly resented her consecutive successes? Did her wins awoken some insecurity inside him? What about Bambam was so threatening? Or was this all part of his game?
It's Raining Rewards
This week's theme was centred on fun and silliness and as there were no strikes this week, Biggie treated the Housemates for their good behavior.
A Room of Wonder
It came as quite a shock when Biggie's voice boomed through the House, told everyone to freeze while the Ninja blindfolded them. As they were all led into the Arena in silence you could feel the apprehension in the air. When the blind folds came off though, there was a positively enigmatic roar of euphoria from all corners as everyone gazed upon the gracious gifts of fun and entertainment that Biggie had provided. A snooker table, gym equipment, PlayStation and playing cards all for them to enjoy. Teddy A was literally like an over-excited kid in a candy store, his screams and jumps for joy were blissful to watch.
FIFA Fever
While all the Housemates took their time to enjoy the plethora of fun activities, Teddy A and Rico Swavey literally planted themselves firmly in front of the PlayStation and rooted themselves there. They were almost like zombies, staring intently and playing the game like their lives depended on it.
Princess BamBam
BamBam has been on a winning streak lately and today it didn't stop. Payporte gifted BamBam with some delicious platters of snacks for her Arena Games win yesterday much to the delight of the other Housemates who all tucked in generously.
***
Have you been watching? What did you think of the Day 48 activities?