#BBNaija – Day 52: Clash of Fireballs, Strip Dice Game & More Exciting Highlights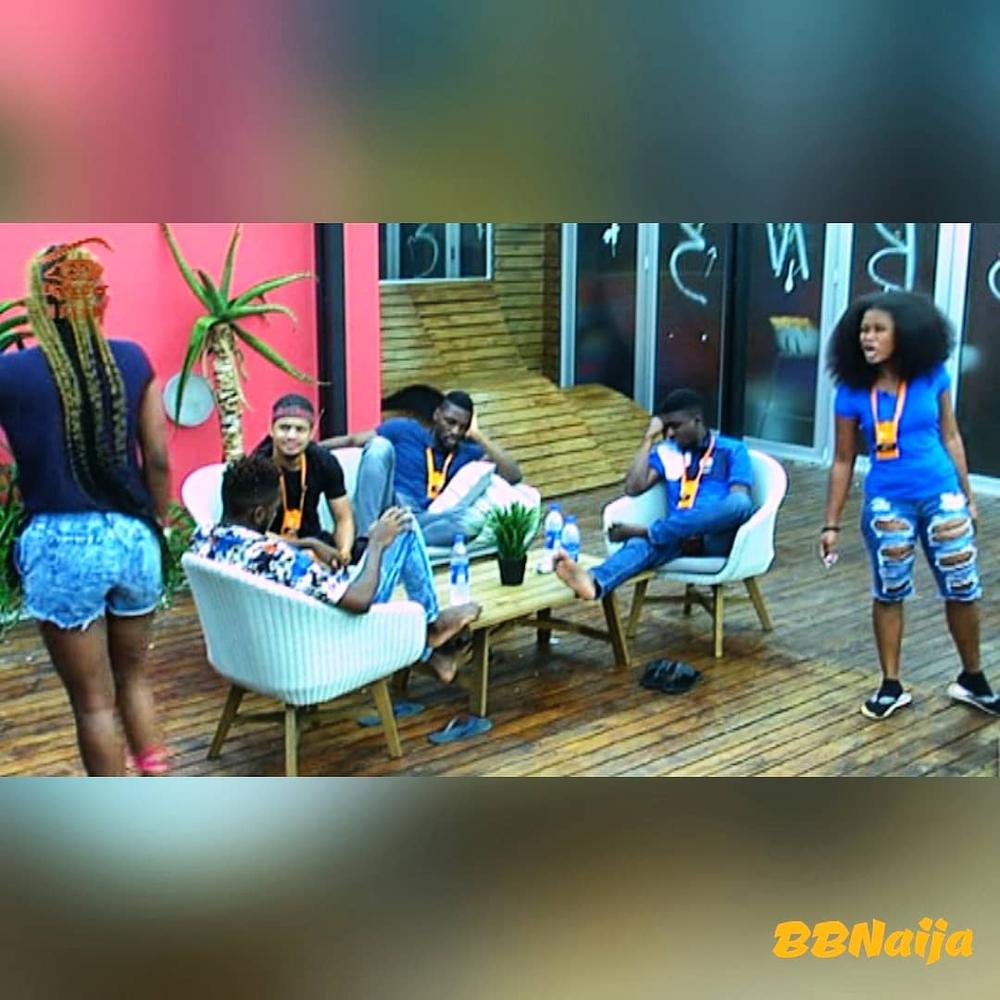 Did you watch day 52 of the Big Brother Naija 3 reality show?
If you missed it, we've got the highlights for you!
..
The Lingering Drama
Last night was all kinds of emotional peaks and valleys, from the Diary Sessions to cards games and bizarre conversations, the plot thickens in the Big Brother House.
Sad Girl
Nina was still visibly struggling after her fight with Cee-C and the Diary Sessions seem to of made things much worse. She completely opened up to Biggie and did not manage to bounce back after her Session was over. She then went to the garden where she continued crying after which she went to the kitchen and began to cook in a glum manner while everyone else was laughing and being jovial. It did not end there, Nina then went to the bedroom and was counselled by Alex who basically told her she needs to let it all go and stop being down. Alex was the embodiment of strong, positive energy and really exhibited maturity in her conversation with Nina.
The Diffuser
Miracle has played a strange part in all of this drama, last night he was very social with Cee-C and the other Housemates and didn't really engage that much with Nina, aside from trying to console her while she cried outside on the hammock. When Alex and Nina were in the bedroom trying to sort through Nina's feelings, Miracle came through and tried to diffuse the situation but did not exactly side with Nina at all. This then strained things even more as Nina said Miracle was trying to vex her and he walked off without solving anything.
Petty Issues
As the days go on, the tension gets thicker and it is all over very small things. Last night Nina was the target for more drama when Alex ate some food that was meant for Teddy A and Lolu, both the guys then flew off the handle and attacked Nina. They accused her immediately of eating their food and didn't ask her if she did or didn't. This then caused Nina to go into another, even deeper fold of emotion. She felt extremely attacked and once again – all of this contention over food.
Bae's Not Hot
Miracle's transformation certainly can't be overlooked. Over the past weeks, he's let out a side to him that even the other Housemates are still trying to figure out; from silent weakling to an opinionated competitor, his gaming dimensions have definitely widened. However, the change wasn't all positive, especially when it comes to his love interest, Nina.
Cracks On The Walls
Miracle's post HoH win behaviour showed just how disappointed he was that he couldn't share the niceties with Nina but quickly changed when he was paired with Anto. He seemed to have gravitated towards the general idea people had surrounding Nina's personality. She hinted jealousy when she saw his friendship with Anto blossoming a little too much and tried to re-direct Anto's attention towards Lolu; Anto picked this up and so did Miracle who low-key told her to mind her own business and stop acting childish. He might have had grounds for that sudden outburst but that's just the point, it was an outburst that further emphasized the cracks on his behavioral wall, especially in relation to Nina.
Say You're Sorry
Another incident that further highlighted Miracle's less than becoming behavior towards Nina took place on day 48 when she tried to justify her actions towards BamBam. His take was that she had shouted and that alone warranted an apology. Although Nina begged to differ, explaining that her demeanor was not necessarily a display of rudeness towards BamBam but a result of Alex's shouting, Miracle seemed to have been fixed on the opinion that Nina could have acted better. Although it's pretty obvious that he's trying the help her avoid making foes and losing friends, his approaches are harsh and seem to be affecting her.
Who Ate The Food?
The food related fallout with Cee-C left Nina a bit disorientated with anger because she felt directly attacked. Miracle did mediate by trying to understand where it all began by asking Cee-C to explain her side of the fence and 'straightened' Nina up by indirectly telling her to swallow the rocks and avoid being messy. Again, good intentions but insensitive approach. Furthermore, after Nina's breakdown last night, she was visibly still emotional and being accused of being greedy with the food further damped her mood. Miracle looked like he was blaming Nina for it but Alex quickly mediates and came to Nina's defense; but when Nina refused to let his 'you should apologize' opinion sink in, he left her there and said he was done and didn't care about the matter anymore.
Miracle's change in behavior might have been fueled by trying to balance his own strategy and avoid looking like he over-pampered Nina, maybe trying to bring out her personality too; meanwhile Nina's own might be fueled by the constant feuds and the feeling of being attached while Miracle looks away. Either way, they have become very different people in their personal capacities and one can only wonder how their interaction will be affected by the potential returnees. Only time will tell.
No Champions Here
The Housemates ran yet another mile down the championship week path but due to having stumbled and failed their Challenge, they bagged a collective loss and could only await the next challenge to try collect and restore the House's former gory.
Easy Peasy, Not!
Upon receiving their brief, the Housemates didn't think much of the challenge as it sounded straight forward and quite easy to bag. They were to divide themselves into three groups and; the steady mouth, the steady hands and the cheer masters. With self-explanatory group names, the only thing that lay ahead was stacking the objects and coming out victorious but it was easier said than done it seems.
Not So Simple
It's funny how Biggie described the Challenge as 'simple' because the Housemates had a tough time nailing it. Well, at least towards the end. The steady mouths were to secure ice cream sticks in their mouths while the steady hands were to stack the dice on top of each other. Initially, the Housemates seemed to be nailing the Challenge and managing to keep their 'shivers' in check; however, the Challenge proved to be a little harder than it looked as they kept dropping the dice and frustratedly went on re-stacking, this with no success. Biggie gave the Housemates some time to restrategize and think their challenge through but even that mini break proved futile because they still lost.
They were clearly a bit ticked off by their collective loss and Alex was quite vocal about her disappointment as she had stacked more dice than her competition. All this almost lead to an argument as Cee-C felt that it was competition while some of the other Housemates viewed it as team work. Nonetheless, the big L was placed steadily on their cabinet and a win was necessary to get rid of it
Clash Of The Fireballs
The House was a silent cocoon for the greater part of the morning and not much drama was expected from the Housemates but, things escalated real quick when Alex insisted that Cee-C be specific with her references and bear the consequences. For Cee-C, this was a low blow that warranted more than necessarily audible retaliation, I fancy way to describe roof-raising noise.
Fireballs
Within seconds, both Housemates were way above their boiling points. When Cee-C ordered Alex to "shut up" and get sense, Alex spit back by referring to her as a "short human being" and told her to stop bad mouthing people behind their backs to which Cee-C responded by saying that was ,all that Alex knew how to do well, throw insults. It seems as though each insult that was hurled further fueled the two fireballs and had there been no rules regarding physical altercations between Housemates, one of the two would have swallowed sand, no doubt.
Levels
As if that wasn't enough to make first page on The Punch, Cee-C bricked her well laid foundation of belittling Alex by talking about how she's been to places that Alex would never have access to. Following the 'an eye for an eye' philosophy, Alex threw her own blow by reminding Cee-C that despite all the places she's been, they're both in the Big Brother House, on the same level and hustling for the same thing.
Heated
To feed the furnace even further, Alex referred to Cee-C as senseless and shallow to which she retaliated by reminding Alex about her academic background, or lack thereof; talking about how she's been changing schools because of her lacks of focus. This wasn't well digested by Alex because she cracked Cee-C glass walls by telling her that she was at her beginning while Cee-C was at her peak. All in all, we witnessed a fiery 'shoutathon' and by the looks of it, there were victors; just a House divided due to the lack of tame tongues. Watch on o!
The Egg Race
Earlier today Biggie's latest Challenge left a House totally puzzled.  Having gathered Housemates in the lounge, HoH Miracle read to a dumbstruck House the instructions that seemed to represent Biggie's cheekiest jab so far. Housemates had to select two of their peers to represent the House according to the criteria of who had the fastest hands and who had the fastest mouth. Biggie hinted that what the mouth can do the hand can do faster, leaving Housemates to loudly speculate on the deep meaning of the expression. By popular vote, Alex was chosen as the 'fastest mouth' while Miracle was selected as the 'fastest hands'
Two Hands
Before moving to the Arena, Biggie instructed Miracle and Alex to go and thoroughly wash their hands at the kitchen.  But first, HoH Miracle ran to the closet to change his t-shirt in anticipation as it can get a little dirty in the Arena. As Housemates entered the Arena, looking all baffled and curious, Alex could not hold it and laughed her nervousness away at the sight of a big bowl of eggs laid on the table. Biggie announced that the Challenge would unfold in two parts, with the 'fastest hands' having to crack and peel the eggshells in five minutes, using only their hands and the back of a teaspoon, before the 'fastest mouth' had to eat as many eggs as possible in two minutes. The Head of House was to come verify that the eggs were properly cracked and no shell remained.
One Mouth
However it seem as if it was Biggie who was equally surprised when HoH Miracle stood up as the 'fastest hands'. Biggie poked Housemates further asking BamBam and Lolu to validate that Miracle had been selected by the group, which they both confirmed.  Yet Biggie called in Lolu to step into the Challenge. It wasn't easy for him as he didn't immediately catch the pace and when the buzzer rang, he knew he had failed.  That's when Biggie's voice blasted through the speakers that he was 'not impressed by this first round'. Yet he was feeling generous and gave Housemates another try by asking Miracle to pick up where Lolu left off. Having observed his predecessor, Miracle had an easier time peeling eggs off and quite comfortably added a few more eggs to the bowl. After Nina inspected the eggs and Biggie called Alex up to the table, she had stopped laughing at the daunting thought of having to peel and eat thirteen eggs in less than five minutes. Alex fearlessly proceeded to eat twelve eggs with the help of generous sips of water. Yet she fell short of just one egg, which meant that the Housemates had lost this Challenge.
Strip Dice Game
Housemates seem to have fervently taken to the dice game as they are often seen throwing the dice for a quick round of play and fun. It was during the early evening that in an enlightened moment, Head of House Miracle said he was going to give an idea to Alex and Tobi who were playing dice in the middle of the lounge. Alex had poked Tobi that she had wished he would bet meat, which Miracle suggested to replace with another twist. He said that when the dice rolled, whoever scored the highest number was spared but the one who scored the lowest had to take a piece of clothes off.
I Dare You
Confident of keeping the upper hand, Alex threw the dice on the glass coffee table and won flat out over Tobi. He then had no choice but reluctantly remove his top, and eventually even the bottom to an audience shrieking with laughter. With a blanket wrapped around his waist to cover his modesty, Tobi's embarrassment made for a side-splitting moment. As Tobi ran away, Lolu tried his luck and was also beaten by Alex's good fortune. It was a memorable rib-tickling game that ended with Tobi, Miracle and Alex clapping in their hands shouting and laughing out the words 'Shame! Shame! Shame!'
Caught at One's Own Game
When Housemates returned defeated from the egg race, the same gang took over from where they had left off. While Teddy A, Rico Swavey, Nina, BamBam and Cee-C prudently kept themselves aside, watching from distance, Miracle went to the dressing room where he came out of dressed like a corn on the cob, with what looked like the entire content of his suitcase layered on him to take part to the strip dice. By then, Tobi, Alex and Lolu had lost and Miracle was met with the same fate. He had started the game and as it ought to be was given the same walk of shame as the previous Housemates.
***
Have you been watching? What did you think of the Day 52 activities?