#BBNaija – Day 55: Dare Gone Wrong, Flexing Minds & More Highlights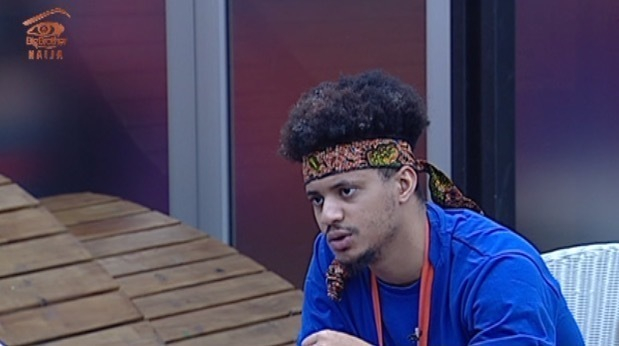 Did you watch day 55 of the Big Brother Naija 3 reality show?
If you missed it, we've got the highlights for you!
..
A Dare Gone Wrong
What started as a daring joke late last night didn't end well when Miracle asked Nina and Alex to try the Legend Stout beer. Since Alex and Nina have mentioned before that they have never drank beer before, Miracle wanted to know what would happen. Well, the two ladies accepted the challenge but the end results were nothing unexpected from first time beer drinkers.
Though it's not clear how many beers the two had, it was enough to have Rico Swavey cleaning the floor in the middle of the night. Nina's reaction was mild unlike Alex who seemed to have literally drowned her sorrows in the beer. After vomiting a couple times on the floor, Tobi and Rico were ready to help her get to bed but the Shaku-Shaku queen wanted her knight in shining armor, Leo, to be the one doing the honours. Unfortunately for her, the request couldn't be granted as Leo left the game two weeks ago.
The Hawk's Sober Eye
Though other Housemates found it amusing to see Alex highly intoxicated and getting the attention of her male counterparts, Cee-C was one person who was very bothered by the behavior. She sat outside and looked afar as Tobi and Rico gave Alex their undivided attention.
Lolu advised Cee-C not to get involved mentioning that Alex is an adult and if she chooses to drink that means she's ready for the consequences that come with that. After 'seeing what she wanted to see', Cee-C vowed to take steps back and mind her own business going forth, something Lolu said would be good for her.
Bromance Goals
After cleaning up after Alex and successfully putting her to sleep, the duo took time to chat about the Housemates' behaviour. Tobi went first by saying from the start of the show the only people whom he thought he could count on were Miracle and Alex. Echoing the same sentiments, Miracle then added that he doesn't understand how, when one becomes Head of House others suddenly become nice.
He says this happened with BamBam and it was a surprise to him. As the morning approached, the conversation continued until they decided to go to sleep, long after everyone else had gone to sleep.
A Pampered House
Nothing beats a pampering treatment to get you over a major hangover, like it was the case for Alex, or simply to reward you for a job well done. After securing another Wager win, and following Lolu's smashing Friday Night Game victory, Housemates walked into the Arena to discover it had been turned into a luxurious beauty parlor for their greatest enjoyment.
The Hand That Pampers
If anything, Biggie proved once more that the hand that takes was also the hand that gives. In an excessively lavish demonstration of indulgence, Housemates couldn't believe their eyes at the sight of the delicious and colorful cupcakes, macarons, fruits lined up on the table and the adjacent champagne flutes awaiting to be savored.
BamBam secretly bust of joy, for it was her who during her Diary Session had pleaded with Biggie to receive nail polishes of different colours. Hence she didn't even look at the table and zoomed in straight to the manicure area where she and Nina looked absolutely blissed out by the treatment.  Likewise, Lolu and Miracle sat immediately at the pedicure station, and like pashas, looked thrilled to have their feet looked after.
The Silence That Speaks Volume
While waiting for their turn, Teddy A, Tobi and Rico popped the champagne bottle open and generously went around pouring into their peers glasses.  As for Alex her excitement faded quickly, for after her hands had been pampered, she was lying on the couch, with Lolu and Rico snacking by her side to keep her company. It took a while but eventually Cee-C joined the rest of the team in the Arena. She wasn't exactly in her element as she barely exchanged a look or a word with anyone, calmly walking in and out as she pleased until it was her turn to have a manicure. Even being seated besides Tobi didn't manage to elicit anything other than the sourpuss she fronted. What's beneath Alex and Cee-C-s heavy silences?
The Flexing Minds
Following a memorable pampering Reward, Housemates made their way to the lounge where Head of House Miracle read the new Task. Still walking on clouds, Housemates divided themselves in three groups to develop a marketing pitch for Flex Condoms.
As a new investor, Biggie is seeking to join the fight against HIV and prevalent sexually transmitted diseases and wanted Housemates to promote and advocate for a healthy and safe lifestyle. Using one of the name of the Flex Condoms range for their team, Housemates had to devise a thorough business plan and present it.
Once Lolu had collected bags of props and gifts, Housemates split into their respective teams and immediately started working on this awareness-raising mission.
Slouched in the lounge, Miracle, Tobi started the Task until Cee-C joined them later. At the dining table, BamBam, Lolu and Nina had spread pens and highlighters across and were actively writing. In the garden where Rico, Alex and Teddy A had retreated to, the focus was equally intense.
After grabbing a quick lunch break, Housemates returned to their work stations to add the final touches to their presentations. Which team do you think is most likely to win this Task?
The DJ's wish is Our Command
The past 8 weeks have had the Housemates turning up without fail thanks to Biggie's on par invitee DJs. From personalised remixes to Housemates features, the parties have brought a kind of confidence and reassurance that the Housemates need ant tonight wasn't any different.
Ready Or Not
After being occupied for the greater part of the day thanks to their Flex Condom Task, the Housemates had very little time to psychologically align and prepare themselves for what the evening brought but when signalled, they quickly jumped to the store room, excited to see what was enclosed in the Payporte bags and as per usual, they weren't failed. Following the modern theme, the Housemates' outfits were nothing short of funky and fashionably relevant.
Dressed To Dance
From funky platformed shoes to muscle tight jackets and backside hugging shorts, the day's outfits certainly deserved a place on the epic hall of fame. As always, they Housemates couldn't hide their excitement and dove right into their party preps. Face beats and toxically perfumed, they graced the mirrors, ensuring that their dance moves wouldn't compete with their steezes and thanks to Biggie's in-House stereos, the Housemates got a feel of how epic the evening would be and so it began.
It's A Turn-Up
DJ consequence didn't hold anything back. Thanks to his personalized "this is Big Brother…" the Housemates felt very relevant and that alone fueled and brought out their inner party animals. As always, Alex played ring leader and had the other Housemates trying their hardest to stay in sync. Despite his inability to correctly follow the rhythm, Rico Swavey danced along anyway, not giving anything away. Toracle (Tobi and Miracle) brought their best moves and further blazed a trail of rhythmic excellence, making the beat that much more intoxicating. Overall, the party was lit and so were the Housemates.
***
Have you been watching? What did you think of the Day 55 activities?