#BBNaija – Day 56: Don't Joke With My Meat, Anto & Khloe Return & More Highlights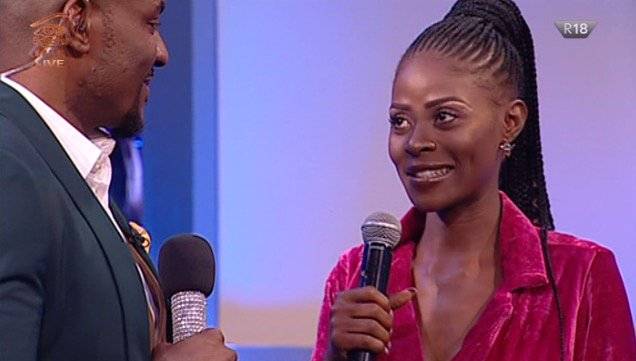 Did you watch day 56 of the Big Brother Naija 3 reality show?
If you missed it, we've got the highlights for you!
..
The Calm after the Turn-Up
The party feels got the Housemates stuck in the party trance and as such, the mood was carried back into the House. While there wasn't much to do, Biggie provided the Housemates with an excuse to abandon their beds a little bit longer and remain hung on the fun.
The Housemates were visibly drained due to not having had a chance to laze around and do a load of nothing, all thanks to their Flex Task. Although they had loads of fun in the party, they looked more than ready to go pillow hugging and anticipate yet another Sunday that according to them, held the promise of disappointment, but it looked like Biggie had mapped it out differently.
They received a store room signal and quickly ran over there and it seemed as though fun was about to begin again When they discovered a bottled of whiskey. This too was short lived because Lolu decided to play demigod. With Nina as his apprentice, he hid the bottle in one of the closet compartments, trying to avoid an alcohol episode similar to last night's.
Some of Housemates unknowingly moved on from that and went about their singing and dancing while the other got their snoozes on. It was quite an uninteresting night and it seemed liked the Housemates  fully concurred because they kept their post party celebrations on the low and prepared for bed.
Don't Joke With My Meat
Over dinner, BamBam had asked Nina to save her share of meat as she felt satisfied and had eaten enough. Nina and BamBam have gotten closer lately and so Nina agreed to store her pal's dish in the fridge, for BamBam to have it whenever she would be ready.
Surprise Surprise
Upon awakening, BamBam opened the fridge and to her greatest surprise her meat had vanished.  Puzzled, she inquired who in the House could have eaten it and had not had the courtesy to inform her.  A mini investigation ensued, as Rico Swavey started recounting the previous day's events and speculating as to the meat's whereabouts.   While having their weekly hairdressing session, Alex, Teddy A and Cee-C also joined efforts to try and piece together what appeared to be an enigma.
The Greedy Guys
It turned out that it was Teddy A who out of self-indulgence devoured the leftover, and because Alex had seen him reluctantly co-opted her in his secret by sharing a little with her.  Out of embarrassment, and because it tasted so good, both vowed to never confess their gluttony to the House. Earlier Teddy A had thoroughly scorned BamBam for eating his meat, yet he did the same and even pulling Alex down with him.  A few days later, it is the same Teddy A who during a Diary Session, vowed to give up all his meat for the chance to stay in the House longer.
For The Love Of Meat
Still Teddy A's love of meat is definitely a key feature of this House. Remember when Head of House Miracle had Nina guard his meat jealously?
Welcome back Anto & Khloe
Talk about second chances; Double Wahala – double chances! Based on your Votes, Anto and Khloe will step into the Big Brother House to take hold of their double chance at the game. They will enter the House and receive full opportunities and privileges that are extended to all the other Housemates.
We started the Double Wahala season with Housemates playing in duo teams, Big Brother has maintained this drama and tension with loaded Tasks and twists for the Housemates to play along with. In last week's Eviction show, Ebuka confirmed another twist: Big Brother gave the viewers the power to bring back two Housemates to play for the 45 million Naira. They are returning to play the game in their individual capacity, and no longer in any pairs. Even though they have been in the outside world, they will not be allowed to talk about their experience, or communicate that with the other Housemates.
Big Brother and his ninjas will be sneaking Anto and Khloe into the House at 3am (WAT), and we're all following #BBNightVigil to see that unfold. We all know that Khloe and Anto were very spicy ladies to say the least, with bold ideas and not afraid to share them. Do you think they'll be bringing more of that pepe flavour in the House?
Big Brother also summoned all the Housemates into the Arena for a game reset.
The Housemates meet Big Brother
Tonight's Live Show was off the charts, from the mind-blowing performances to the shocking twists, we were all kept at the edge of our seats. After all was said and done, the Housemates all went into the Arena where they awaited Big Brother himself.
The Light Show
Meeting Biggie was a momentous occasion and it definitely looked the part. The lighting was dramatic, the ninja's all stood around Biggie's chair, embodying a King's court and the Housemates had to line up in front of this exhibit like subjects. It was a sight to behold and truly set the tone for the series of events that unfolded thereafter
Speechless
Maybe it was the grandiose exhibition of Biggie's power or just the mere idea that they were going to meet him for the first time but the Housemates looked shook. When Biggie initially asked if anyone had questions, they all remained mum and said nothing. After this Biggie addressed each of them individually and their responses were extremely meek and soft. Very paradoxical seeing as though most of the Housemates are larger than life when they are living it up in the House.
Generosity
Biggie was in an exponentially generous mood tonight, first he told the Housemates there would be no Evictions, and he then threw a spanner in the works and gave them a choice stating that they can leave the game now and choose an envelope with an undisclosed sum of money in it. While there were signs of temptation from Rico Swavey and Alex, no one took the bait at the end of the day. Just to sweeten the deal even more, Biggie also removed everyone's strikes which caused Tobi, Lolu and Cee-C to brim with joy.
Reset
All of this was a symbolic moment in order for Biggie to reset the game in order for things to move forward in a new light. It is going to be a whole new game with Anto and Khloe coming back. This is going to shift the vibe in the House and definitely spice things up.
What did you think of tonight's events?
***
Have you been watching? What did you think of the Day 56 activities?