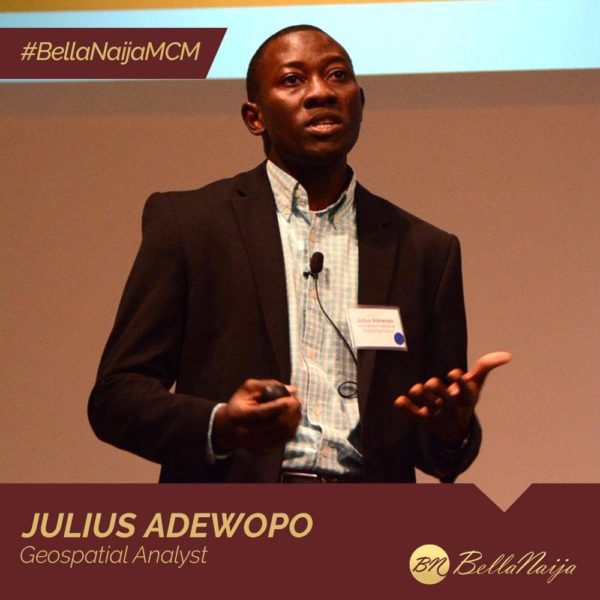 To maximally tap the resources from a system, one must understand the workings of that system, and be able to predict the effect of any action on that system.
The earth has been around for billions of years, and in recent times, there have been discussions surrounding climate change and global warming, and how it affects life and living. There's an ongoing global action on this and the world is working to forestall any impeding damage, as well as understand how to live in these times.
One sector where climate change is showing its impact is agriculture, and for a country like Nigeria, and indeed, a continent like Africa, where majority of farmers are rural based, the necessary information they need to improve their processes and yield is likely to not be accessible by them.
Our #BellaNaijaMCM this week Julius Adewopo's work is getting this high-tech information to these rural farmers, and practically holding them by the hand for increased yield.
Julius, a Google scholar, is a postdoctoral fellow and geospatial analyst for maize-based systems at the International Institute of Tropical Agriculture, with his station being in Kano, Nigeria.
Julius holds a Bachelors degree in Forestry (Federal University of Technology, Akure), a Masters degree in Forest Science (University of Arkansas-Monticello), and a Ph.D in Soil and Water Science (University of Florida) focusing on "the impact of management intensification on soil carbon dynamics and underlines important ramifications for long-term ecological sustainability, especially in subtropical grasslands," according to IITA.
Julius was enlisted by the Bill and Melinda Gates Foundation (BMGF) to lead the geospatial department of a $12 Million project aimed at improving yield in Nigerian maize-production systems.
Through the Face of Agriculture Africa initiative, where Julius serves as principal strategist, 1000 students have been trained on the values of agriculture as a rewarding profession.
Julius had served as an appointed Member on the Governing Council of Commonwealth Forestry Association, was appointed by U.S. Department of Agriculture (USDA) as a reviewer for the competitive Sustainable Agriculture Research and Education (SARE) grant, and has served as staff research performance reviewer for Smithsonian Tropical Research Institute (STRI). 
Julius is the recipient of the International Union of Forestry Research Organization (IUFRO)'s award for excellence and has been inducted into the Gamma Sigma Delta Agriculture Honor Society.
In 2016, Julius received The Future Awards Africa (TFAA) Prize for Agriculture.
We celebrate Julius for his work in improving Nigeria's agricultural sector, connecting rural farmers with necessary partnerships and opportunities for growth, and promoting agriculture among the youth.