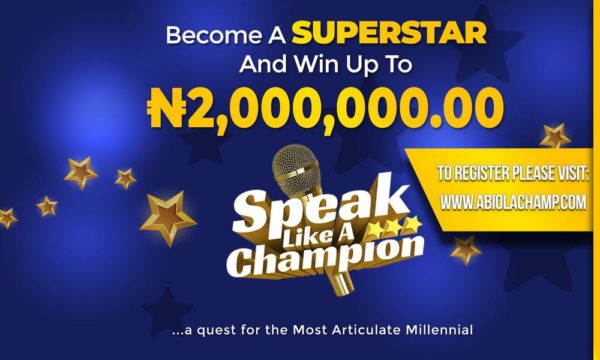 Are you an articulate speaker seeking stardom and open to turning your ability into wealth? If yes, then the opportunity to make your dream come true is here. AbiolaChamp, a global inspirational platform is set to kick off 'Speak like a Champion' Reality TV Show, in which you stand a chance to be one of the top three winners to go home with N2million, N1million and N500,000 respectively.
According to the organizers, 'Speak Like a Champion' is a quest to discover raw talents in the art of speaking who will be groomed to become exceptional leaders through a robust curriculum in a rigorous academy. These participants will be trained by the very best to acquire the essential knowledge, skills and attitude that will position them on a fast-track lane towards achieving whatever dream is in their hearts.
With a mandate to inspire 1 billion people to rock their world like champions, the reality show will provide viewers with a unique blend of entertainment and education with the opportunity of following the activities as the participants learn, compete and grow towards their aspiration to become skillful, sought-after and successful personalities. The talent competition also involves audience participation. The public will decide which contestants are to be eliminated on a weekly basis via SMS, mobile site and desktop website voting respectively.
Speaking on the initiative, Abiola Salami said: "Communication is perhaps the most important skill in the world as we use heavily in social, professional and domestic circles. However, little attention is paid to appreciating, developing and maximizing this critical skill.  Available data suggests that the average age in Nigeria is 17.9 years – thus any conversation about peace, progress and productivity for the country should be targeted at developing the productive capacity and competence of this demography – hence the need to the develop the most important skill among millennials.
"With the ambitious but very achievable target of reaching a minimum of ten (10) million millennials with the show, 'Speak Like a Champion' will foster idea generation among millennials, build the confidence of many millennials, empower millennials to become employable, position millennials to become self-reliant with entrepreneurship and prevent millennials from engaging in drug abuse, violence, advance fee fraud and other vices."
AbiolaChamp is a global inspirational brand with the goal to have inspired 1 Billion Champions by November, 2026. So far, the brand has inspired a cumulative of 5 million champions across 30 countries in Africa, Europe & America.
Other participants in the competition will also be awarded with consolation prizes.
To register for SPEAK Like A CHAMPION, follow us on Facebook, Instagram and check out the website.
————————————————————————————————————————————————————————————–
Sponsored Content