#BBNaija – Day 73: Nursing Feelings, Goals for Education & More Highlights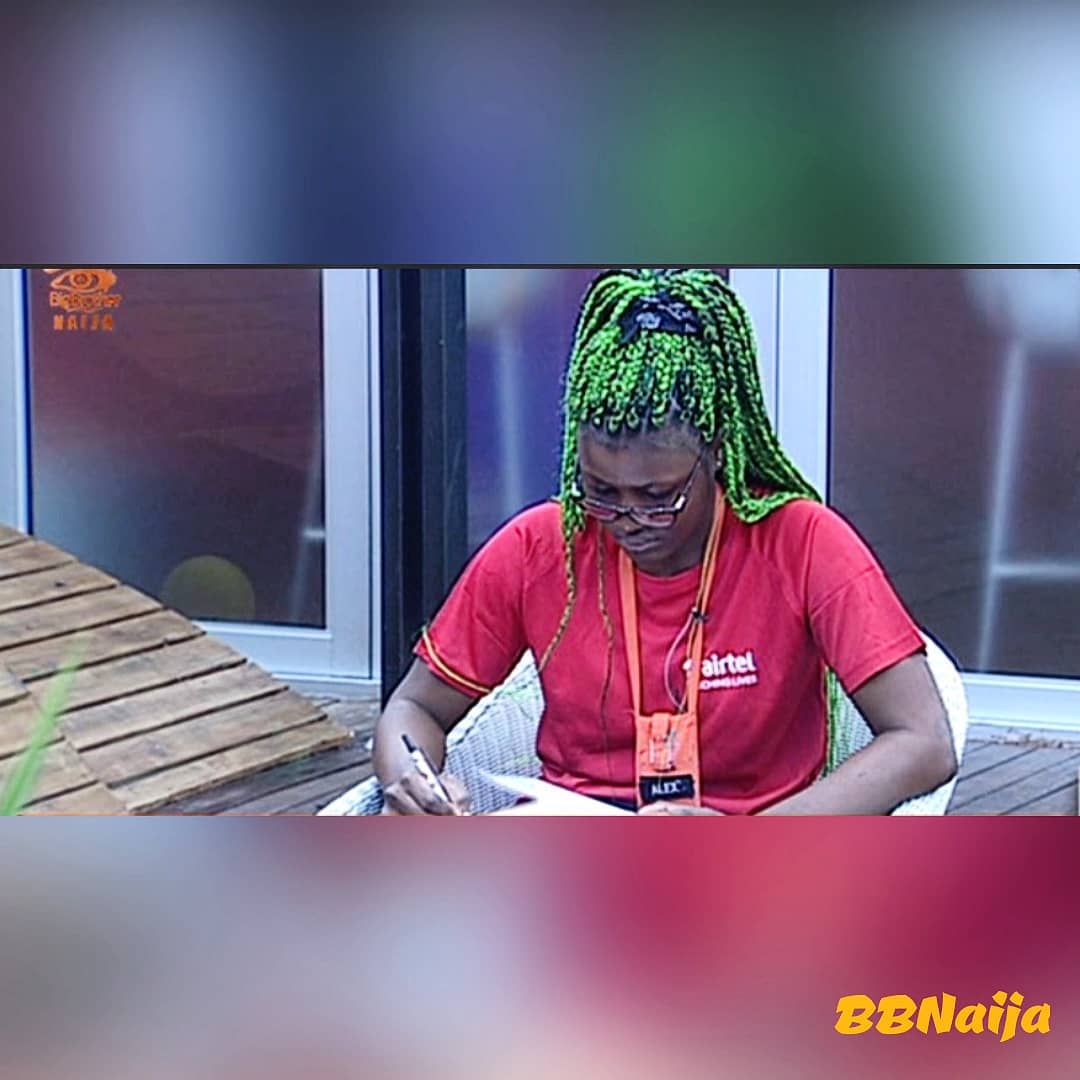 Did you watch day 73 of the Big Brother Naija 3 reality show?
If you missed it, we've got the highlights for you!
..
Nursing Feelings
My Glass of Happiness
After dinner, Lolu, Miracle and Tobi found bottles of liquid courage in the storeroom that they rushed to pour into individual glasses for their companions. Head of House Alex encouraged Nina to have a drink too, which Anto questioned, fearing to have to stay up all night should Nina throw up. Nina gave everyone assurances that it wouldn't be the case, and walked into the dressing room where the bottles had been moved to for another serving. Feeling babied and despised by the House, Nina cried over Tobi's shoulder.
Bitter Lovers
Unknowingly she had interrupted a conversation between Khloe and Miracle, whom Khloe was advising to resolve their situationship before the drinks got the best of Nina. Miracle who had been giving Nina the silent treatment until then, got back to his senses and grabbed the drink from Nina's hands. He told her he didn't want her to drink for it wasn't in her habits, to which feeling offended Nina coldly replied by asserting her desire to drink.
On Deaf Ears
In the lounge, Lolu was for the umpteenth time pleading his case to Anto, who seemed the least interested in what he had to say. She made it clear that he had only earned fifteen percent of her trust, and that over the three weeks since she returned to the House. Vexed, Lolu walked to the dressing room to hide the two bottles of liquor from Nina in his laundry bag, with Tobi's consent.  Tobi who has until then kept his own counsel, used the opportunity to give Lolu some Cee-C Counselling or a rather manly hard talk on how to ignore Anto's whims.
When The Cookie Crumbles
In the first few weeks of the game, it was pretty evident that the Big Brother Naija couples had distinguished themselves from their fellow Housemates.
Even though the Housemates were paired and played the game in two's, those who had a mutual understanding outside the game made it clear. From there on, it was #CoupleGoals every day and for a while, it looked as if they had thrown their strategies out the window and were focusing solely on love.
Paving The Way
Two days into the game, Miracle and Nina found each other and were the first to mark each other unavailable in the House when they gave us the first Double Wahala Kiss.
Before the pairing of the Housemates happened, they were already all over each other as if they had been doing this for long. That first hook up paved the way for other Housemates to follow suit and Tobi and Cee-C were next.
When official pairing came, it wasn't debatable for the two pairs as to whom they'd pair with, everything flowed naturally. We were introduced to the birth of Ceebi and Mina.
Though it was smooth sailing for Mina and Ceebi, for Lolu, who had been partnered with Anto, it was a totally different story. Both seen as observant intellectuals in the House, Anto made it difficult for him and never gave in to his advances until she got Evicted.
No Looking Back
Things started crumbling between Tobi and Cee-C and almost every week there'd be a quarrel which would lead to silent treatment on both ends. Things took a turn for the worst when Tobi decided to go solo, something Cee-C never saw coming. The end of their relationship was sealed when the two decided to have nothing to do with each other.
Meanwhile, Nina and Miracle had a solid thing going on which everyone was aware of and no Housemate dared try to rock the boat.
The demise of Ceebi, reminded everyone of the uncertainty of the Big Brother game and when Anto returned from Eviction, Lolu's courage had grown a hundred times more.
His efforts weren't just words and even though Anto's advantage of being able to learn things about him from outside were tabled, he finally reaped the fruits. They sealed the cat and mouse game with a kiss.
Going Downhill
The word 'friendship' has many interpretations and Nina has her own which has caused a rattle between her and Miracle. And even though she's explained herself, the gap seems to be growing between them.
However, she seems to have reached her quota of begging and is letting the whole situation play itself out.
Anto on the other hand, has made it clear to Lolu that the kiss basically meant nothing after telling him that on her return to the House, he's only gained fifteen percent of her trust.
As things stand, after Nina told Miracle to "go hang", in not so many words, there are no couples left in the House and all the goals they've given have been in vain. So the questions remain, the biggest being "What went wrong?"
Tobi and Alex jump into the Fray
The breakdown of Nina and Miracle's once red-hot dalliance has thrown the entire house for a loop. Following a day fraught with tension (and tears), the estranged couple's closest friends, Alex and Tobi, headed to the privacy of the bedroom to try and make sense of it all.
Speaking after an emotional heart-to-heart with a visibly upset Nina, Alex seemed convinced that there was a lot more to the gripping drama that is the implosion of Mina, than meets the eye. At the heart of her suspicions, is strategy on Nina's part. Despite the fact that Nina has asserted that her connection with Miracle is real even if she is spoken for outside the house, Alex feels it was all part of her game-plan from 'Day 1'.
Tobi, on the other hand, seemed taken aback by how a matter so trivial could escalate to such dizzying heights so quickly and proceeded to place the blame on the looming Finale and everyone's subsequent return to normal life in the outside world. According to Tobi, Nina's connection with Miracle may be real, but the former is probably jittery about how her partner might receive her when she goes back home.
Getting to the bottom of it
During this past Sunday's Live Eviction Show, Ebuka asked Nina about her relationship with Miracle and she confidently called him her "best friend". Fearing that Miracle would think she was trivializing their special bond, she went on a 'making amends and clearing the air' tour that has descended into a mess of epic proportions. Through all of this, Nina has continued to voice out her hurt and frustration over Miracle blatantly ignoring her and insinuating she never truly liked him, when that is far from the truth.
It is no secret that Tobi, Miracle and Alex are as thick as thieves (Miralex, anyone) so it remains to be seen how the breakdown in relations between the two lovebirds will affect the House. For now, Miracle is hurt, Tobi and Alex are treading carefully and Nina says it's over. But is it?
Nobility A Goal
The mood in the House is of seriousness as the Housemates prepare to present their Airtel sponsored task about achieving a 'Noble Goal'.
Individually, the Housemates are required to nominate any government school from their neighbourhood which will be supported by Airtel should their creativity surpass others.
Second Round
This comes after the Housemates were required to provide an act of kindness to their least favorite Housemates which they also preformed to the best of their ability.
However, in their acts of kindness required them to work in pairs in which they all confessed to having enjoyed it.
Creativity unleashed
Choosing from a variety of creative options, the Housemates are either to write a poem, song, chant or any performance they prefer.
Guided by the Topic: "How everyone deserves education and the future of Nigeria with educated youth", the Housemates have been individually consumed by their work with less conversing and eating in the House, which is kind of unusual.
However, the gravity of the topic requires such concentration which is commendable to see the Housemates taking the task by the chin.
Unlikely source
In the moments in between their task preparation the Housemates took time out to make themselves food and have conversations.
Nina had an interesting conversation with an unlikely source, Cee-C, about her issues with Miracle to which Cee-C advised her to sort things out with him.
Her response, as she's been saying over the past few days has remained the same as 'No' because she feels she's always been the one who makes an effort in their relationship.
Goals for Education
True to the week's theme, Biggie stretched the dimensions a little bit more and had the Housemates participate in a special challenge that would see 8 different Nigerian primary schools being lent a helping hand, courtesy of Airtel. Despite the relatively easy task that required very little yet bore great rewards, the Housemates were less than forthcoming.
Cash Equivalent Goals
Each of them was given a total of five attempts to score as many penalties as possible, with each weighing a hundred thousand Naira to be donated to the schools each Housemates had chosen, in the form of educational material. The catch however; the front part of the post had coverings with only two possible goal entries and seeing as the guys obviously had greater chances of winning, the penalty area was brought closer to the target, giving the girls a bit of an advantage.
80 Out of 40 Possible goals
Lolu was the first to undertake the challenge and managed to score a total of 2 goals while Miracle seemed to have miscalculated his aim, all five times, consequently forfeiting his chances of winning any amount of money for the school he'd chosen. Tobi on the other hand managed only a single goal, frustrating any chances he might have had to trial for the Super Eagles.
The ladies did better than expected however, given their 'two left feet' syndrome when it comes to sports. Despite their awkward angles, Alex, Cee-C and Nina scored one goal each while Khloe matched Lolu's two goals. Anto on the other hand joined Miracle and collected a big fat L.
Thanks to the Housemates' efforts, the much needed ₦ 800,000 will be injected into the school system, enabling the recipients an equipped shot at academic success.
***
Have you been watching? What did you think of the Day 73 activities?