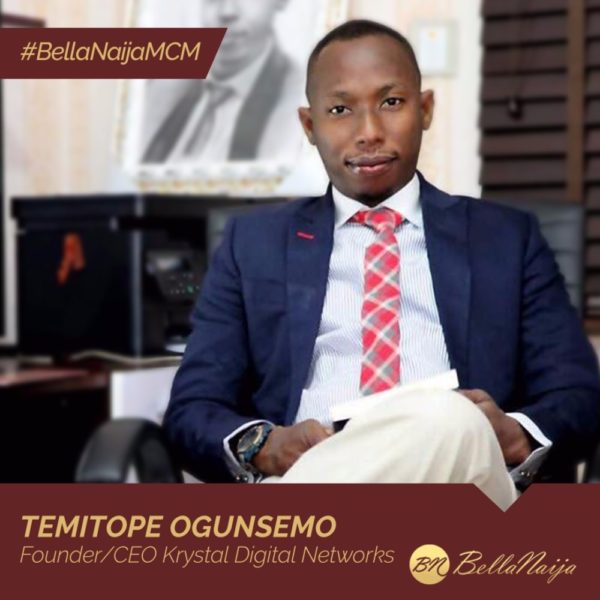 In today's digital world, data is golden, and the more institutions tap into gathering and utilising data for improvement and progress, the better for them.
Anyone who attended a government-owned school in Nigeria is aware of how difficult it is to get your certificates, transcripts, or somethings as little as a signature on your document, and our #BellaNaijaMCM this week Temitope Ogunsemo is no stranger to this.
That experience pushed him to act. In 2010, he founded Krystal Digital Networks, an ICT company that creates software applications for educational institutions in Nigeria, helping them improve their services.
The company's first product – MySkool Portal – is a web-based application for School Information Management System designed for proper storage and documentation of school data.
Today, Krystal Digital Networks services about 48% of federal government colleges in Nigeria.
Recognising the need for a different type of education, and the shortage of IT skills, especially in light of the digital revolution, Ogunsemo partnered with Microsoft to provide "quality education training resources on Microsoft technologies to help institutions, faculty and staff and its enrolled students obtain the skills needed to reach their academic and career potential" through the Krystal/Microsoft Imagine Academy partnership.
Krystal Digital Networks has now commenced IT training programme in Twenty-four (24) Unity Schools.
A company which started from Ogunsemo's savings now rakes in an annual revenue of $3 million (over a billion Naira).
Ogunsemo has a bachelors degree (Chemistry) from the University of Ibadan and a masters degree from the University of Salford (Information Technology).
In 2015, Ogunsemo won the Nigeria Technology Awards (NiTA)'s Best School Management Software Developer award.
In 2018, he was named in Forbes' 30 Most Promising Young Entrepreneurs in Africa list.
We celebrate Ogunsemo, for acting to meet a need in the Nigerian educational system.