Hey BellaNaijarians,
We officially kicked off a monthly friendly competition recently, where you, the BN community, nominate your favourite small-scale business and the highest nominated business gets a FREE post on the BellaNaija website and BellaNaija social media pages (Instagram, Twitter & Facebook).
The winning business becomes our #BNShareYourHustle feature of the month.
For this month, there were a total of 44 comments and after a thorough check, the winner was Praadom Dietary Consulting Services –  @askddietitian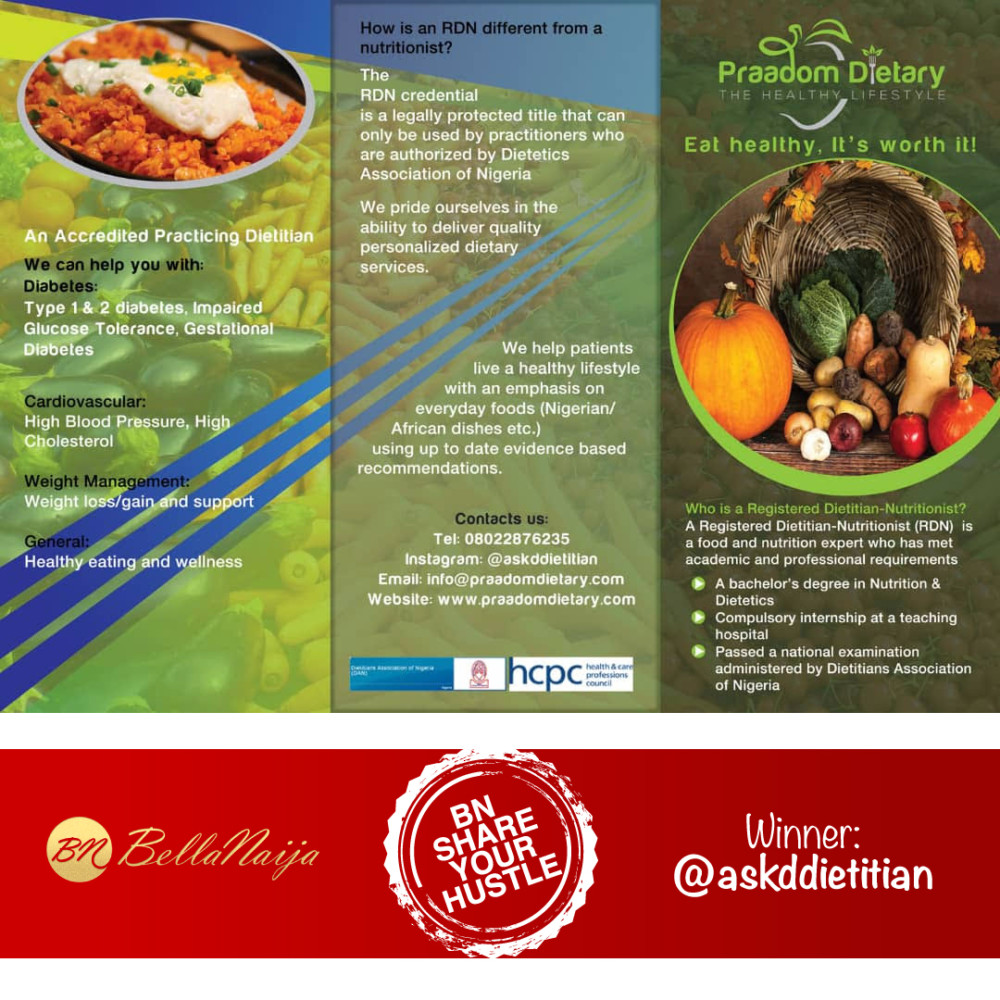 **
"To eat is a necessity, but to eat intelligently is an art – La Rochefoucald"
Praadom Dietary Consulting Services is a Registered and Innovative Dietetics Organization in Nigeria. They pride themselves on the ability to deliver quality personalized dietary services using medical nutrition therapy.
They help people live a healthy lifestyle with an emphasis on everyday foods (Nigerian dishes, African dishes, European etc.) using up to date evidence-based recommendations.  They believe diet should be a sustainable lifestyle that pays critical attention to the current state of the body.
Their consulting services provide evidence-based nutrition and dietetics counselling throughout the lifecycle i.e. from infancy to old age. They are able to help patients with the following conditions:
Pediatrics
Infant nutrition which includes preterm birth, diarrhea, breast or bottle feeding advices, weaning, picky eaters
Delayed developmental milestones – children with congenital heat failures, failure to thrive
Weight management – underweight, overweight and obesity; we have a special package plan for overweight and obese children
Appropriate feeding practices
Preschoolers and School age nutrition
Food allergies and intolerances

 
Adults
Type 1 and Type 2 Diabetics
Hepatic or Liver Disease – alcoholic and non-alcoholic fatty liver
Renal or Kidney Disease – stage 1-5, dialysis
Cancer

 

Gastrointestinal Disorders – inflammatory bowel diseases, and irritable bowel syndrome
Cardiovascular Diseases – high blood pressure, hypercholesterolemia, dyslipidemia and heart disease
Weight Management – undernutrition and obesity
Eating Disorders – anorexia, nervosa, bulimia, emotional eating

 

Nutritional Deficiencies – anemia, beriberi, pellagra etc.
Women Health – Preconception, Conception, Gestational Diabetes, Weight Management after delivery
Children from 0 – 18years, Undergraduate (Student ID required) and pregnant women can get up to 50% discount on all their services
How to Contact:
Email: [email protected]
Tel: +2348022876235
Instagram: @askddietitian
Twitter: @askddietitian
Facebook: Praadom Dietary Consulting Services
Website: www.praadomdietary.com