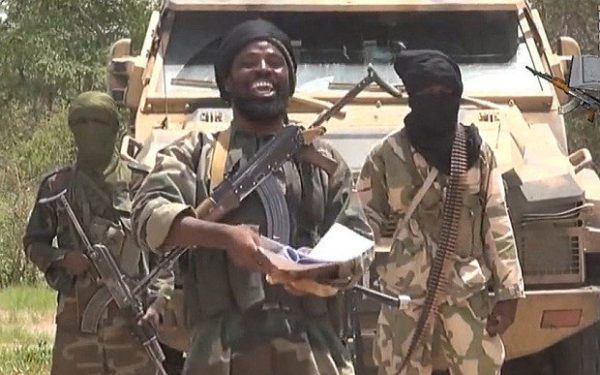 On Wednesday, it was reported that President Muhammadu Buhari has approved the released of $1 billion to procure equipment to fight insurgency in the country.
According to Punch, the Minister of Defence, Mansur Dan-Ali, disclosed this to State House correspondents at the end of a meeting Buhari had with security chiefs at the Presidential Villa, Abuja, on Wednesday.
Reacting to the news, Bring Back Our Girls (BBOG) Advocacy Group co-founder Aisha Yesufu has said that the move is "all for some to make money," adding that this is why #DapchiGirls were kidnapped, and why one – Leah Sharibu – is still in captivity. She tweeted:
Dear Nigerian Citizens This is what the recent heightened attacks by insurgents & killings have been about. This is why Dapchi happened. This is why Leah Sharibu is still in captivity. This is why parents had to lose 5 daughters. All for some to make money. This is an old script

What investigation has been done on the way the same terrorists that were degraded came back again to start attacking us? What lessons did we learn to ensure going forward same as before would not happen?

All the security breaches that have been recorded what action was taken? The Commander-In-Chief President Muhammadu Buhari @MBuhari is loyal to his people and rewards them for their inability to defeat terrorist while citizens are massacred

What has been done about the allegations from soldiers that their allowances are not being paid? That they are not properly taken care of, that the equipment given to them are obsolete? We need money to fight the war so we have to question how the ones approved before were used

What was done to ensure there is no new ATM in town? What are the measures to prevent another #Armsgate?

Who authorised security agents to taken a way from Dapchi just before the attack? How come all throughout their movement by terrorists #DapchiGirls never encountered road blocks? How come air surveillance didn't locate them? With Nigerian Airforce in the North East?

To all those who continue to sabotage the hard work of our men and women at the war front endangering their lives and that of the rest of citizens you would one day put fingers into your eyes to get tears and you would not find it. People have died! People have been maimed!

Someone would come to say Shekau is a good man. How? The money the Nation has spent in this senseless insurgency would have gone towards developing the Nation. You that think the war doesn't concern you, the joke is on you. Part of your money is being used to fight the insurgency.
Governor Ayo Fayose of Ekiti state, in a statement by his Special Assistant on Public Communications and New Media, Lere Olayinka, also alleged that "it as a pooling of public funds for the purpose of funding President Buhari's reelection as well as the coming governorship elections in Ekiti and Osun States."
The governor demanded to know whether or not the $1 billion was from the Excess Crude Account (ECA), adding that; "It will be illegal and against the principle of federalism that operates in Nigeria for the President, who is the head of just one of the federating units to approve spending of fund belonging to the three tiers of government without the consent of heads of other federating units.
"When did the National Assembly approve the spending of the $1 billion? Or can the President spend $1 billion belonging to Nigerians without the approval of the National Assembly?" Fayose asked.
Fayose continued:
Nigerians required explanations from the federal government as to where the $1 billion will be sourced because the President lacked power to unilaterally spend money from the Excess Crude Account. Not even when there is a pending suit by Ekiti State Local Council Chairmen, challenging the powers the 36 state governors to purportedly execute the constitutional duty of the Federal government without the their consent.

Another question the federal government must answer is; which insurgency are they buying arms worth N370 billion to fight? Is it the same Boko Haram that they told Nigerians they completely defeated?

Since they said they have defeated Boko Haram, and later told Nigerians that they had ceasefire agreement with the insurgents, what else do they need a whopping sum of $1 billion (over N370 billion) for; if not to fund the 2019 elections?

Also, up till now, the government is yet to give satisfactory explanations as to the abduction and return of the Dapchi School Girls. With the hurried approval of $1 billion, is it not being reinforced that the Boko Haram insurgency has become a source of looting public fund by this government?

It is on record that Transparency International (TI) once said in its report that some top military officials in the country were feeding fat from the war against Boko Haram by creating fake contracts and laundering the proceeds in the United States, United Kingdom and elsewhere.

Like I have maintained, they are building a very huge financial war chest towards the 2019 elections and our treasury is daily being looted to achieve this. One of such means is the $1 billion approved by the President, purportedly for the procurement of arms to fight a Boko Haram insurgency they claimed to have defeated.
Reno Omokri, former spokesperson to ex president Goodluck Jonathan, reacting to the news, wrote on his Twitter:
$1 billion that Nigeria does not have and probably has to borrow, has been released by Buhari to fight an enemy he told us had been defeated a year ago. The more you look at the Buhari admin, the less you see. A government that reaches out to Boko Haram but not to the opposition!

It seems Easter has affected Boko Haram, because after telling us they had been defeated on December 24, 2015, it seems Boko Haram resurrected this Easter to the extent that the same Buhari who defeated them in 2015 has just ordered the release of $1 billion to fight them!

In my opinion, this headline should read [Breaking] 2019: Buhari Approves $1 Billion to Facilitate His Re-election'. You can't spend $1 billion to defeat an enemy you said you already defeated.
Senator Shehu Sani, representing Kaduna Central also reacted to the news on his Facebook page, saying that:
A Billion dollar to purchase arms will not make sense if we don't factor the welfare and wellbeing of the officers and soldiers fighting the war. A special fund for the injured, the orphans and widows of our fallen soldiers need also to be factored in. A weapon cannot fight a war without the men to use it.

We also need to remind ourselves that our Defence Industry is moribund, before we enrich arms manufacturers in other nations.Our self sufficiency should not be about rice alone.