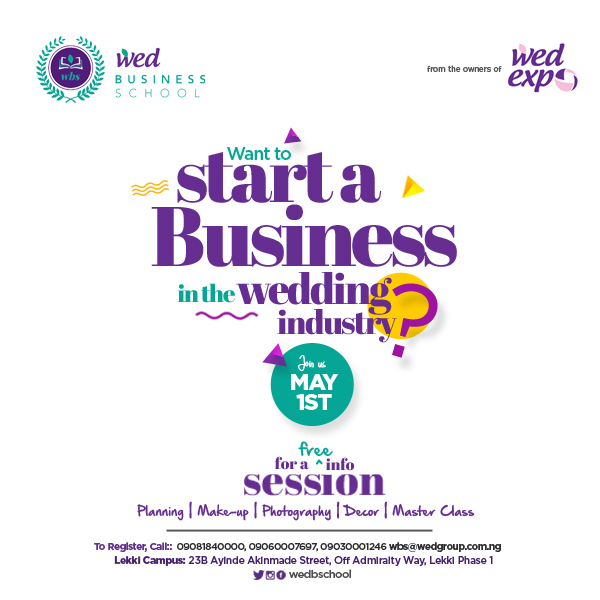 WED Business School the foremost provider of professional leading education in the wedding and event planning industry from the owners of @wedexpo presents comprehensive classes that make you follow your passion. Our seasoned facilitators will give participants the requisite skills and competence needed to launch their own businesses or take existing business to the next level.
Why WED Business School?
Expert Tutors: Our trainers are some of the best in the event planning industry and other fields.
Variety of Study Options: Choose any of weekdays, weekend or boot camp alternatives.
Mentorship:  Gain access to career guidance and coaching from specialists in the field.
Payment Plans: We operate flexible options with discounts and structured installments.
Our calendar is as follows:
Certified Wedding and Event Planning Class: is an intensive four-week program that will provide participants with a step-by-step guide through every aspect of the event planning process as well as practical tools needed to deliver a flawless experience for different types of clients. The valuable insights offered from the wealth of experience of our guest facilitators will equip participants with vital skills and understanding for a successful career as a wedding and event planner.
Lagos: Monday, May 21st – Tuesday, June 12th (weekday class: Mondays and Tuesdays)
Saturday, May 26th – Sunday, June 17th (weekend class: Saturdays and Sundays)
Abuja: Monday, July 23rd – Monday, August 13th (weekday class: Mondays and Tuesdays)
Thursday, July 21st – Wednesday, August 18th (weekend class: Saturdays and Sundays)
Certifies Wedding and Event Planning Boot Camp: This is our most intensive consecutive study option, suitable for students who are time-pressured and need to acquire their qualifications on time. The course runs for four (4) days. Accommodation and feeding (breakfast and Lunch) will be provided for interested participants throughout the entire length of the course.
Lagos: Thursday, June 28th – Sunday, July 1st
Certified Event Designer and Decor Specialist: this course is specially designed for entrepreneurs who want to add different decorating services such as fabric draping, theme props, or floral designs and much more to their services as well as those who want to start up a new business in event design and decoration. Our course module includes; understanding event design and decoration, design schemes and décor techniques, lightning and special effects, aesthetics and floor layout, floral table and centre piece arrangement etc. This course coupled with our host of industry experts offers its participants invaluable insights to be competitive in this growing market.
Lagos: Wednesday, May 23rd – Saturday, June 16th
Abuja: Wednesday, July 25th – Saturday, August 25th
Certified Makeup Artiste and Makeup Masterclass: the services of a qualified make-up artist have never been in greater demand. This course is run with a pool of guest specialists that will take the participants through a series of in-depth modules that will help them develop the most important skills whilst exploring practical aspects of this technical yet creative enterprise. This course amongst other things teaches dynamics of colour theory, facial anatomy, skin preparation and other contemporary trends that will ensure participants meet the needs of the global market.
Lagos: Monday, May 21st – Saturday, June 16th
Abuja: Wednesday, July 25th – Saturday, August 25th
Certified Photographer: Capturing images that a client will treasure forever is one of the most rewarding parts of being a photographer. The comprehensive and well-structured modules offered in this training course have been tailored to deliver practical-based insights that will assist existing and aspiring photographers become proficient as they learn the technicalities involved in this treasured profession in an ambience that will aid rapid understanding.
Lagos: Monday, May 21st – Tuesday, June 12th
Advanced Business Strategy Masterclass: is an intensive training that offers an informative, engaging and systematic approach to the management of businesses and projects. Our seasoned facilitators will impart each participant with knowledge in all areas of the complexity of planning to the execution of different business projects.
Lagos: Wednesday, June 20th – Friday, June 22nd
As part of the WED Business School experience, we are also hosting an information session on Tuesday, May 1st.
The sessions will include conversations on starting a business, getting to know more about WED Business school and how wed business school can influence your career start up.
Details:
SLOT 1: 10:00 am – 11:30am
SLOT 2: 12:00 am – 1:30 pm
SLOT 3: 2:00 pm – 3:30 pm
SLOT 4: 4:00 pm – 5:30 pm
Limited slots available.
Don't be left out!
We operate very flexible payment options with discounts for our students.  
To book your seats now call 09081840000, 09060007697, 09030001246 or Email – [email protected]
Lagos: 23B Ayinde Akinmade Street, off Admiralty way, Lekki Phase 1
Abuja: Gwarimpa. Kindly call or send an email for more enquiries.
————————————————————————————————————————————————————————————–
Sponsored Content