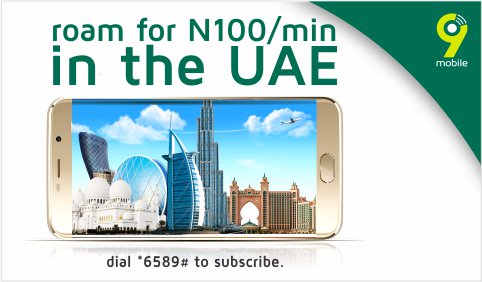 If you had plans to be in United Arab Emirates (UAE) for shopping, business or a vacation but got worried about roaming rates on your 9mobile number, gather round and take a seat. Because 9mobile cares, the UAE roaming discount offer has been extended till the 30th of June, 2018. Sounds great, right? Thought so.
You can keep using your phone for data and voice call services while in Dubai, Abu Dhabi, and other states in the UAE. The UAE roaming offer applies only if you are roaming on the Etisalat network and in UAE between now and the 30th of June 2018.
Just in case you're wondering what you gain when you roam on the Etisalat network, read up. For as little as N5,000, you get free incoming calls in UAE. You also get to make local calls in UAE and calls to Nigeria at the rate of N100/minute and send SMS at N30 per event.
According to 9mobile's Director, Consumer Segment, Adeolu Dairo, the offer is being extended because of the immense feedback from customers as well as its resolve to positively engage with its customers as stakeholders.
"With these roaming discounts, it means you can go about your business in UAE and maintain communication and connectivity with family, friends and business partners in Nigeria. Hence, there's no need to worry about roaming rates with 9mobile" he said.
So hurry and benefit from this offer before it ends. Stay in touch with your spouse, kids, parents, business partners in the UAE or Nigeria without breaking the bank.
For more information on 9mobile's roaming offers, visit www.9mobile.com.ng/roaming.
———————————————————————————————————————————————————————————————
Sponsored Content