DStv wants you to be a Part of the Royal Wedding! Check out the Live Broadcast Times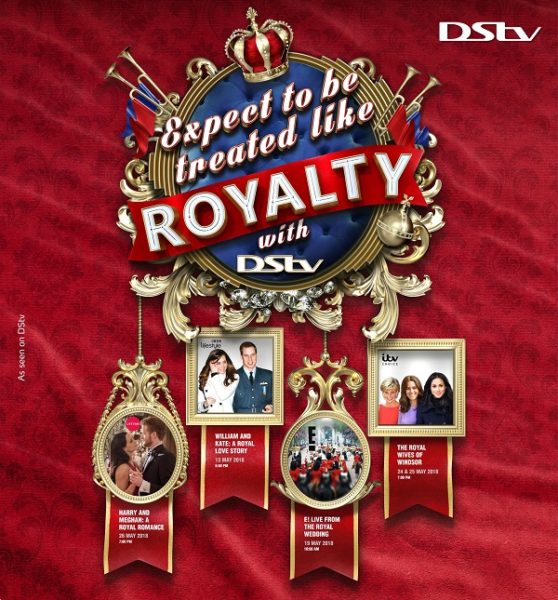 The 19th of May, 2018 shall forever be a day defined by the questions: 'Where were you when Prince Harry took Meghan Markle to be his bride? Where were you when the wedding of the millennium happened?' With DStv channels, E, BBC Lifestyle, BBC News, Sky News and ITV Choice, the answer you give will obviously be 'I was right there… Live!'
Witness the event that will redefine dream weddings for a whole new generation live on DStv, hear the wedding vows, enthuse in the glitz and glamour; then revisit it all again and again with your DStv Explora.
Don't miss the Royal treatment:
13

th

May 2018- BBC Lifestyle, (Channel 174)- William and Kate, a Royal Love story at 8 pm.

19

th

May 2018-E!  Entertainment (Channel 124) – Live from the Royal Wedding at 10 am

24

th

and 25

th

May 2018- Itv Choice (Channel 123)- The Royal Wives of Windsor at 7 pm

26

th

May 2018- Lifetime (Channel 131)- Harry and Meghan- A Royal Romance at 7 pm.
Stay connected to non- stop entertainment on DStv
DStv…. Feel every Royal Moment….
————————————————————————————————————————————————————————————
Sponsored Content