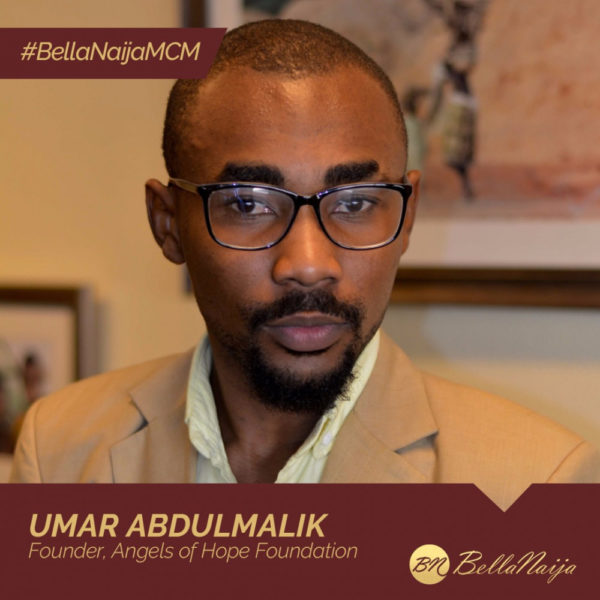 At BellaNaija, we love to celebrate projects and initiatives geared toward achieving social justice and reaching out to the most vulnerable persons in our society.
For our #BellaNaijaMCM feature this week, we'll be shining the spotlight on Umar Abdulmalik, who is making a difference in the lives of people across Nigeria, particularly in the northern part of the country.
Abdulmalik is the founder of Angels of Hope Foundation, a non-governmental organization "which provides philanthropic social services for the less privileged orphans and disadvantaged persons in the Federal Republic of Nigeria, with a focus on children, orphans, disabled children, and traumatized persons: with emphasis on women traumatized by domestic violence, rape, etc., and persons affected by the terrorist activities in the Northeastern region of Nigeria, the internally displaced persons, in addition to people with special disabilities regardless of gender, age, tribe or religion."
Abdulmalik has always been a philanthropist, and at a point in his life (2014), decided to create an organization that caters to the less privileged in the society. He called his friends and like-minded individuals together, and they began drilling boreholes, renovating homes, providing scholarships, healthcare services, food, mentoring, and economic empowerment to the less privileged.
Angels of Hope's focus is on education, healthcare, clean water and sanitation, hunger and nutrition, welfare and youth empowerment, and shelter.
Angels of Hope championed the cause of Musa, a 21-month old boy mutilated by his stepmother. She cut off his private part, broke his arms, his legs, cut his tongue, injured him in the eye, his feet and other parts of his body.
With the hashtag #JusticeforMusa, the case got the attention of the Nigerian populace, celebrities, and dignitaries, including the Emir of Kano, Muhammadu Sanusi II, and wife of the president Aisha Buhari.
Abdulmalik, who also has a full time job, says Angels of Hope has "executed over 50 projects in Nigeria, including feeding over 15,000 less privileged, renovating 4 orphanages and torrey homes, provided scholarships for 15 orphans, provided skills acquisition training for orphans, traumatised women and people with special disabilities (60 of them) and given them capital to start up a small business."
Abdulmalik is a member of the Global Shapers Community, a network of city-based hubs developed and led by young leaders between 20 and 30 years old who want to develop their leadership potential towards serving society, undertaking local projects to improve their communities. He is the Manager, Meet the Leader at Abuja Global Shapers Community.
Well done, Abdulmalik.