Leadership, Global Economic Development, Brain Architecture, The Framework of International Systems, Secrets of Media Empires, Creative Economies, Reverse Aging, How to Grow Air and much more at The College of Sustainable Transformation and Development dubbed COSTrAD 2018.
COSTrAD is a training hub for the convergence of aspiring, seasoned leaders and global role models.
We are catalysts for the transformation of people organizations and nations providing long lasting solutions to the various facets of life.
Our faculty include the CEO of COSTrAD, Abu Bako,
Former Vice President of the World Bank Africa region, Oby Ezekwesili,
Leadership Consultant, Sam Ndoga,
Philosopher and Author "The Book that Changed Your World", Vishal Mangalwadi,
Former Chief Chemist Of Nestle
WorldWide, Jürg Löliger,
Fashion & Business Mogul, Marie Louis Bishara, 
George Asare, Wilhelmina Kalu, Talatu Bako, Esther Cobbah, Derwin Stewart, Deji Irawo, Solomon Appiah, David Osei, John Ayayee and other important members of faculty.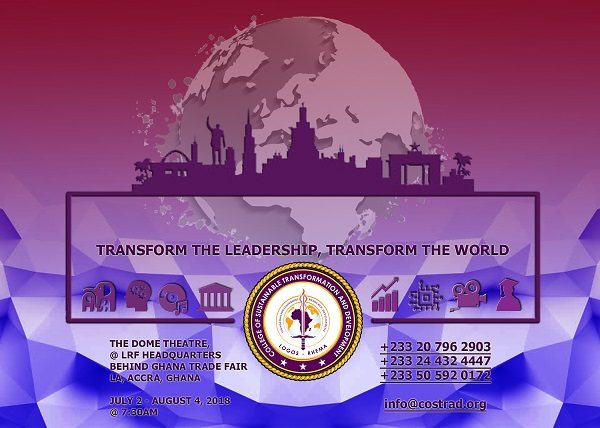 To apply, visit https://www.costrad.org/costrad-apply/
Date: Monday, July 2nd to Saturday, August 4, 2018
Time: 7:30 am – 4:30 pm daily
Venue: The Dome Theatre at the Logos Rhema Foundation HQ, behind the Trade Fair Center La, Accra.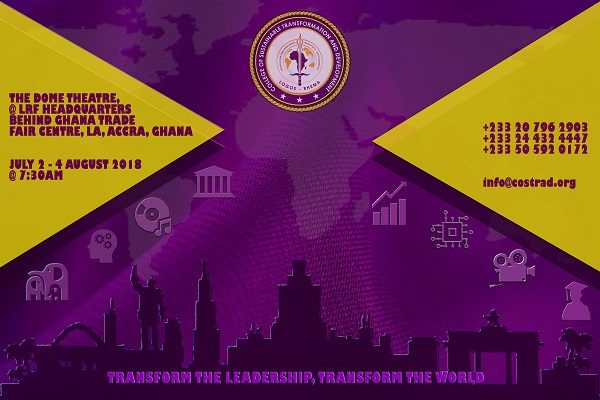 Call, Text or WhatsApp +233 24 432 4447 or +234 802 499 9466 for more information.
Students will be accepted once all necessary requirements have been met.
—————————————————————————————————————————————————————————–
Sponsored Content