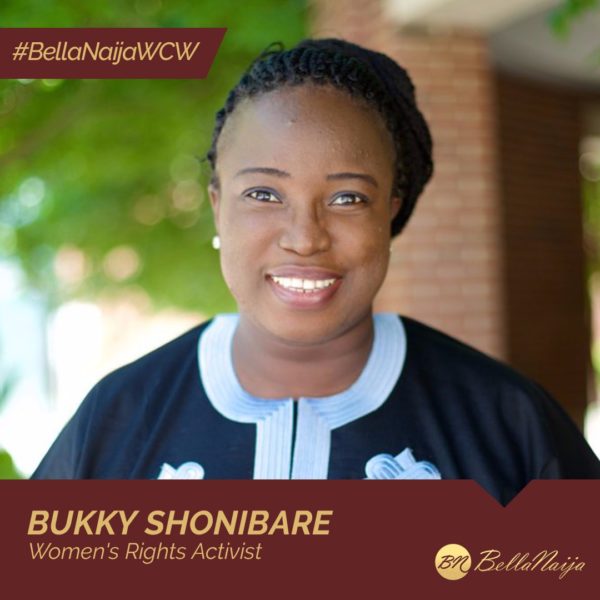 Our #BellaNaijaWCW this week Bukky Shonibare runs an HR and Management consulting firm 555 Consulting, but she is widely known for her contribution to social justice and humanitarian assistance, especially in the area of women and girls' rights and education.
Bukky, since the abduction of 219 girls from Chibok Secondary School in April 2014, has been advocating for their release every single day, calling on the government and security agencies to continue to act. She is a core member of the #BringBackOurGirls movement and one can say, that their advocacy led to the government securing the release of over 100 of the girls.
Bukky manages The Light Foundation, the Corporate Social Responsibility (CSR) arm of The 555 Group, through which she coordinates Adopt-A-Camp and Girl Child Africa.
Adopt-A-Camp is a humanitarian intervention assisting internally displaced persons.
Girl Child Africa is an organization that is "focused on promoting girls' access to quality education in critically affected rural communities across Africa where girls' education is empirically proven to be hugely challenged."
She is the founder of SheTV, "an online TV platform aimed at using new media to advance girls' and women's rights; while escalating, and spurring actions and policies needed to address issues affecting them."
"SheTV is also an avenue to promote the wins and strides of girls and women; while educating, and creating awareness on laws and policies relating to girls and women. Through SheTV, we would tell true 'she' stories and shape 'she' narratives in ways that better positions, and further advances girls and women," it says on its website.
Bukky holds a B.Sc degree in Business Administration, a Masters in Peace and Security, and currently studying Law. She has dual certificates in Social Sector Management, and Entrepreneurial Management from Pan Atlantic University, and has dual Certificates in Journalism, and Creative Writing from the London School of Journalism.
Bukky is a 2016 Mandela Washington Fellow (Civic Leadership), a strategic member of the ECOWAS Early Warning and Rapid Response initiative, and a working group member on 'Women, Peace and Security' (Resolution 1325) for the UN Office for West Africa.
We celebrate Bukky today, for her contribution to social justice and advocacy for women and girls' rights.