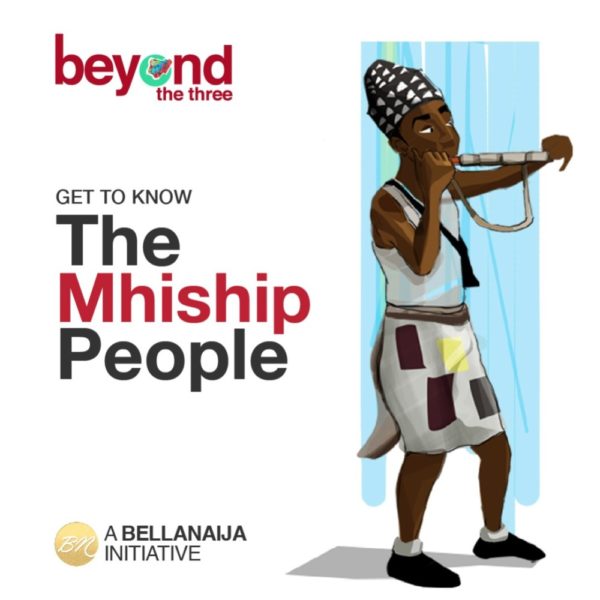 Beyond The Three is a new series on BellaNaija where we celebrate and spotlight every tribe and ethnic group that is NOT Yoruba, Hausa or Igbo. We invite ALL BellaNaijarians to be a part of this initiative.
In the first edition of this series, we were introduced to the Idoma people; this was followed by the Esan people.  This series has also featured the Oegoroks and the Binis. 
Today, we're introduced to the Mhiship people, thanks to Mwanret. 
***
What is your name and what does it mean?
My name is Mwanret Mary Theresa Dasat. Mwanret means "The journey is good". It can also be tranlated to "good life".
Tell us about your language and your tribe, in general
My language is called Mhiship. It is spoken by the Mhiship people found in the southern part of Pankshin Local government of Plateau state. The Mhiship people are part of the Kwarafa Movement (These are people who migrated from Yemen via Egypt to Yobe/Kaneem-Borno and finally settled in the areas of the middle-belt of Nigeria). The traditional outfit of the Mhiship is blue and white tie&dye with maroon beads.
Mhiship language is similar to mwaghavul, Mupun and Angas languages. Names like Na'an means God in all three languages mentioned above except the Angas call it 'Nen'. Plangnaan, Pankshak, Naanret are unisex names used by these tribes as well.
Do you speak your language?
I can't speak Mhiship but I understand the basics; "Ter shakap a" meaning Good morning, "Nan yakal kih mun" meaning Good Night/May God wake us up, "Plang bwer" meaning Thank you, "Hon nyih/nghun" meaning Weldone.
Tell us about some of the unique rites and cultures about your ethnic group
Marriage rites
Weddings are celebrated when the bride price/dowry has been paid. A male from the extended family is often selected as the marriage guardian. He accepts the groom's family proposal and determines the bride price. (He acts as a figure head in most cases because he often takes instructions from the real father of the bride). He is also the bearer of news (good or bad) to the family with regards their daughters well being.
After the dowry is paid, a day is set for "bhisih". This is when the whole clan comes together to eat and celebrate with the bride. The most popular food prepared for bhisih is tuwon acha (fonio meal) served with 'tok lehnden' and nam 'as' accompanied by 'mos' or palm wine. ('tok lehnden' is dried sesame leaves soup, 'nam as' simply is dog meat and 'mos' is the local guinea corn brew).
Naming ceremony
When it comes to naming a child, The name given by the eldest member of the extended family is often the most popular, even though every aunt or uncle can name the child… if they so wish (as well as the parents of the child.)
Governance and ruling
The Mhiship people are ruled by a king; Long-Mhiship. The king is selected by the king makers (Mishkaam) and the king must be from either the 'Kabis' or 'Dading' clan. The current Long Mhisip is Ndah Wesley Enshuwan Mulak III.
Long Miship, Long Garam and Long Geomai are the only traditional rulers in Nigeria dressed in a 'Zanko'. (Zanko is a tusk of authority tied to the head of the king).
Festival rites
The Mhiship people celebrate Bhit Mhiship annually. On this day, the people come together to celebrate their culture with dance performances, food and drink. They also give awards and recognition to outstanding Mhship sons and daughters.
Proverbs and folklore
Some of the few I know are: "Enh deh nvhut" means "Be wise" and "tahdhang khi shu bwor mah" literally means "The elder cannot be ignored."
Religious beliefs
Mhiship people are mostly Christians with a few traditional worshipers, hence Christianity has influenced a lot of their culture and lifestyle. In the past, people sought the advise of 'Gukum' (diviners) and 'Go'en' (Traditional medicine herbalist) but that is gradually abandoned.
Funerals
In the past, funerals were done immediately a person passes away. Traditional worshipers are buried seated; however this is no longer the case.
What do you love about your culture?
I love the cooperation between clan members when it comes to weddings. Everyone brings their little support both materially and financially to ensure the "bhisih" goes well. Every clan has a slogan which is often called out during weddings, naming, coronations etc. These slogans have specific meanings to each clan and is used to show the pride and strength of the clan.
My clan's slogans are; "kgimpit tep shuu nbwat" meaning 'matured chimpanzee breaks unripe corn/maize to exhibit power.' and "Del nyah" meaning 'enter into a crowd of bamboos/show fierceness' as well as "mu lang lih ah nshaan" meaning 'we build houses through our efforts in farming'.
What are the things you don't like about your culture?
What I dislike about my culture is the excessive attachment to the village. A Mhiship person living outside Chip will love to visit the village almost every month, otherwise he may be chastised for being away for too long.
What do you wish more people knew about?
I wish people are more aware of the uniqueness of the Mhiship people. Although we may have a lot of similarities with other tribes, we as a people are united and love and support family always. We also take pride in education. A Miship man will sell all he has to ensure he gives his children the best education.
Awesome! Thanks for educating us about the Mhiship people.  Find out more about Beyond the Three series HERE. Click HERE to read more entries in the series.