Winners emerge in DiamondXtra Season 10 Scheme
More winners have emerged in the DiamondXtra Season 10 scheme as the Bank recently unveiled 1,016 winners in the second quarterly draw held at its Asa – Afariogun, Ajao Estate, Lagos branch.
Addressing journalists after the draw, Osita Ede, Head Mass Market at the Bank said that DiamondXtra Season 10 promises bigger and better rewards for the esteemed customers of the Bank. He also stated that the DiamondXtra draws will reward a total of 1,016 customers each quarter -producing a star winner of a brand-new Hyundai car, one winner of an education grant for five years, two winners of a rent grant worth N1, 000,000 each and other prizes.
A targeted draw for customers in Isolo and Ajao environs preceded the quarterly draw and saw customers winning cash prizes ranging from N50,000 to N100,000 amongst other mouth-watering prizes.
"The DiamondXtra reward scheme is open to new and existing customers and all you need to do is to visit the nearest Diamond Bank branch, open a DiamondXtra account and fund it with N5,000. The more the multiples of N5,000 you save, the higher your chances of winning. The draws scheduled for this season reaffirms Diamond Bank's commitment to financially empower more Nigerians by spreading the draws across the six geopolitical zones throughout the four business quarters of the year," concluded Osita.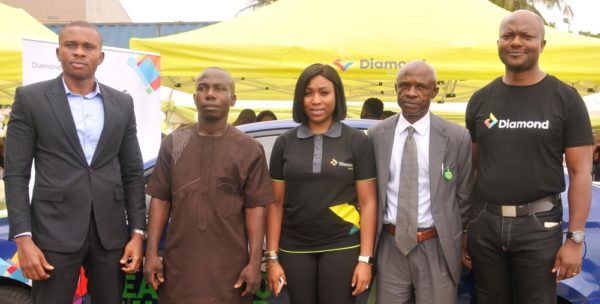 Buttressing Osita's point, Karimot Tukur, Head, Consumer Banking, Diamond Bank Plc told pressmen that DiamondXtra is aimed at rewarding the Bank's loyal customers, enabling them pay rents, school fees and empowering more Nigerians financially.
Kenneth Ukanwa, Manager, Technology Advisory, KPMG in his address said that KPMG is working with Diamond Bank to ensure that the procedure set out for the draw is transparent.
Head, Surveillance & Enforcement, Consumer Protection Council (CPC), Anyanwu Camillus said that the CPC saddled with ensuring that the rights of the customers of the Bank who qualify for the draw are protected and that all winners are duly rewarded.
The highlight of the event were the testimonials shared by past winners on how the reward scheme has changed their lives positively.
—————————————————————————————————————————————Sponsored Content