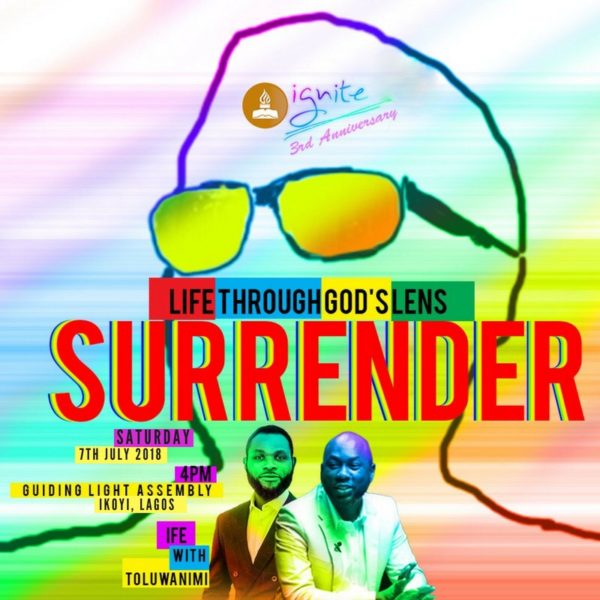 Flashback to July 2015, Ignite held its first ever fellowship with the aim of bringing together young Christians to discuss the Word, pray and get answers to everyday life issues. Present day: it is July 2018 and Ignite is three years old!!! It has been an amazing three years of God's faithfulness, love, kindness, and goodness and we will be celebrating our anniversary at the July fellowship themed 'Surrender: Life through God's lens'.
Date: Saturday, July 7th,  2018
Time: 4.00 pm
Venue: Guiding Light Assembly, Parkview Estate, Ikoyi.
When you hear the word 'surrender', what thoughts come to mind? Do you think: "I have no say anymore", "I have to give up something" or "I have lost control"? Fear not, you are not the only one that has had those thoughts. How then do we surrender (yield, submit, sacrifice) our lives to God when we feel 'a not so positive' way about surrendering?
When we gave our lives to God, the Bible tells us that we are now new creatures and that Christ lives in us. As Christians, our relationship with God is the very foundation for our walk with Him. Being in a relationship with God means that He is the center of our lives; Matthew 16: 24 (AMP) says: "24 Then Jesus said to His disciples, "If anyone wishes to follow Me [as My disciple], he must deny himself [set aside selfish interests], and take up his cross [expressing a willingness to endure whatever may come] and follow Me [believing in Me, conforming to My example in living and, if need be, suffering or perhaps dying because of faith in Me]" This verse speaks of surrendering ourselves as a prerequisite to following Jesus and the truth is that we will struggle with yielding if we do not truly live a God centered life. Jesus told us that we will face many challenges, trials, and tribulations so it is important to live life from God's perspective.
Join Ignite GLA as we discuss what it means to surrender and how to live life through God's lens. Toluwanimi and Ife will be joining us and it will be an amazing time fellowshipping with believers; we will also be celebrating our third year anniversary so you know this will be an extra special time with God. Please invite your friends, colleagues, families, we look forward to seeing you there!
Ignite is the youth fellowship of Guiding Light Assembly. We are the young members of the GLA family – young men and women in business, young couples, young entrepreneurs; all young Christians who love Jesus and are trying to figure out how to live the Word in an increasingly complicated world. We meet on the first Saturday of every month to gist with the Holy Spirit, ask a lot of questions and to find out what He has to say about our everyday issues.
For more information, kindly contact us at [email protected] or [email protected] We are also on various social media platforms: Instagram, Twitter, Periscope, Snapchat, YouTube, Facebook and on the blog: www.ignitegla.org
—————————————————————————————————————————————–This content has been published for free as part of BellaNaija.com's commitment to youth, education, healthcare and community development as part of our corporate social responsibility programme