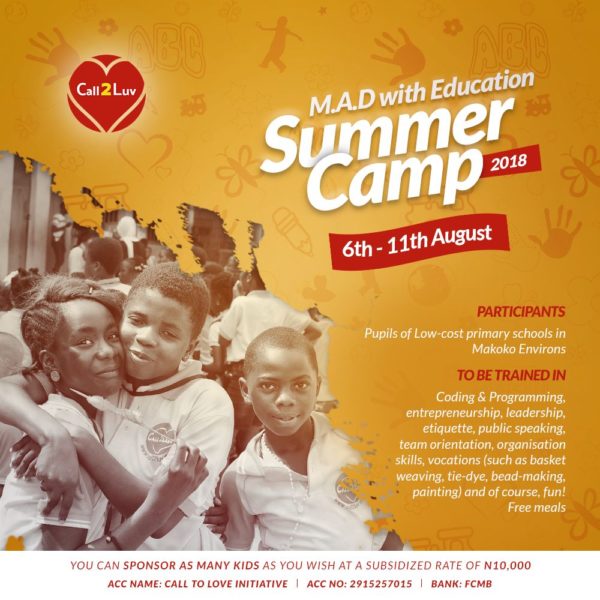 "One person at a time, one day at a time, and one project at a time, you can make a difference that will leave a lasting impact on the world. "
You probably aren't living the life of your dreams right now, but when the time comes, as you grow older and you look back at how you spent your time, your resources, your  life, for the benefit others, you can smile and know that you have truly lived.
So, here's your chance to heed the call to love, a chance to express love, a chance to be someone's hero, a chance to truly live.  Sign up to be a volunteer/mentor as Call2Luv in collaboration with Oracle Nigeria  & Nigerian Red Cross Society  Make A Difference in the lives of underprivileged children this holiday at the M.A.D with Education Summer Camp 2018.
M.A.D. with Education Summer Camp 2018 is organised for underprivileged children to learn technical and vocational skills which includes:
–  Coding and Robotics Training using Oracle Java Programme
–  Technical Skills Training in Beading, Leather-making, Sewing, Painting etc
–  Soft skills Training in Entrepreneurship, Leadership, Etiquette among others.
High-Performing participants will enjoy Scholarship and Mentorship Opportunities.
To  make a donation or join the call2luv team of volunteers and mentors, please click here.
Follow @call2luv initiatives for latest updates.
—————————————————————————————————————————————-This content has been published for free as part of BellaNaija.com's commitment to youth, education, healthcare and community development as part of our corporate social responsibility programme