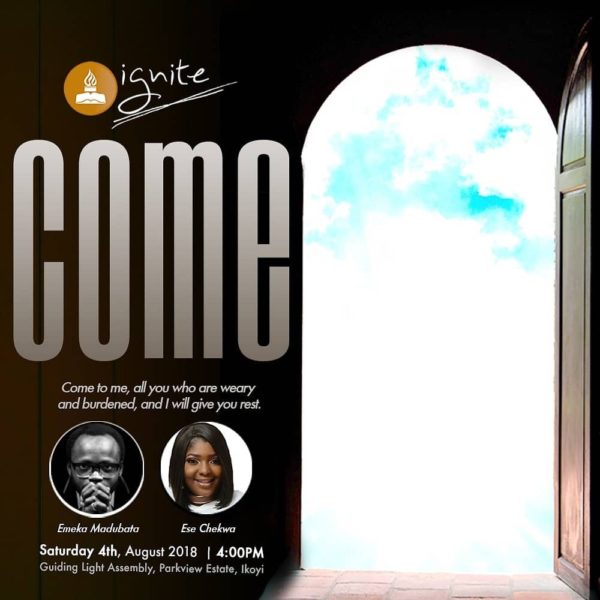 It is time for another monthly meeting hosted by Ignite GLA. Join us for our August 2018 fellowship themed 'Come', when God created us, He instilled a purpose in us and had a plan mapped out for our lives even before we came into being. Jeremiah 1:5a "Before I formed you in the womb I knew you".
As we grow in our relationship with God, He reveals portions of "the big picture" to us; what we should be doing at a particular time, where we should be positioned etc. As Christians, we have a light to share with the world and sometimes in a bid to fulfill our purpose, we get distracted from our very core which is having an intimate relationship with God.
Life can get overwhelming when we are trying to work out the promises of God over our lives without His involvement and direction. This month, God is asking us to just come to Him, He is asking us to come and reconnect, to come and receive help, to bring our burdens to His feet, to rekindle that love relationship with Him.
Join Ignite GLA as we go into an intimate time of worship with God and sit at His feet. Emeka Madubata and Ese Chekwa will be joining us and it will be an amazing time fellowshipping with believers, there will also be refreshments served after the spiritual refreshment. Feel free to invite your friends, colleagues, families, we look forward to seeing you there!
Date: Saturday, August 4th, 2018
Time: 4.00 pm
Venue: Guiding Light Assembly, Parkview Estate, Ikoyi.
Ignite is the youth fellowship of Guiding Light Assembly. We are the young members of the GLA family – young men and women in business, young couples, young entrepreneurs; all young Christians who love Jesus and are trying to figure out how to live the Word in an increasingly complicated world. We meet on the first Saturday of every month to gist with the Holy Spirit, ask a lot of questions and to find out what He has to say about our everyday issues.
For more information, kindly contact us at [email protected] or [email protected] We are also on various social media platforms: Instagram, Twitter, Periscope, Snapchat, YouTube, Facebook and on the blog.
—————————————————————————————————————————————–This content has been published for free as part of BellaNaija.com's commitment to youth, education, healthcare and community development as part of our corporate social responsibility