Toyin Lawani has continued to weigh in on #BBNaija 2018 housemates Miracle and Nina's alleged romantic relationship gone south.
Following Miracle's recent public statement, pleading with his fans to disregard any reports that he was in any romantic relationship with Nina, Lawani shared via an Instagram LIVE chat that Miracle had simply used Nina to get votes while in the house. She added that after the show, he could have ended things between the both of them but he kept "leading her on".
Watch video:
Lawani received backlash from Instagram users but that only pushed her to share more. She shared another post dragging the BBNaija winner who is currently in the United Kingdom.
Lawani said:
"Pls don't tell me to stop,I'm truly upset ,cause @nina_ivy_ won't talk don't mean I won't,that's her Business,she played the game with her heart,he played it with his head,insult me all you want I will still talk,I'm not Nina ,better recognize,After he made the world think she's a loose girl which she's not,cause of what they both displayed on tv,if she's your sister what would you do? Lailai we go share that money by force,he should have compensated her,we all know Miracle didn't do the writeup,we know who wrote it for him,cause he's still begging ,he enjoy London things change,omoojuorolari,🤣your coins from big brother go soon finish no worry,but the truth is he cheated NINA ,by still leading her on daily,I have proof so don't push me,telling her to keep you people private and you go publicly to pull this stunt,argue with your ancestors.This will teach all of us not to make a long term decision on a temporary situation,lesson learnt.Happy she's even more focused on her Businesses now He was a huge distraction to her."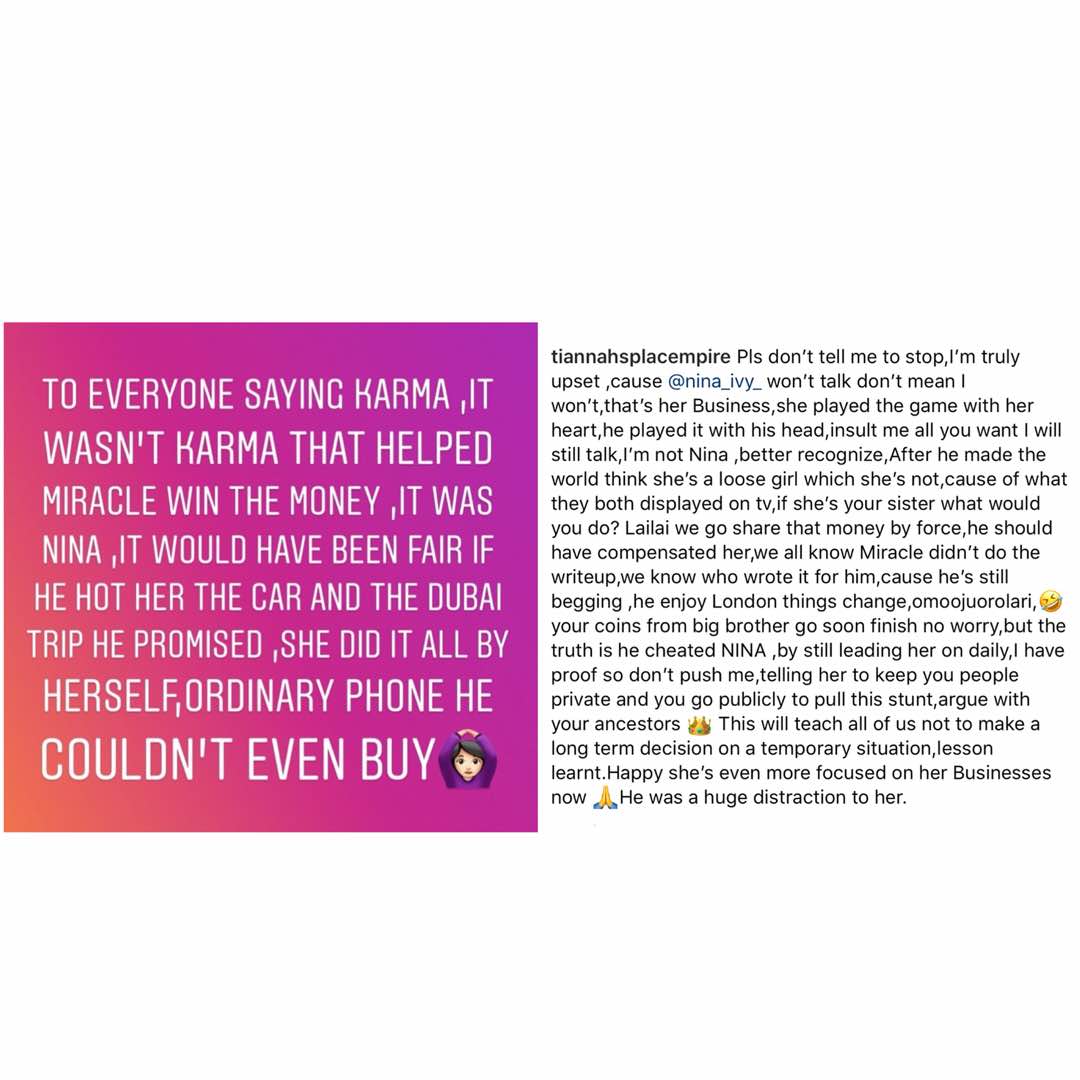 Read Miracle's Public statement:
"Hello my wonderful family. my management just drew my attention to my social media community rivalry and insisted I address it. Abà I beg make Una take am easy, Nina is a nice girl with a beautiful soul and should be treated with respectful courtesy. Because nobody should be subjected to negativity male or female. I also have a sister, a mother and beautiful cousins and I wish the public respect their space and treat them as strong and capable individual women with equal opportunities as men… My point is; neither me nor Nina, I believe has ever publicly or in private told anyone we are in love and are dating. We were involved in the house and remained friends since then. We are young people with prospect and have dedicated our time in building our future not concentrated in relationship. So please (I beg) kindly don't subject us to an undue imaginary relationship. I keep respecting and love you all for your kind support and understanding. God bless".