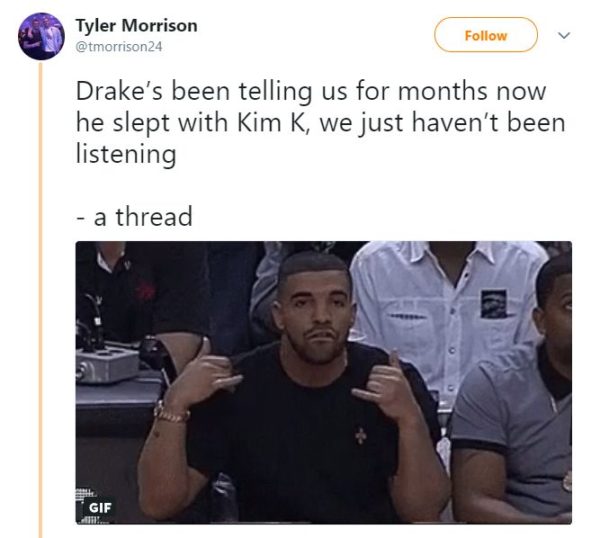 It's common to find conspiracy theories on Twitter, and they often are easy to dismiss. But one surrounding celebrities Drake, Kanye West and Kim Kardashian is oddly… convincing.
Twitter user @tmorrison24 is convinced the feud between Kanye and Drake runs deeper than the surface, and Drake may actually be having an affair with Kanye's wife, Kim.
"Drake's been telling us for months now he slept with Kim K, we just haven't been listening – a thread," the Twitter user started.
The evidence includes lyrics from his feature on Travis Scott's "Sicko Mode" "I crept down the block, made a right, cut the lights, paid the price" which when the distance from his house to Kanye's is considered, puts things in a different light. The lyrics from his hit "In My Feelings" "Kiki, do you love me?" Kiki, the fan said, is Kim's nickname.
Check out the thread:
Drake's been telling us for months now he slept with Kim K, we just haven't been listening

– a thread pic.twitter.com/YVCehJI5fQ

— Tyler Morrison (@tmorrison24) August 31, 2018
Couple weeks ago before the Drake concert, one of my buddies @SpenceyyB made this claim and I – probably like you – disregarded it at first.

— Tyler Morrison (@tmorrison24) August 31, 2018
He referenced verses like these from Scorpion. I already knew the disses were aimed at Kanye, but he claimed every girl line was about Kim. "Your wifey" felt too generic at first, and I figured Drake was referring to any man that leaves his girl long enough/for good. pic.twitter.com/NpyymtcRFl

— Tyler Morrison (@tmorrison24) August 31, 2018
He also spoke about how Drake and Ye have been beefing since they were together in Wyoming. Which prompted the whole Push-Drake feud pic.twitter.com/vWsBPaPTSG

— Tyler Morrison (@tmorrison24) August 31, 2018
Then the concert took place and I pretty much forgot about the theory until a few days ago when another friend sent me these (s/o @JakeSpinny) pic.twitter.com/UvcaUhKVtk

— Tyler Morrison (@tmorrison24) August 31, 2018
Now I'm like, okay, there is no way this is random. So I sat down and decided to take a closer look. pic.twitter.com/0qqxwSclhz

— Tyler Morrison (@tmorrison24) August 31, 2018
I started listening to Scorpion and put it on shuffle. In My Feelings is the first song that comes on.

Ever wonder who Kiki is exactly? pic.twitter.com/CurJeGjS8o

— Tyler Morrison (@tmorrison24) August 31, 2018
Thought to myself, Kiki is pretty damn close to Kim. Quick twitter search and I find these. pic.twitter.com/4cZkS7Rrs5

— Tyler Morrison (@tmorrison24) August 31, 2018
Then I learn about Kim's lipstick… pic.twitter.com/tM1OxFlv1J

— Tyler Morrison (@tmorrison24) August 31, 2018
First verse of the album Drake comes directly at Kanye. With a Kim reference at the end? But why would Ye question his love with Kim… pic.twitter.com/hMRXHF9pwj

— Tyler Morrison (@tmorrison24) August 31, 2018
Fast forward to the end of the song.

"Started feelin' myself."

In My Feelings. Kiki.

Now he's got drama over Kim and the tie between him and Kanye is done because of it. Except what's the drama about? pic.twitter.com/x082tyzRqB

— Tyler Morrison (@tmorrison24) August 31, 2018
Everyone questioned why Drake never responded to Pusha after the 2nd diss. At first I thought the claim it would be "Bad for Kanye" was just a weak excuse and Drake took an L pic.twitter.com/vKMyTM5vPv

— Tyler Morrison (@tmorrison24) August 31, 2018
But hold on, maybe Drake does have something on Ye…

(G.O.O.D is the name of Kanye's record label – I think Drake is saying in 8 Out of 10 Kanye is lucky he never responded with the 2nd diss) pic.twitter.com/SQDcdo8Fcz

— Tyler Morrison (@tmorrison24) August 31, 2018
1st photo is in reference to an interview b/w DJ Akademiks and Drake. 2nd photo is J Prince explaining Drake has info that would end Kanye's career and ruin his livelihood. Drake hints at this on Mob Ties, and confirms it on Behind Barz. pic.twitter.com/rFZdug8IdO

— Tyler Morrison (@tmorrison24) August 31, 2018
Rap fans grilled Drake about not responding to Push. Except we don't know the half of it he says. And whatever it is, he can only tell us about it in pieces.

WHAT DONT WE KNOW DRAKE pic.twitter.com/bs3Gg7oXEP

— Tyler Morrison (@tmorrison24) August 31, 2018
Let's look at Is There More and Behind Barz since Drake is talking about Kanye in both.

In Is There More, Drake tells us he's ready to come clean about something. Now focus on the word goof in both songs.

Also, in Behind Barz, he seems to speak directly to Kim. pic.twitter.com/sna9IZ9kT7

— Tyler Morrison (@tmorrison24) August 31, 2018
"Your wifey" doesn't seem so generic anymore pic.twitter.com/uSZnqtlFDT

— Tyler Morrison (@tmorrison24) August 31, 2018
Drake has a good relationship with the Kardashians.

And we know they both live in Hidden Hills. pic.twitter.com/QCnDOJQMbU

— Tyler Morrison (@tmorrison24) August 31, 2018
So just how close do Drake and Kimye live from each other? Sounds like pretty damn close.

If you're not convinced by now, let me go ahead and erase all doubt.

— Tyler Morrison (@tmorrison24) August 31, 2018
Kimye's house #1. Drake's house #2 pic.twitter.com/ohXCcoAoP3

— Tyler Morrison (@tmorrison24) August 31, 2018
"I crept down the block,
Made a right,
Cut the lights,
Paid the price." pic.twitter.com/2D91btFg4T

— Tyler Morrison (@tmorrison24) August 31, 2018
You can infer what went down. Even if you can't, Drake might just tell us anyway later in this verse.

Drake hopped on a track with essentially Ye's brother in law to flex how he smashed his wife. Beyond savage. pic.twitter.com/Dhm8iNSHOL

— Tyler Morrison (@tmorrison24) August 31, 2018
I think Scorpion was originally mostly Side B until Ye snitched to Push about Drake's kid. Once that got exposed, Drake made Side A to not only go after Kanye, but subtly tell us about the history with Kim. pic.twitter.com/3x6Y1OY8oA

— Tyler Morrison (@tmorrison24) August 31, 2018
I could keep going with more lyrics, but it's gotta end somewhere.

"I'ma just end that there, that's that." pic.twitter.com/6xajbLYaep

— Tyler Morrison (@tmorrison24) August 31, 2018
People been asking bout other verses I thought may be in reference to Kim or were important. Here ya go:

The verses in Talk Up and Nonstop I'm certain on.

The verse on Blue Tint and Lil Wayne sample on In My Feelings could be debatable, but are definitely suspect. pic.twitter.com/Z3nDb3GsBG

— Tyler Morrison (@tmorrison24) August 31, 2018
Here's an obvious one I definitely should've used. S/o to @93kmw93 in the comments. Telling you tho there's so many pic.twitter.com/CJtWEu8z6W

— Tyler Morrison (@tmorrison24) September 1, 2018
Here's an obvious one I definitely should've used. S/o to @93kmw93 in the comments. Telling you tho there's so many pic.twitter.com/CJtWEu8z6W

— Tyler Morrison (@tmorrison24) September 1, 2018