On Saturday, September 8, Farming premiered at the ongoing Toronto International Film Festival. Farming follows the story of a Nigerian boy Enitan, who was farmed out to a white British family, by his parents. What makes Farming even more important is the fact that it is the true life story of the director, Adewale Akinnuoye-Agbaje. (Triple A).
Starring Kate Beckinsale, Damson Idris, and Gugu Mbatha-Raw, the story is a raw exploration into the social experiment of farming and the deeply painful experience that followed.
Sometime in the 60s Nigerian families farmed out their children to foster parents in hopes of a better future for them. However, some of those children, like Triple A, suffered intense pain and disillusion from the disconnection. They were neither at home as Nigerians, and racism didn't allow them a place for comfort in the home that was theirs.
With Farming, Triple A holds nothing back as he peels back all the layers of the years of his life intermingling with skinhead gangs in Britain at the time.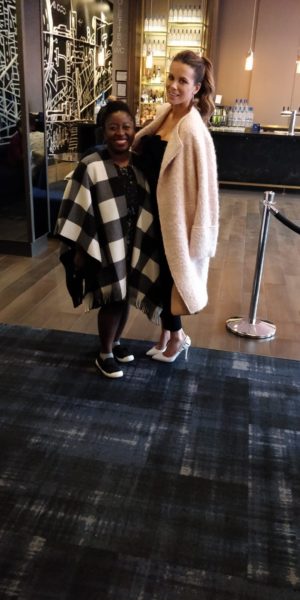 BellaNaija had the opportunity to chat with the director and the primary cast of the film and here are four things we learned.
It was a 15-year journey from concept to execution
After achieving a lot of successes in his acting career, Triple A noticed that he still did not have peace. Speaking on what was the watershed moment for the project, he said, "I had amassed quite a bit of success on certain shows and films and I was able to have a comfortable life and some money in the bank – all those things I felt would fill the vacuum and I'd never been more unhappy in life and I couldn't figure out why. I started writing ten pages a night, and that enabled me to sleep. By the end of two weeks, I had a 500-page manuscript." After this, he shared the script with a producer he was working with at the time, who suggested he get it workshopped at the Sundance labs.
It was emotional, challenging and cathartic for Triple A
Before they started filming, Adewale went to the house he was raised. He remembers having to sit down and take it all in. Visiting that house invoked all those memories that had been locked away from his childhood. He recounts that while it was emotional, it was cathartic for him. He chose to play the role of his birth father because it was a chance for him to see the other side of the coin. He wanted to be able to see how things were from the perspective of his father. "It was very surreal and painful at the same time. Ultimately, it was a rewarding experience." Triple A said. While it was challenging, he reinforces that he excels under pressure and the emotional rollercoaster moments were profound.
Damson Idris originally wanted to be a footballer, but acting found him
Damson Idris, like many young British boys of his age, wanted to become a footballer. He wanted to be the next Christiano Ronaldo. "I was always pushed by my family to be a footballer. I wanted to be a footballer. Then I went to college and we had to do four A-levels, so I said, I'll just do drama – that's the one with all the girls in it. I did drama and my first play was Raisin in the Sun. I got the highest grade in the college in my year, so I was like yeah this acting thing is kinda cool"
He then went to university, because his mom (like every Nigerian mom you can think of) said he had to get a degree. "you have to get your picture up in the living room.". His sister encouraged him to do something he liked… like drama. Thankfully, that journey led him to his first role on TV with the FX show, Snowfall.
The intense responsibility of having to play the role of one's director was not lost on Damson, but he said it was a pleasure because of who Adewale Akinnuoye-Agbaje turned out to be. "You look at him today and how much he has achieved in his career… and he really taught me and help me become the man I am today."
Speaking on what it was like to do the scenes where he was stripped naked, Damson joked about having to do a lot of squats to get his butt to look good, as well as eating three apples a day. Speaking seriously, he said, "It really is a tragic moment which happened and it's really beautiful to play someone like that because you're instantly forced to be in a place and approach it with utmost respect and prestige. The method I applied playing this character was one I'd never done before." Damson noted that in order to play this role successfully, he often went home, not as Damson but as Eni, a 16-year-old boy from Timson
There was an open conversation with his birth and foster parents about the experience before Adewale made the film
Communication is an essential part of healing, and it was no exception for Triple A. Before making the movie, he had an open discussion with his birth mom and his foster parents. In addition to letting them know that he was trying to get his life's story made, he also talked to them about how he felt all those years.  "In reality, I'd been in denial that actually, I'd been traumatized and abused. It was a very racist experience but I didn't want to be disloyal to my parents. I struggled with that over the years. I spoke to them and I shared the screenplay with them and I said, I've been writing this and this is what I felt. It was a big moment for them and they said you can only tell the truth"
With respect to his birth mother, he said, "It was tough for her to support the process because of her own experience." Triple A recounts that one of the most wonderful things that came out of sharing this project with her was the many conversations they had about his experience in a foster home, especially as he was given away when he was six weeks old in a racially abusive society.
Adewale stated that when he shared the project with her when it had been completed, "she wished that she had tried and fought hard enough not to give up her child" Triple A says that "if that revelation was the only thing that came out of this film, then it was worth it."
Open communication is highly recommended for people dealing with trauma of this sort. In addition to this film being a source of healing for Triple A, it is also an opportunity for other Nigerians who were part of this experiment to have their stories told and heard by the world.
We are grateful to Adewale Akinnuoye-Agbaje for openly baring his heart.
Click here to catch up on BellaNaija at TIFF.