Nasir El-Rufai, Abubakar Sani Bello applaud the Rebranding of Hawthorn Suites By Wyndham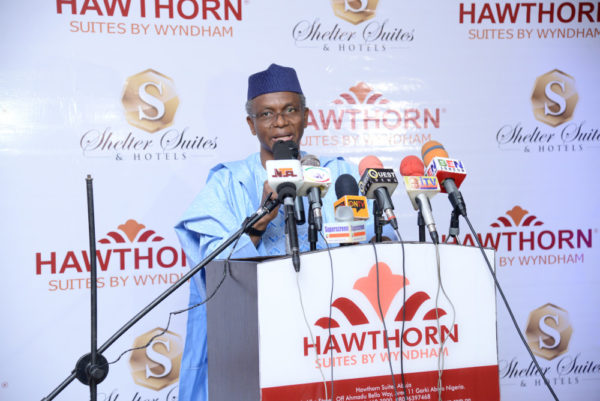 It was a morning of glitz and glamour as the cream of society converged in Abuja to officially open the renovated and rebranded Hawthorn Suites by Wyndham. Located in the serene Area 11 in Garki district, is set to host both tourists and business people seeking comfort and class away from home.
The Minister of the Federal Capital Territory, Muhammed Musa Bello, Minister of State for Mines and Steel Development, Abubakar Bawa Bwari, Governor of Kaduna State and Erstwhile Minister of FCT, Nasir El-Rufai and his Niger state counterpart Mal. Abubakar Sani Bello were all on hand as several dignitaries and eminent Nigerians graced the grand occasion.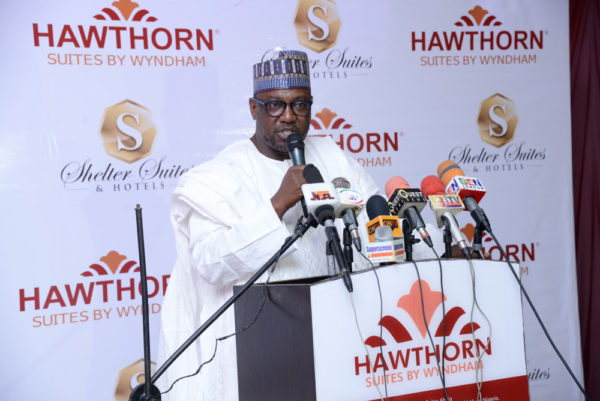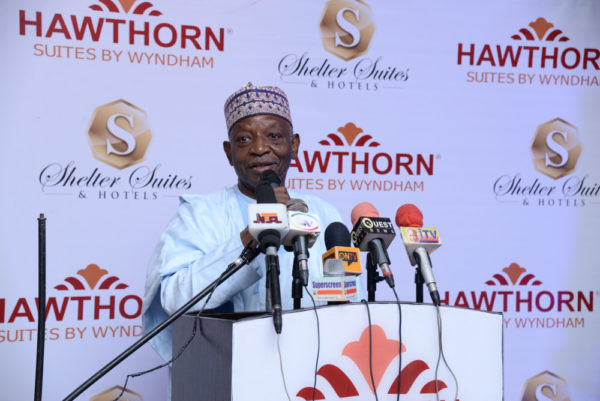 Hawthorn Suites by Wyndham is part of Wyndham Hotels and Resorts, an international hotel and resort chain based in the United States. Wyndham Hotels & Resorts is the world's largest and most diverse hotel company, encompassing approximately 9,000 hotels and more than 600,000 rooms in 66 countries under twenty hotel brands. Hawthorn Suites by Wyndham Abuja is owned and operated by Shelter Suites & Hotels Ltd, a leading hotel developer and operator in Nigeria.
Hawthorn Suites by Wyndham Abuja is a 108 room hotel offering guests single, double and suite accommodations. Complimentary hot buffet breakfast and high-speed wired & wireless internet access, infinity pool, fitness center, guest laundry, meeting spaces for up to 2000 pax and Wednesday evening social hour.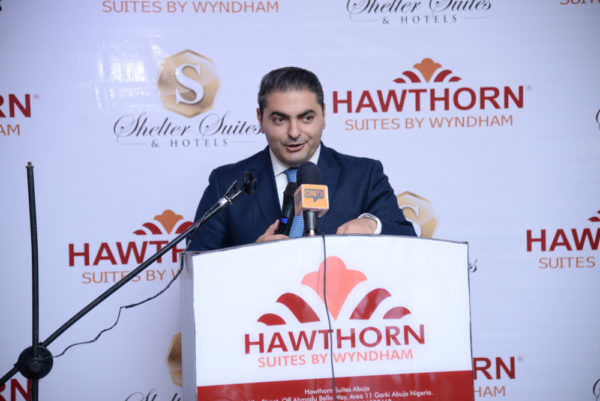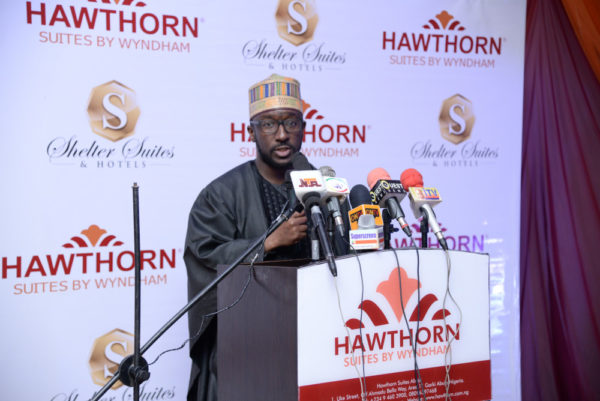 The room features include wet bars, expanded cable television, and upgraded bedding featuring signature sweet suite bedding experience.
Managing Director Hawthorn Suites by Wyndham, Mallam Faruk Aliyu revealed that the luxurious Hotel that has been in existence since 2009 and had embarked on a renovation and re-branding program with a view to being on the cutting edge of the latest hospitality innovations by raising the standard of service delivery and services available at the hotel, with a view to affording guests a taste of five star services at a competitive price.
"We have decided to invest heavily in the renovation project of this Hotel so as to satisfy our valued guests and also create employment opportunities for young Nigerians within the hospitality industry," he remarked.
He appreciated the Chairman Board of Directors, Hawthorn Suites, Mallam Ibrahim Aliyu for his unwavering support and contributions to the Hotel since 2009.
According to the Minister of FCT, Musa Bello, while giving the keynote address , "Abuja as the capital of one of the most populous nations of the world and one of the fastest growing cities, and is fast becoming the tourist destination for people around the world, it is my belief that having a hotel as Hawthorn Suites by Wyndham in this city would add value to the Nigerian economy and the Federal Capital Territory as a whole particularly in delivering impeccable hospitality services to both local and international visitors".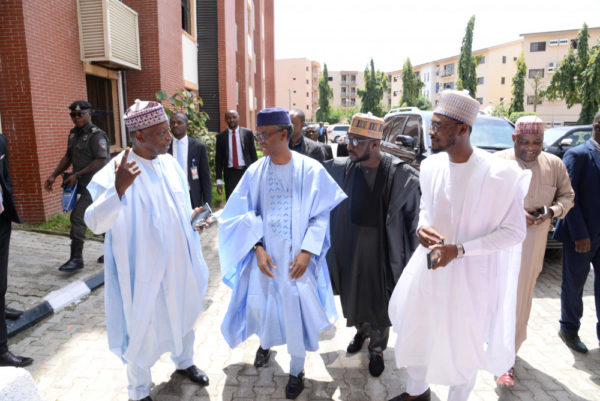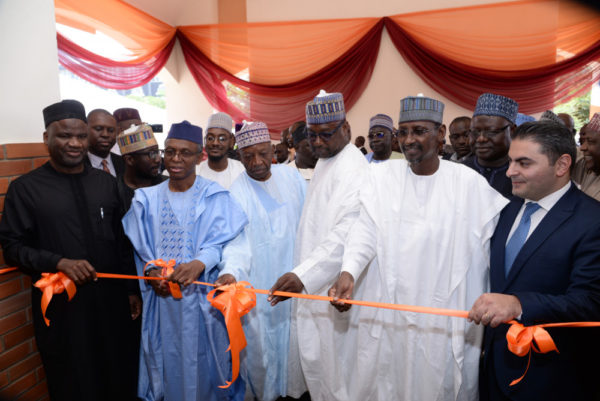 Executive Governor of Kaduna State, Nasir El-Rufai who was the Special Guest of Honour at the event, eloquently recounted the good works and contributions of the Chairman, Board of Directors, Hawthorn Suites, Mallam Ibrahim Aliyu to the Nigerian economy as an astute businessman and Real Estate investor who believes in building a system that works.
"I cannot but appreciate the role which the Chairman of the Board of Directors, Hawthorn Suites has played in Nigeria, in my life and in that of other great public servants in Nigeria today.
"He has distinguished himself over the years as a man of honour and integrity, who always has the interest of the people at heart and always seeks to deliver public good"
El-Rufai also pledged to ensure that all Kaduna state delegations to the FCT stay at the hotel whenever they are in Abuja. On his part, the Governor of Niger state Abubakar Sani Bello insisted that he would patronize the hotel but gave a caveat that the management must ensure that such a beautiful edifice is replicated in Niger state. While this thug-of –war may not have caused any ruffled feathers, it appears there may be a clash of ambition over who should benefit more from the hospitality and comfort of Hawthorn Suites.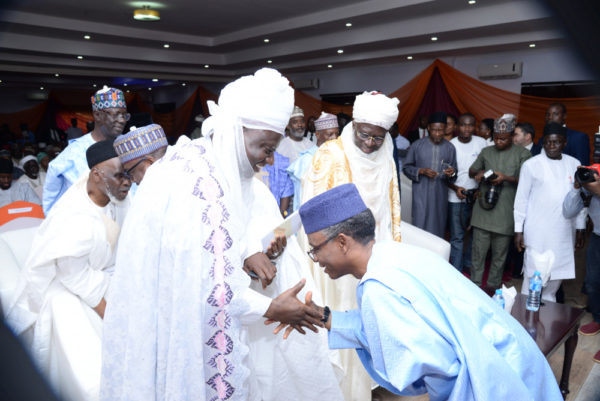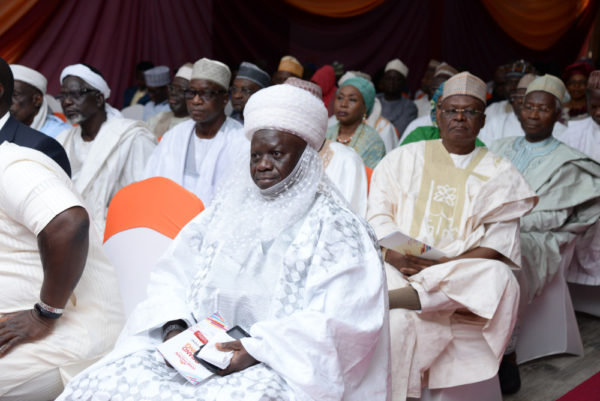 Giving the vote of thanks, The General Manager Hawthorn Suites by Wyndham, Amine Saad stressed the features of the hotel and the successes it has achieved over the years.
Other dignitaries at the event were Mallam Bashir El-Rufai, Amb. Zubairu Nadada,  Representative of Nigeria's former Head of State Abdulsalami Abubakar, HRH Mallam Muhammadu Awwal Ibrahim, Emir of Suleja, HRH Umar Farouq Bahago,  Emir of Minna, amongst others.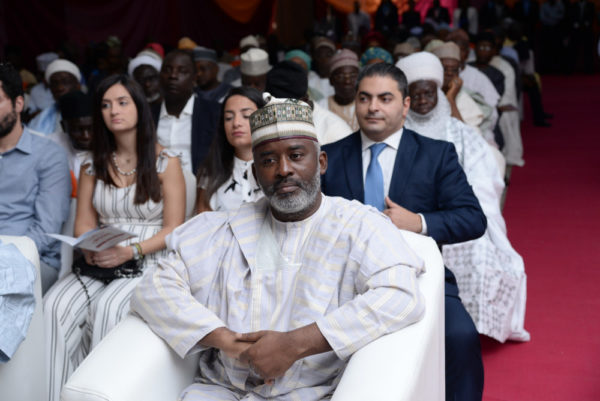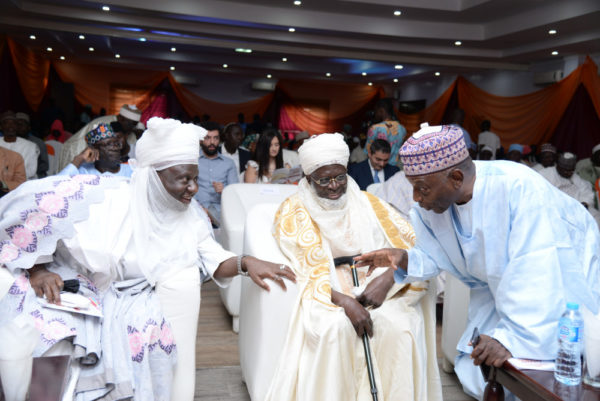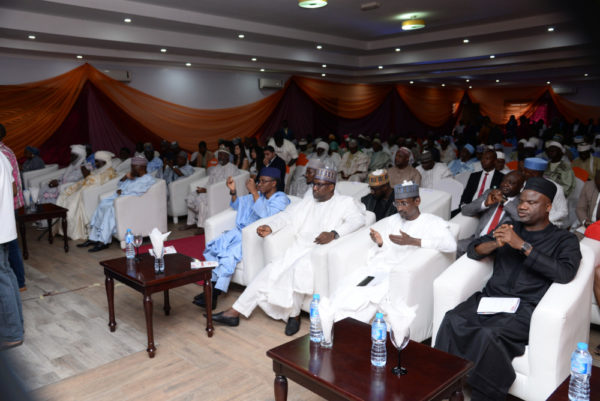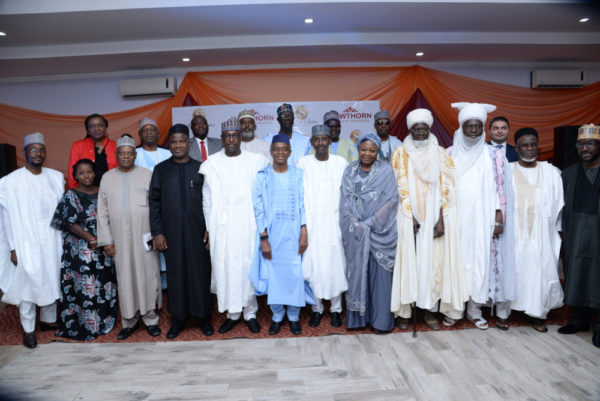 —————————————————————————————————————————————–
Sponsored Content