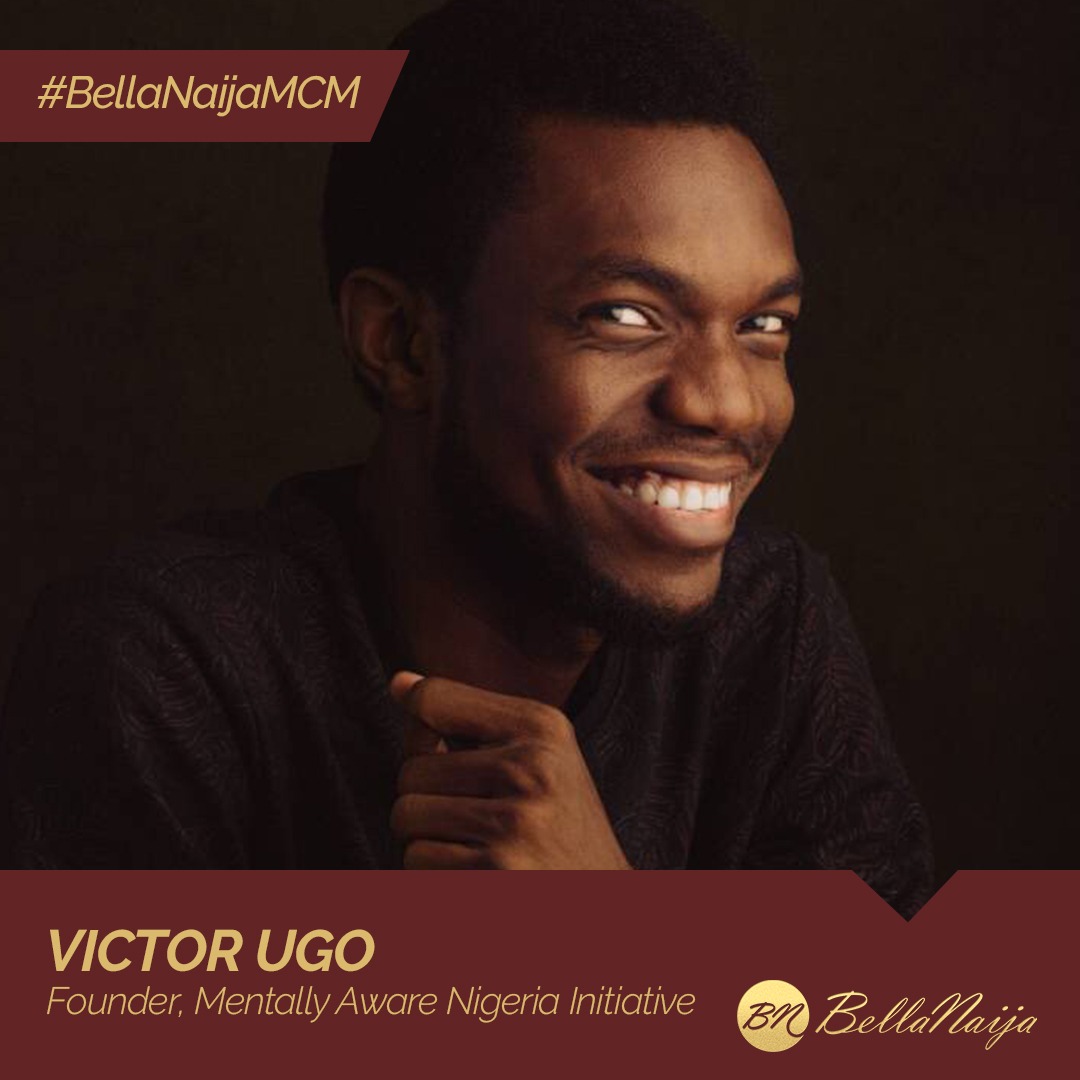 Across the world, more attention is being paid to physical health than mental health, thankfully, over the years, individuals families and governments have begun paying attention to mental health.
In Nigeria, where physical healthcare delivery is virtually in shambles (except you can afford private hospitals or got on regularly medical vacations), then you know mental health is given little or no attention.
Another thing is the misunderstanding and myths attached to mental health in Nigeria; majority of the population would rather see their religious leaders for "cleansing" or "deliverance" than find a psychiatrist.
Our #BellaNaijaMCM this week Victor Ugo noticed this and decided to act – to push for improvement in mental health advocacy and care in Nigeria.
Ugo, a medical doctor, started Mentally Aware Nigeria Initiative (MANI) after a personal experience – he was diagnosed of depression in 2014. One would have thought that as a doctor, the signs would have been clear to him, but they weren't and that was a shocking realisation for him.
"That was when it dawned on me that there were so many people even and especially without the medical background who would find it even more difficult and almost impossible to recognise mental health difficulties in themselves and in their close relatives," he told BellaNaija earlier this year.
MANI was founded in 2015 but started its campaigns in 2016, and is "focused on ending mental health stigma, and creating a comfortable environment for open conversations about mental health issues."
Through various social media campaigns, online publications and offline activities, MANI has been able to reach thousands of Nigerians, especially youths, creating awareness for mental health, providing a listening ear/safe space, as well as helping people access mental health services in the country.
MANI has gotten millions of impressions on social media, organised trainings in Suicide intervention and Stress management for various organisations, visited and trained teachers and students of about 10 secondary schools in Lagos state, and intervened via social media and via its recently-launched Suicide hotline which has received about 6,000 calls.
MANI won the 2017 Nelson Mandela-Graça Machel Innovation Awards (Civil Society Organisation category). Ugo has also been named as one of the 30 under 30 creatives in Africa by the C. Hub Magazine, nominated for The Future Awards Africa (TFAA) Prize for Advocacy and was selected as one of the Orange Active Citizens of the year by Orange Insider TV in collaboration with The Insider.
Ugo is looking forward to setting up a student advocacy network across all the Tertiary institutions in Nigeria and we are rooting for him.
Follow MANI on Twitter – @mentallyawareng | Instagram – @mentallyawareng | Facebook – @mentallyawareng Or call: 0809111MANI, that is, 08091116264.