Facebook Accelerator Nigeria Unveils 12 Startups In 2019 Cohort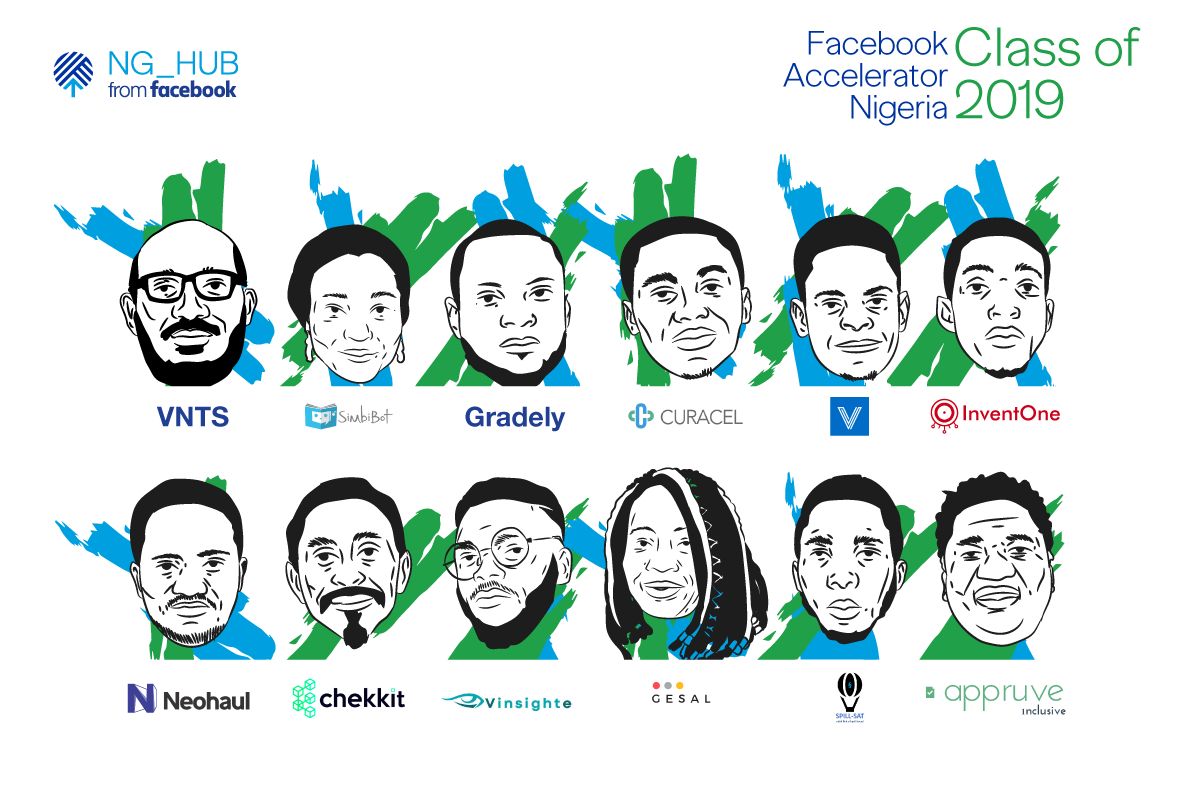 Following the successes and impact of the first season of its research and mentorship-driven accelerator programme, Facebook Accelerator, Nigeria, has announced, in partnership with Co-Creation Hub, the commencement of season 2 of the programme.
The Facebook Accelerator programme is aimed at supporting and empowering students and entrepreneurs to build locally relevant solutions using advanced technology.
For the first time, applications for this year's programme stretched beyond Nigeria to include Ghanaian innovators. The final teams, made up of eight startups and four student teams, will be part of a six month program which aims to aid innovative and visionary applicants in creating solutions with advanced technologies.
The research and mentorship-driven program will provide the teams with access to product and industry experts, as well as deeper knowledge in how to optimize solutions which leverage technology such as Artificial Intelligence (AI), Internet of Things (IoT) Data Science, Augmented Reality (AR) and Virtual Reality (VR).
Like its first edition, this year's bootcamp was held at Facebook's flagship Community Hub space, NG_Hub. The student teams taking part will be provided with equity-free funding of $10,000, whilst the Startup teams will be provided with $20,000 in equity-free funding.
Both teams will also have access to technical and business mentors from the Facebook and the CcHUB network as well as free working space at NG_Hub.
Twelve teams selected from Nigeria and Ghana were unveiled on Friday, September 27 at a demo event which provided an opportunity for the teams to pitch and showcase a demo of their solutions.
Head of Public Policy for West Africa, Adaora Ikenze, commented: "We're delighted to be bringing this programme back for a 2nd year to NG_Hub, and for the very first time including Ghanaian innovators.
These are the teams selected into the 2019 cohort:
Appruve: a financial data API, used by financial services to onboard and verify the identities of their customers in order to analyse transaction data from bank and mobile money account.
VNTS: VNTS is a consumer devices manufacturing and software/platforms company, actively innovating hardware solutions tailored to solve internet connectivity issues.
Chekkit: Chekkit eases asset tracking & consumer intelligence for food, beverage & pharmaceutical product producers/distributors through anti-counterfeit services by labelling products for smart and traceable authentications from the warehouse to final consumer.
Curacel: Curacel is an intelligent platform that fast tracks claims processing and detects fraudulent claims for health insurance companies.
Simbi Interactives: Simbi Interactives is an ed-tech startup that is solving the problem of poor education in Africa by making quality education available, affordable and accessible to all African students using maieutic learning.
Haulr: An IoT and AI-powered platform that tracks trucking operations in real-time to curb illegal hauling & theft of cargo, while boosting efficiency & communication among logistics stakeholders.
Vmedkit: Vmedkit is a social enterprise with a mission to increase access to mental healthcare by leveraging Virtual Reality Exposure Therapy (VRET).
Gradely: Gradely is using analytics and data-driven recommendations to help schools and parents intervene in real-time to children's learning gaps through weekly adaptive homework tests.
InventOne: InventOne is a platform that allows hardware engineers, enthusiasts and hobbyists build and deploy IoT solutions with little to no code written – via a graphical programming interface.
Mus-comm Spill-Sat: Spill-sat is an oil spill, gas leak and vandalization detection system. It uses a balloon satellite to collect aerial data that is processed and used to provide real-time analytics to oil companies.
G E S A L: GESAL uses visual learning to offer quality education at a low cost to secondary school students leveraging AR to visualize complicated diagrams in 3D and deploy virtual laboratory tools.
Vinsighte: Vinsighte computer vision and sonar technology to aid the visually impaired in navigating their environment independently and read books conveniently.