Here's How this Artist Combines Digital Art and the Real World in His Sculptures & Paintings
Story by Vikki Keingati and Okwi Okoh for bird story agency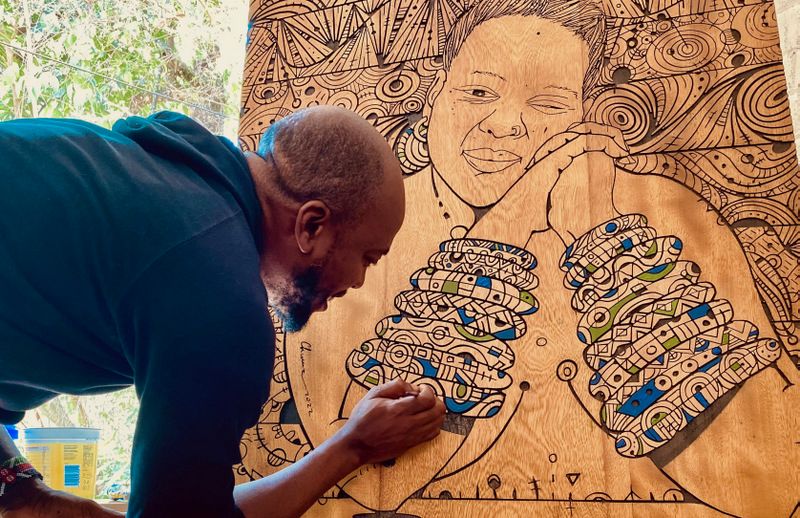 In a workshop in Nairobi, Chuma Anagbado gently squeezes a trigger to send high-pressure air through grooves made by a drill bit.
Hundreds of hours steeped in trial-and-error have led Anagbado here, crouched over a computer-controlled cutting machine known as a CNC router, as it carves out his latest piece, "Ola Aka." "Ola Aka" means "bangles" in Igbo.
Anagbado is a Nigerian artist and entrepreneur who works in many different mediums. He has always wanted to combine his love of digital art with his background in sculpture and painting.
So, before making the piece real, Anagbado turned "Ola Aka" into a non-fungible token (NFT). This means that the artwork has been verified using blockchain technology and is now a collectible on the internet.
"I wanted to tell a story about jewelry and how we wear it as Africans. I took inspiration from pictures I saw as a child of women with beads and bangles. I was conversing with a friend, and she just gave an expression. I captured it and added other things, like the bangles and the pattern. Once that part was done, it was good to go as an NFT," Anagbado says as the CNC whirs and hums nearby.
It took over eight hours to etch "Ola Aka" into the Mvule wood panel that Anagbado chose for the piece and process it to hold acrylic paint. The finished work was the first of his new series, which he describes as "phygital."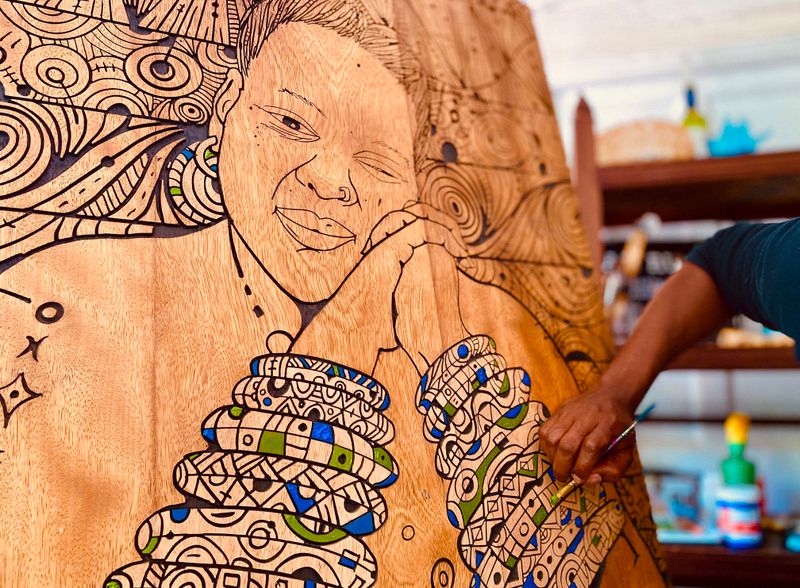 Phygital is a concept that is becoming more popular around the world. It can be defined as "using technology to connect the digital world with the real world to give the user unique interactive experiences."
"In my moments of solitude, I thought, 'It is all actually one thing. It is one expression. one piece that exists on both planes, physically and digitally. What I have done is expose my work on both platforms. If you buy the NFT, you get the physical piece shipped. If you buy the physical piece, then I just transfer the NFT to your wallet," Anagbado explained.
Mark Shitakha is the owner of The Willowbough Collective, the custom woodworking company that makes Anagbado's collection real. He knows how important this part of Anagbado's creative journey is.
"It's quite exciting because we now have African artists embracing digital fabrication as part of the entire process. It's been going on globally for I don't know how long, but we're just catching up to it now. It opens up a lot more ways for African artists to express themselves," Shitakha said.
Artists like Anagbado point to several factors that underpin their adoption of digital expression. Top internet-based NFT platforms like Opensea, Magic Eden, and Rarible present an opportunity to market beyond traditional borders.
One of the most important reasons is that these platforms make it possible for verified payments to be made on well-known blockchains like Ethereum, Solana, and Polygon using the cryptocurrencies associated with those blockchains.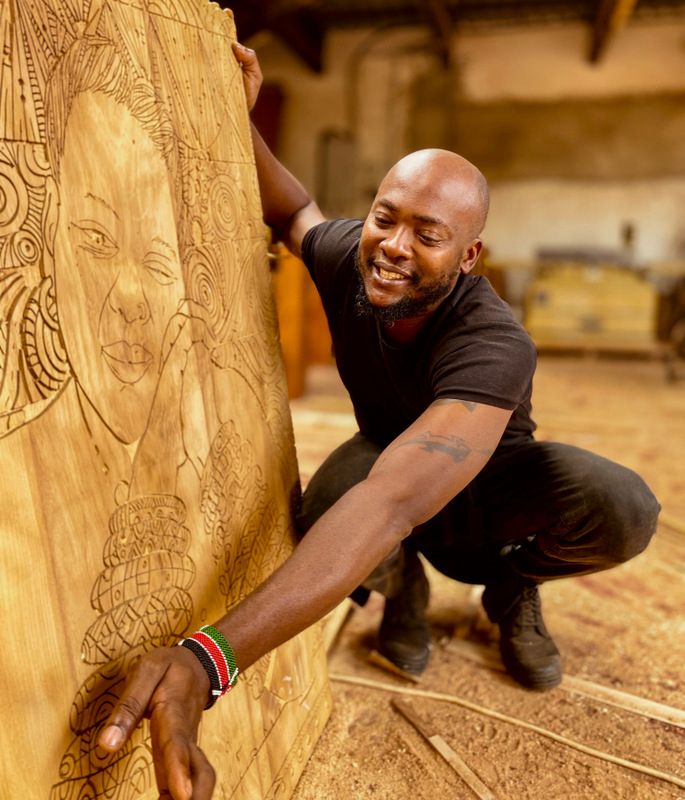 "We can now reach people all over the world, and we're building communities around our creations. This is a very good thing, and it's clear that digital art is going to make a big difference in the way art is made in Africa as a whole," Anagbado said.
Chainanalysis, a firm that monitors blockchain activity around the world, reported in 2022 that at some point between June 2020 and July 2021, cryptocurrency payments in Africa passed the US$100 billion mark.
It is unclear how much of Africa's "crypto pie" is eaten up by NFT transactions, like when "Ola Aka" sold for about USD $2,250 in January 2023.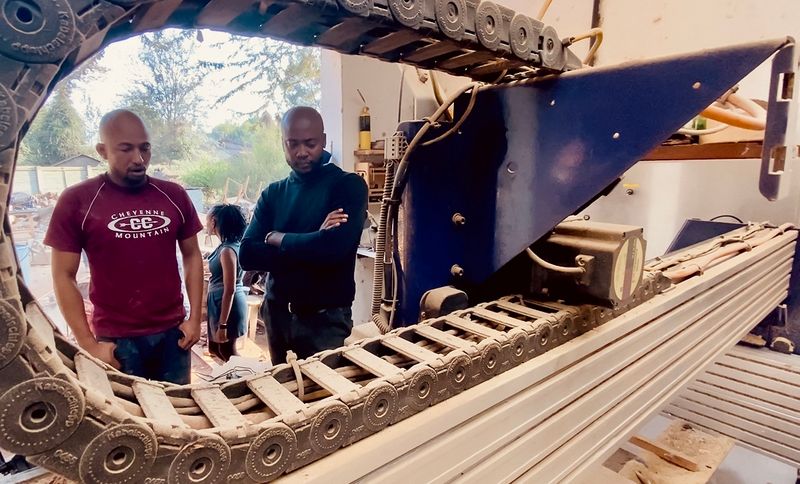 One thing that artists, journalists, collectors, and traders agree on, however, is that the popularity of digital art on the continent is rising, especially in Nigeria, Kenya, and South Africa, where the use of cryptocurrency is widespread.
"With the NFT space, you find a lot of people who previously couldn't find a marketplace for their work now have a place to show their expertise as musicians, artists, and even real estate service providers. We should see highly efficient payments and settlement platforms utilizing the technical facilities found in secured blockchains to provide a broader range of financial services," said Betty Waitharero, a board member of the Telos Foundation, which runs a blockchain by the same name.
But any African artist dreaming of quickly amassing a fat digital wallet needs to think again. Many African countries lack a regulatory framework for blockchain technology and cryptocurrency use, and in some cases, crypto is outright prohibited.
That means transactions and conversions can be laborious, risky, and costly. Even without factoring in internet and initial registration costs, minting a single NFT can cost the average artist over US$100.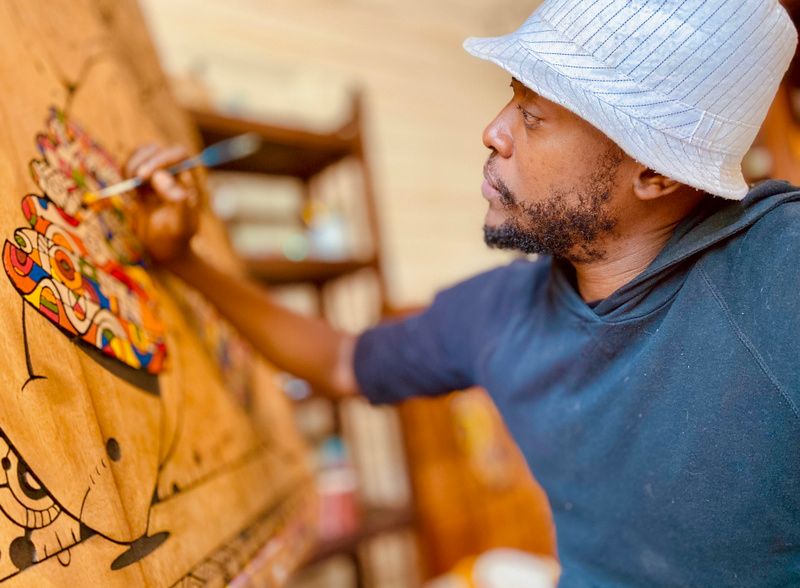 Analysts say there needs to be more investment in African digital art to sustain a thriving industry, especially during the current cryptocurrency bear market. This is one reason why Anagbado backs the creation of regional communities that can help the field grow by giving people access to money and methods.
He has partnered with Charles Mbata, a digital art investor, collector, and curator, to create the Nigeria NFT Community. The Africa NFT Community, Kenya NFT Club, and Network of Africa NFT Artists also push the same agenda.
In the meantime, going "phygital" has presented the artist with a way to diversify and add value to his digital work.
Anagbado will follow the sector's general development as keenly as he tracks the tip of his brush as he applies a splash of color to the art he hopes will soon appear on textiles and even the exteriors of tall buildings.