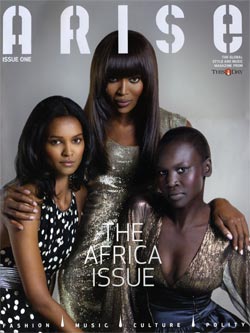 For the past few years, there have been whispers about ThisDay Media Group launching an international style magazine. There were world renowned photographers flown into Nigeria, photoshoots featuring African supermodels all over the world and finally the series of ThisDay Africa Rising shows.
Well, the magazine named 'ARISE' was finally launched at the Royal Albert Hall in London during the last ThisDay Africa Rising show.
So was it worth the wait?
Absolutely!
This mag is stunning. The content is vast and exceptionally-well put together.
A melange of African pop culture. There was no stone left unturned that I am a lil' bit concerned that they might have nothing to cover in subsequent issues.
Anyway, here is an exclusive sneak peek inside the magazine.
Supermodels Naomi Campbell, Alek Wek & Liya Kebebe dressed by Nigerian designers, Deola Sagoe, Fati Asibelua of MOMO Couture, Lanre DaSilva Ajayi of LDA.