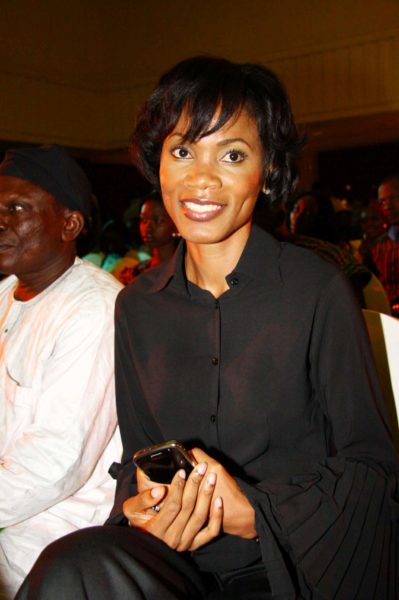 The seventh edition of the Change-A-Life Project held on February 21, 2009 at Federal Palace Hotel. The live TV special, which aired on NTA and LTV, was put together to celebrate seven years of Change-A-Life– a social intervention project founded by Funmi Iyanda — as well as showcase the activities of the project over the years.
The event, compèred by Ali Baba featured a documentary, which chronicled CAL's journey from its inception as an arm of New Dawn with Funmi to its evolution into a family support project for brilliant but indigent individuals in extenuating situations of need. The show also featured riveting performances by Yemi Sax, Seyi Law, Jeremiah Gyang and Explicit to mention a few.
The highlight of the evening however, was witnessing the joy of the beneficiaries of the project whose lives had all been transformed by Change-A-Life. From six-year old Favour who is alive today because a surgery financed by Change-A-Life corrected two holes in her heart. To Samuel who is no longer sleeping on the streets, but is on scholarship and on his way to university. And Mary who was just getting by supporting five children on proceeds from second hand clothes but is now a teacher, gainfully employed and married, with two of her children on scholarship. These are just a few of the life-changing stories featured that evening.
The event also marked the formal institutionalization of Change-A-Life in partnership with the Lagos State Government. The project will now operate as a full-fledged organization with a board of trustees, an office and staff of its own.
Former governor of Lagos State and long time supporter of the project, Asiwaju Bola Ahmed Tinubu, was conferred with the status of Life Patron of Change-A-Life in recognition for seven years of unfailing support to the scheme, five of which was as governor. The Deputy Governor, Her Excellency Mrs. Sarah Sosan who was present at the occasion acknowledged Change-A-Life's groundbreaking grassroots work intervening in the lives of people who need it the most. She also reiterated the Lagos State government's continued support for Change-A-Life.
The activities and values of the Change-A-Life project is traditionally showcased in an annual January 1st LIVE TV special so as to begin the year on a note of giving and society building.
[nggallery id=61]