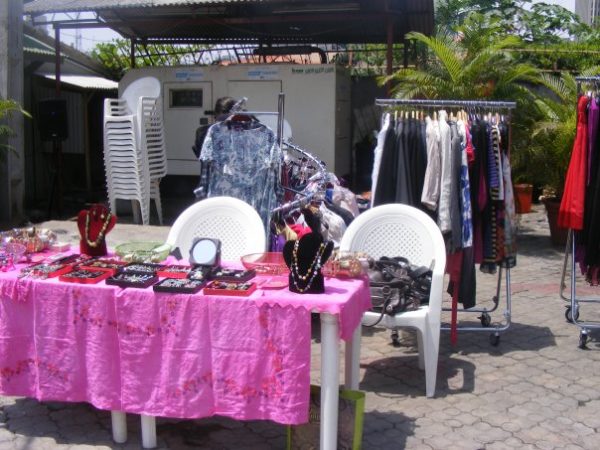 Le Petit Marche is BACK with a new INDOOR venue!! This month see's the return of some old vendors, and of course new exciting ones.
The Line-up Includes:
Obsidian: For the discerning lady with a flair for the bold and unusual but with her own individual style. Sexy without being trashy, fun and spunky, an Obsidian girl sets herself apart and is the epitome of all that is chic and elegant
Grey: Independent designer
Eden: Belts and accessories
Alter Ego: Their style is mainly sophisticated with a lot of clean strong shapes and lines. They have patchwork skirts, breezy trapeze chiffon dresses, silk tunics and beaded silk cocktail sheaths.
Style Junky: Modern women's wear from casual day dresses tops and bottoms to dressier evening wear. Accessories to die for and that extra bling!!
Livinia: Beautiful earings, broaches, necklaces, rings and BLING. Livinia is known to style for top Nigerian magazines and fashion houses
Lagos Look: Classic Vintage dresses, skirts and tops. For a lady who has style, loves colour and wants pieces that will never go out of date.
VLR: Viv La Resistance!(VLR!) Is a fashion brand that allows its members the freedom to be whatever they want to be- their alter egos, super heroes or just play dress up! The brand creates funky, quirky, one off dresses and accessories .supercalifragelisticexpialidousous!! Is a word that best describes it!
Skin: Redefine your style with leather! Quirky leather bags, slippers, belts, clutches, purses in Mohair, Croc, snake, Lizards and Ostrich skin!
Mariam: Gorgeous Ladies underwear
Temi: Leather bags
The new cozy market ensures that you shop in comfort and style. La Saison offers a wide range of hot food, pastry and cold drinks.
La Saison is situated at 42, Raymond Njoku St, Ikoyi Lagos.
Le petit Marche will be on from 12 noon till 7pm…..
Come…Drink…and SHOP…!!!!