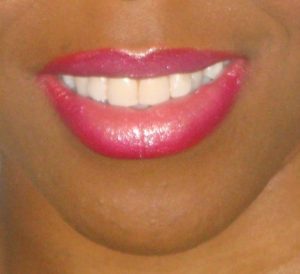 Something has been bugging me for a while now. In fact not just me, it's been on the mind of another really good friend of mine who is also a make-up artist. Together, we feel this issue, which I agree some may find a bit controversial, is a big crime and one that the make-up police really should address.
This crime, and I write this I feel a weight is lifted off my shoulders, is that of the dreaded faded lip colour! Yes, I said it! This lip colour is the rampant technique of applying reddish or burgundy lip liner and lip stick on the outer corner of the lip line and then filling in the middle with a more pinkish or rosy tinted lipstick. Basically fading out the lip colour from the outer to the inner lip.
Now, when this technique came out a few years ago, it was new and fresh and everyone wanted to do it. But frankly, we've had our fill and I've now been to one too many 'bag and shoe' parties and everywhere I turn there is a madam with this lip, that I have quite fondly termed 'the bleeding lip'.
Everyone from Joke to Sade's mum has this lip and it is one request as a make-up artist that I have started turning down. The next person that says to me, can you do my lipstick like so and so, may just get a bleeding lip. Literally!
But all jokes aside, it's like we're stuck in some sort of time warp and finely made up faces are being spoilt with this technique. It's no longer special and why is it so prevalent with Nigerian make-up artists? Everyone from the bride to bridesmaid to Big Mummy is having the same thing, whether or not they have a lip shape to suit it or skin tone to match. I have come across whole groups of random aunties, all with a different hues – caramel, coffee, dark chocolate – but all sharing the same binding feature – their lipstick style! And there is always one that looks scarier than the others as a result.
Make-up is about being an individual and if we're all managing to look the same, then how really are we being our own person? Whether or not it suits the lip shape or skin tone, I see make-up artists plastering their clients with these bleeding lips.
What a lot of clients and make-up artist don't realise is that this technique actually emphasises the size of your lip. A make-up artist mantra since time in memoriam is that light colours bring features to the forefront, whereas dark colour makes features recede. Therefore being of proud African origin, God has blessed us with well endowed lips, some of us I dare say, more than others! So extra emphasis is not always required.
The job of the make-up artist is to recognise and appreciate this fact and then apply make-up in such a way that our best features are enhanced and the ones we don't like so much are concealed. The very fact that the bleeding lip is applied so indiscriminately regardless of the lip in focus means attention is drawn to the lip, sometimes not for the best reasons! For a client with larger lips, the lighter colour in the middle of the lip only serves to enhance the size of the lip, rather than discreetly disguise it.
As a make-up artist, I have made it my crusade to draw attention to this practice and encourage fellow artists to educate their clients as to what would suit them, rather than just blanketly applying make-up. Don't get me wrong, I sometimes apply lipstick like this as well to my clients, IF it suits them and that is the style we are going for. A lot of clients always point to other people's make-up to give the artist and idea of what they would like. But what is sometimes forgotten is that it's just a starting point, it doesn't mean that they want the exact same look. But too many times, have I come across the attitude, 'shebi she's paying the money and that what she asked for so that's what she'll get!' But as a make-up artist you are a creative force, you are doing this job for the love of creating and enhancing individual beauty. Not for the crisp notes the client hands over. Correct me if I'm wrong……..
And clients, since you are the ones parting with your hard earned cash, it is your right to also question and make sure you receive a consultation or trial with the make-up, so you can see whether the bleeding lip style is really right for you. You are paying for the skill, experience and creativity of the make-up artist. You are also paying for their ability to set you apart from the crowd and make you feel that little bit more special, so the last thing you want is to attend the latest and hottest bash and realise that you and every other woman has the same style of lip stick application!
More 'Bleeding Lips'
[nggallery id=82]
Til' next time!
Bella Queen
Go on…put your crown back on!©