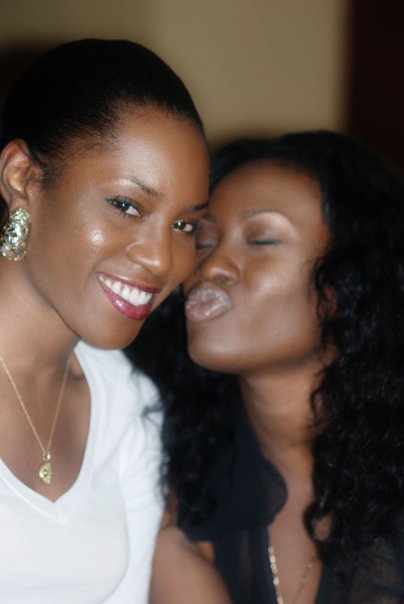 The bond between two sisters is primarily initiated by a handicap- our inability to say "life is all about the choices we make". Then there's biology with all the gene talk and finally, the most effective of all, is a shared experience of artistically tied pony tails decorated with colourful hair clips and identical pink baby doll dresses with a cute bow at the back. That always seals the bond and it did for sisters Ogo and Chi Chi.
From being dressed alike as kids by their mum, to studying the same course at University, being only a year apart in age, having an inch difference in height and owning a business together; this dynamic duo's bond transcends blood ties!
Capitalizing on what came naturally to them both, they set up Poodle Pusher in November 2008; a wardrobe and fashion stylist company that allows them to explore their interest and be creatively self- expressive. Surprisingly, fashion seems to be a realm where a bit of distinction lies with these two; and it is in this distinction, their many similarities, shared experiences and ideals that their business continues to thrive!
It's the combination of  passion, ambition and dedication that Chi chi and Ogo constantly put into their work that make these  two  young African women  quiet an outstanding pair!
FACTFILE:
Full name: Chinyelu Ifeoma Offodile
Age: 25
Occupation: Fashion Stylist & Technology Consultant
Height: 5'10"
State of Origin: Anambra State, Awka
Place of Birth: Washington, DC USA
Hobbies: Fashion styling and sketching, Painting, travelling, Restaurant hopping and Reading
Favourite Designers: Alexander Wang , Oscar de la Renta, Derek Lam, Proenza Schouler, PRADA, Giuseppe Zanotti, Alexander McQueen, Geren Ford, Yves Saint Laurent
Role Models: My Parents and Grand Parents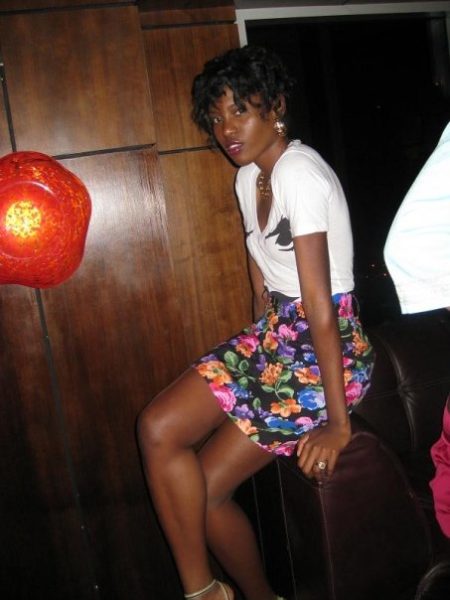 Full name: Ogo Offodile
Age: 24
Occupation: Fashion Stylist & Sr. Systems Engineer
Height: 5'11"
State of Origin: Anambra State, Awka
Place of Birth: New Orleans, Louisiana USA
Hobbies: Reading, praying, fashion styling, travelling, eating, sushi, watching movies, sleeping, hanging out with family, and many more
Fav Designers: Peter Pilotto, Alexander wang, Gareth Pugh, Rick Ownes, Proenza Schouler, Nicholas Kirkwood, Chloe, Stella McCartney, Alexander McQueen, Balmain, Peter Som, Marni….
Role Models: My mother and Father



When did you discover your talent for styling, and what made you girls turn it into a business?
As youngsters in Nigeria, we always played dress up and loved making doll clothes. Our passion and flare for fashion and styling only grew stronger as we got older. It took a life of its own and has now manifested into our fashion styling company Poodle Pusher. We love what we do as Fashion stylists, the fulfilment we get from styling our clients, and seeing the whole picture come together is what makes having Poodle Pusher as a business all worthwhile.
And was this discovery a joint one? How did it all happen, two sisters having the same professional interest?
The discovery was indeed a joint effort; we have always had similar interest, and knew that the art of fashion styling will always be a part of our lives.
What's your educational background: degrees, courses, schools attended?
We both received our bachelor's degree in Management and Information Systems and are currently continuing our education with a Master's degree in Masters of Science in Information Technology.
Did you have any experience in the fashion, styling industry prior to Poodle Pusher?
To be honest we haven't had any professional training in the fashion industry, we both have degrees in the IT field; you can call us computer geeks by default and True Fashionistas by nature!
When was Poodle Pusher born? And what exactly is Poodle Pusher for those who don't know?
Poodle Pusher was officially started November 2008. Poodle Pusher is a Wardrobe and Fashion Stylist company founded by sisters Chichi and Ogo Offodile. Our core objective is centred on successfully carrying out lifestyle changes and transformations through renewing the image of our clients. The idea of Poodle Pusher isn't just about a lady walking a dog, it signifies more- her lifestyle, prestige, finesse, class and self awareness.
A Poodle Pusher?
A poodle pusher is a simplistic young lady with class, style, prestige, and self awareness. She thinks ignorance and arrogance are the unnecessary traits one should encompass. She is in total control of her life and believes anything less would be appalling. Like all parts of her life, her image transcends confidence and speaks volumes about who she is. These are attributes and the quality of service Poodle Pusher always aims to provide to clients
Why a Poodle?
A poodle is the pet of her choice only because its habits and aura mimics hers. Originally hailing from France, Poodles are known for their dainty walk and meticulous grooming, as well as their popularity with royalty, it's no wonder that this stereotype has been perpetuated for several centuries. The Poodle carries itself in a proud manner, and is considered dignified!
Poodle Pusher….that's quite a catchy name, I will love to hear the story behind it?
It all began for Ogo's 22 birthday party in DC when we were making arrangements, such as the guest list, location and theme of the party, so one night were chit chatting about what the name of the party should be? when chichi said "oh Ogo call it Poodle you always wear your hairstyle like a Poodle" then we chuckled and said not a bad idea… then Ogo elaborated on the theme and came up with an explanation of a Poodle Pusher, what it meant, the essence of Poodle Pusher and what it meant to be Pushed! Needless to say Ogo's all black party was called Poodle Pusher, invites were sent with the concept of the party and a grand time was had by all J So when it came time to find a name for our company, it was an easy task!
What's the work of stylist?
Wardrobe Consulting- Poodle Pusher reviews a client's current wardrobe to suggest what should be kept aside and determine what needs to be purchased. We help coordinate outfits from your existing wardrobe and utilize new clothing items to project your new found and fine- tuned image.
Fashion Styling (Photo shoots) – Poodle Pusher is typically responsible for bringing the photographers vision to life through wardrobe and fashion styling. We create the mood for the shoot by selecting and setting up the appropriate looks- fashions, accessories, and styling the models. We also coordinate efforts to ensure that all clothes are ready for the shoot, which can include tasks such as steaming garments, and making alterations.
Personal Shopper- Poodle Pusher brings its own personality and flair for style to the experience of personal shopping. This service is an ideal way of dispensing with the troubles of shopping, it caters to women living busy lives or who just need the expertise of a personal shopper. We assist our clients with a level of individualized attention and service beyond what a retail associate would offer. Poodle Pusher pulls together an entire season's wardrobe based on our client's needs, budget or style, or find just the right gift based on a client's suggestions. Working with upscale department or specialty stores, introducing clients to exclusive (private) shopping and previews of designers new season lines is one of our specialties.
Strategic Partners- We provide clients with services from preferred affiliates that range from top of the line hair stylists, makeup artists, nutritionists, personal trainers, boutiques
What are the 'trials and tribulations' you experience in your jobs as stylists?
Waking up at 4am in the morning from DC to run out the door to make it on time to a shoot in NY can be exhausting, and takes getting used to. As stylist you always have to be prepared for the worst, the unknown and known. Which is why it is key to love what you do as a Fashion Stylist, this gets you through all hardships, trials and tribulations.
Is being a stylist as glamorous as most think it is?
There is definitely glamour attached to the lifestyle of a stylist, you get to handle a lot of amazing designer items and couture pieces, meet with and know designers, access to showrooms, you get first dibs on fashions IT must haves, attend fashion shows, red carpet events, and build a strong network, but it's also a lot of hard work too. You have to love what you do and be willing to put in the work to see and enjoy the glamorous life.
What do you regard, if there is any, the best thing about your occupation?
The best thing about what we do is the fact that we are provided with an amazing medium for self expression, and we absolutely get to do what we love. We have also had the opportunity of meeting and working with some of the most amazing talents.
And what are the challenges you experience, as business women in a relativity competitive environment?
Some of the challenges we face as business women is essentially the fact that it is all riding on the both of us. At the end of the day Poodle Pusher is riding on our hands, and we hold its destiny.
Poodle pusher is a relatively new business, as it was established in Nov 2008, how has it been establishing your name in the industry?
It has been a great experience for us with establishing a name for ourselves in the fashion industry. It is truly a blessing the amount of support we have received in a short period of time, also knowing that others in your field appreciate your artwork gives courage and strength to push forward. Because Poodle Pusher is our own company and initiative, we definitely get to see the ins and outs of what it takes to start a company and establish a reputation. A true learning experience!
What should a client expect from an appointment with Poodle Pusher?
We understand that every clients need is unique and we strive to give 120/100 percent to each client, they should expect an engaging experience filled with excitement and will be leaving us with a new highlighted sense of personal style.
It must be great working with someone so close, what's it like?
We have always been close sisters, mainly attributed to the way we were raised. Our parents always dressed us alike, enrolled us in the same schools, and we really have always been best friends. We are definitely inspired by our roots in Nigeria and by each other, sometimes we spend hours on conversations about concepts and sketching designs for shoots, and clients. It is also really convenient for us because as sisters we naturally spend a lot of time together, so working together on Poodle Pusher came naturally and is truly a blessing to have such a healthy partnership both professionally and personally.
How would you describe your individual styles? How is Ogo's style different from Chichi's and how do you successfully merge the two?
Chi chi: I naturally gravitate to Lines and structural shapes that align with my curves, so my personal style interprets new age class with a sprinkle of sex appeal.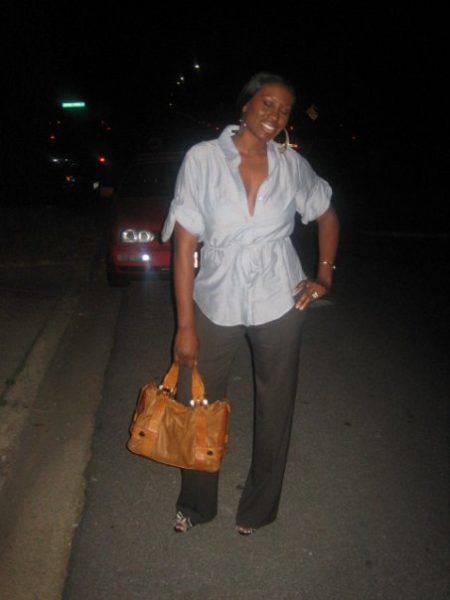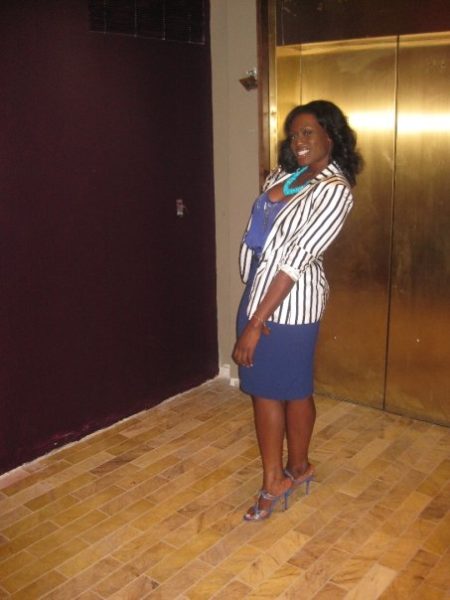 Ogo: I am drawn to concepts that are unfamiliar grounds in Fashion; designs that are edgier and unconventional. My personal style walks its own path and speaks a unique dialect. I dress for how I feel. Designer labels are nice but I am more into the clothes, shoes and accessories than the label.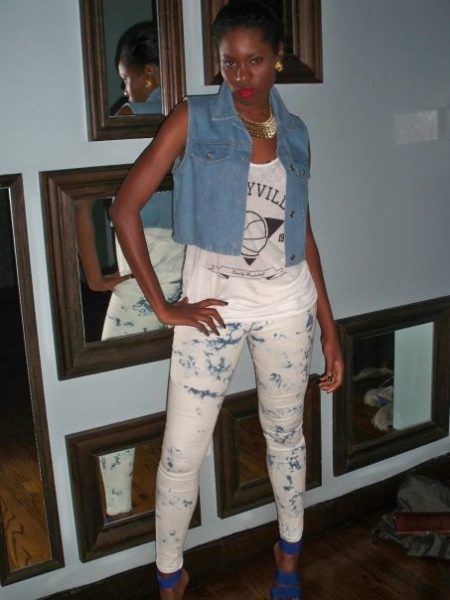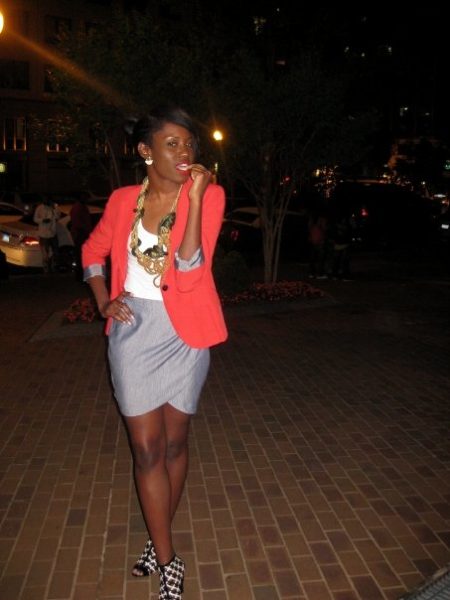 Has Chichi ever thought a particular clothing item was nice, and you thought the contrary…or vice versa?
Yes, we have had times when Ogo proposed a piece for a look and I didn't like the combination. We trust each other to be able to allow ones creativity shine but we are always aware of the concept or story we are trying to tell. When we come across such obstacles one of 2 things naturally happen, either Chichi puts herself in Ogo's shoes and observes the look through Ogo's vision or Ogo allows Chichi to take her to her space (Vice Versa). While we style it's always a fun conversational process because we merge both styles and it allows us to push limits and create end results we love.
Do you two work on a client together? And how do you find the experience?
We always work with our clients together; the experience has proven to be nothing short of entertaining, we have the best times working together and feed off each other. It is also great to have a partner because at times when one person slacks off, the other person pick up the work and it goes unnoticed.
What will you say are your points of views as stylists?
Individual style last a lifetime; Trends come and go
If am not mistaken, you two meddle in fashion design…do you hope to explore that territory anytime soon?
When we can't seem to find pieces that fit the look we are going for, we have definitely dabbled in designing and have even sewn a few garments in the images shown. However we believe our expertise lies in Fashion Styling and won't be exploring designing or our own fashion line any time soon.
So, what does the future hold for Poodle Pusher?
We definitely want to set our own pace, expand our horizons and push the limits of what we can achieve as Fashion Stylists. Although we are still new to the industry, we have been blessed with the opportunity to work with various industry professionals and veterans; so we can only hope that the best is yet to come and we look forward to what the future has in store for Poodle Pusher.
[slideshow id=106]
Contact: [email protected]
Visit their website here:
*Anything is possible if you put your mind and heart to it, believing is key! *